Sienna Guillory & Katy Perry
Sienna Guillory - 01/15/2009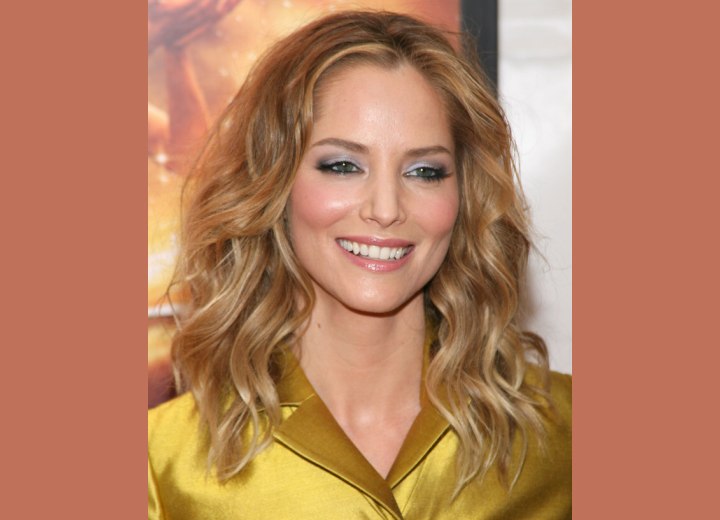 Click to enlarge

Sienna Guillory has long layers with streaks of light browns and caramels sliced throughout her hair. There is an off center part that is the guide for the half way curls. A jumbo curling iron worked in medium sections will help master the technique of the idle curls. I would like to put deeper waves in Sienna's hairstyle, one that dips over her high cheek bone to join up with the other lush waves. The other side would also have the deep waves around her face. The deeper set waves would make more of an impact with her eyes.

Sienna has one of those perfect shaped faces that we all yearn to have and she brings out her attractive eyes with light and smoky shadows, eyeliner, a few penciled brows, a very light neutral lip tint and blends of pink blush around her face. She is wearing a gold satin blouse that is buttoned up close to her blue eyes. Normally, a gold blouse doesn't go well with blonde hair, in this case Sienna gets away with it, perhaps due to brown highlights in her hair and her blue eyes.

Katy Perry - 01/17/2009


Katy Perry is wearing charcoal colored hair freshened into a long bob hairstyle that barely touches the top of her shoulders. Her bangs are smoothly fashioned down to tip her brows. There are several styling gels on the market you can purchase to help obtain the strict smoothness Kate has with her bob, or you can always try your hand in your kitchen to make your own.

Learn how to make homemade styling gel: Just buy some unflavored gelatin, use some warm water and add your favorite essential oil for fragrance. Experiment with the consistency of the mixture, as everyone's hair texture is different. Be sure and keep it in the frig when you are using it to help extend the life of your homemade gel. Spray it as you blow dry section by section.

Katy has heavy eyeliner and lashes, light shadow, a few penciled in brows, red lips and a hint of warmth on her face. The combination of her white top and dark hair always brings a stunning affect when worn.