Keri Russell & Rhona Mitra
Rhona Mitra - 12/18/2008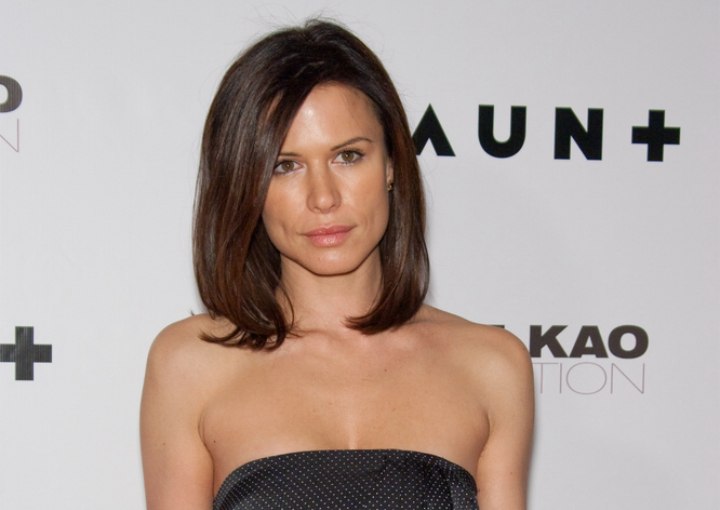 Click to enlarge

Rhona Mitra gives room for the angled side part that we can see that brings her hair over into a heavy satiny charm. If you have trouble making a slanted side part, take your comb and begin about 2.5 cm or 1 inch up from your hairline. Leave an inch of hair to go into the opposite direction as pictured with Rona. Continue on with your comb into the angled movement. The inch of hair that Rona has left follows through with her side hair. The rest winds over taking a portion of the side of her face and curls under on the ends.

Light bronzing into the facial structure are filled with Rona's dimples upon her cheeks. Wouldn't you love to see her smile! Light blending of shadows, mascara and eyeliner completes her picture along with a translucent lip tint. She is wearing a light speckled grey strapless gown, which makes you ready for the beach! For a dressier look we could put Ms Mitra's hair back with a few stray wisps and a thin platinum chain, earrings and headband to match. What a delightful picture! Can you visualize it!

Keri Russell - 12/18/2008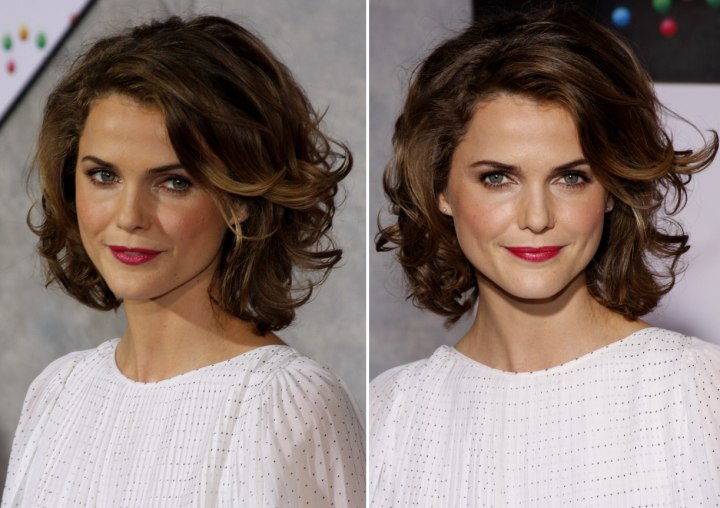 Click to enlarge

Keri Russell has the most enviable naturally curly hair if we were to see the normal wave pattern. Going along with today's trend, her hair has been clipped into long layers and straightened to get the proper alignment of dips and waves. Blonde ends are apparent and a few super thin slices of blonde and a lighter browns are positioned delicately throughout her hairstyle.

In Keri's case of having natural curly hair that comes from the gods, has smoothed it out with either a large curling iron or a flat iron. The other option is permanently straightening her hair, until it grows out, much like the opposite effect of a permanent. Instead of getting curls, you get straight hair. In truth, girls with curls always have rings on their fingers and bounce when they walk! That is because, curls rule!

Being true to herself, Keri has light translucent make up with simple touches of blush, thin eyeliner and a reddish pink lip tint that bring out the seafoam color of her eyes. Keri strongly resembles older movie queen Lee Remick in her younger years. Not only was she very beautiful, but quite talented.