Rihanna's New Sassy Short Hair

Rihanna was critiqued from top to bottom when she attended the March 27, 2010's Nickelodeon's 23rd Annual Kids Awards. Envied glances were cast her way as Rihanna wore her short hairstyle with a short sassy clip that was tight in the back that moved over her ears. Her crown flowed with an indelible smooth flow close to one length that integrated with her top and along the one side. The undercover of her hair is a black that was brought closest to her face with a thin platinum thread mixed in with her gold that was chosen to cover her hair like a cap.

Tip: your hair can tell a lot about you, whether you are outgoing or sophisticated, artistic or have other things to do besides working with your hair. Rihanna is a good example of someone who is outgoing and artistic.

Her makeup is given in warm olive tones, with blush and bronzing illustrating her high cheek bones. She keeps her eyebrows lighter with warm brown eye shadows, a lighter effect in her inner creases, and thick straight liquid black eyeliner drawn. She is wearing lashes and mascara and light pink frosty lip color. Her small diamond earrings attractively match her large tri-stringed necklace. Many times the small stud earrings look best when the hair is as short as Rihanna's.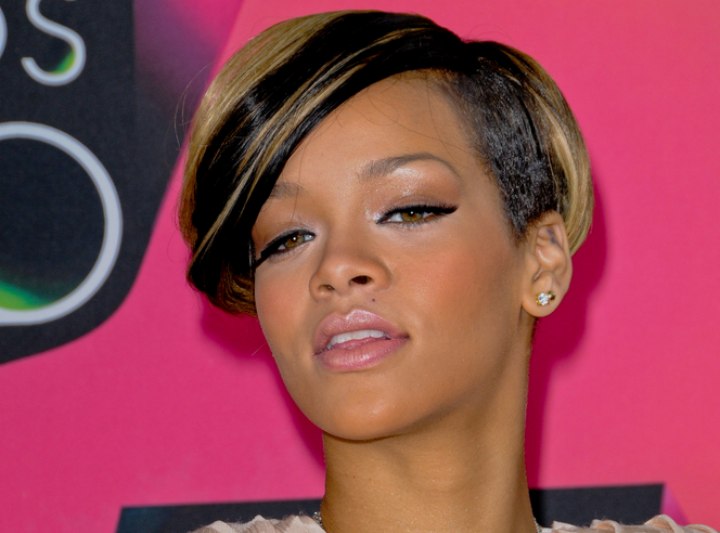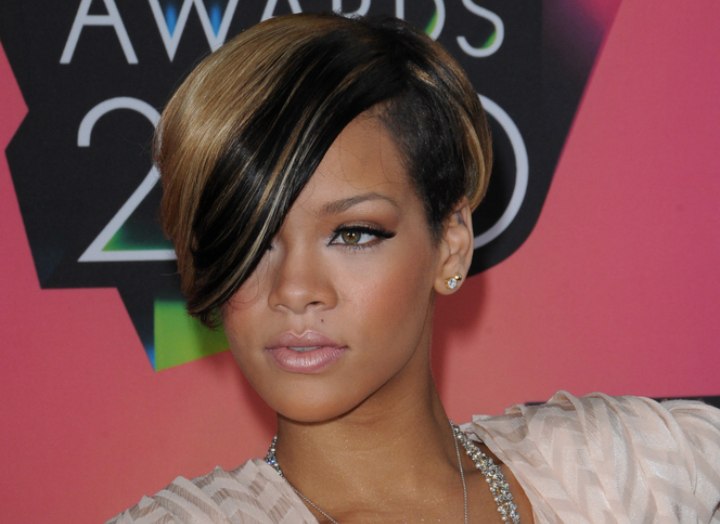 Related Posts:
More Rihanna Hairstyles
Advanced Hair Coloring