Danielle Panabaker & Kate Winslet
Danielle Panabaker - 12/15/2008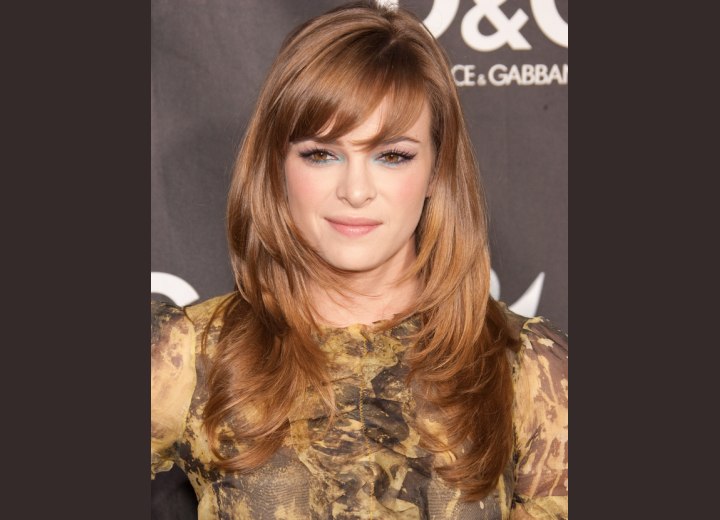 Click to enlarge

Danielle Panabaker's hair color falls under the category of a sun berry with pieces of gold flickering around a few ends. Her long layers have been shaped to have a smooth structure revealed in each section of curl that frames her face. Note how her eyes are the same color as her hair! This is what hints of copper in your hair, will do to your eyes! We can see the darker color of the reddish brown on the top and the graduation of the lighter color as you look down. Very attractive!

The blow drying and smoothing process can be an arduous amount of labor when you have so much hair. If you aren't into that sort of thing, but still like Danielle's hairstyle, why not have it clipped to your shoulders instead? In this way, your hair will be more springy and easier to work with.

The hair color goes in conjunction with the neutral colors of her dress. Her make up is a bit different with the light blue eye liner, as it is used as a bridge and does bring out the coppery tones in her brown eyes. Light pink lip tint is also a plus for the coppery look Danielle has embraced.

Kate Winslet - 12/15/2008


Kate Winslet has silky satin loopy layered waves that bounce around her head in an array of beige and gold colors. Many a clipped layers help blend the hair to move away from her face while still in formation. Use your medium sized curling iron to achieve the dips and coils.

Kate's make up is rich and full of color with a dark shadow on the lid of her eye and a lighter hue on the upper area. The dark shadow sets her eyes back bringing her blue color to the front. Matching eyeliner is on the lower bottom of the eye. Her brows are perfect with her makeup and are what brings the rich tone to her face. A touch of a neutral coral lip color and plenty of bronzing gives Kate a very wholesome appearance.

We can see one thick strap of a black background filled with sparkled jewels that becomes the perfect touch with her look.