Brea Grant & Katherine Heigl
Brea Grant - 12/11/2008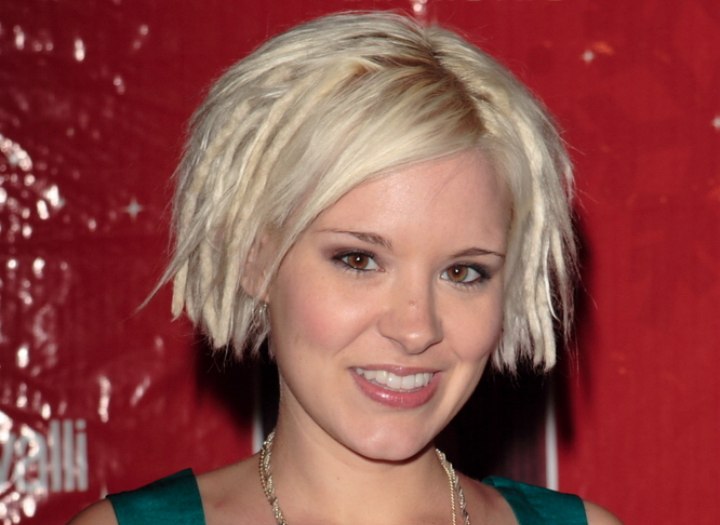 Click to enlarge

Brea Grant is wearing the high lift hair color of white platinum and is full of plenty of pizzazz and it takes a lot of moxie to wear it! Many times artists will like to wear the high platinum, because when they wear different colors, they are delighted by the contrast of the white and say, teal such as Brea is wearing in the photo. Her short haircut is a subtle A-line bob with the back close to the nape of the neck with a slight angle along the sides. We can see a few textured lines in Brea's style, but most of the hair is straight.

In spite of the bold statement of hair color, Brea's make up is kept to a minimum with light shadow, eyeliner and a light neutral pink lip tint with just a touch of color on her cheeks. The drama of the bright teal dress with her light white platinum hair exposes a headline of fashion that is accessorized with the two thin long necklaces.

Katherine Heigl - 12/11/2008


Katherine Heigl gives us an aura of romance with her large wave that dips over to one side of her temple. The smoothness of her crown winds down into scattered curls that are directed just above her ears. Roll with either hot rollers or conventional rollers to achieve the hairstyle. Her hair color has a myriad of gold, lighter blonde and even a thin thread of light brown that weaves through her short hair. The length of hair is perfect to wear flipped up in a bunch of curls as seen or blown under in a mass of jumbled curls or smoothed.

Katherine presents a fire engine red lip tint that matches her suit top and portrays a striking image with her sparkling brown eyes. Red attire is usually complementary with blonde hair as the two colors bring out the best in one other. Ms. Heigl's conservative silver earrings bring the final touch of her charming picture.