Emma Roberts & Rachael Harris
Nancy Drew World Premiere - 06/09/2007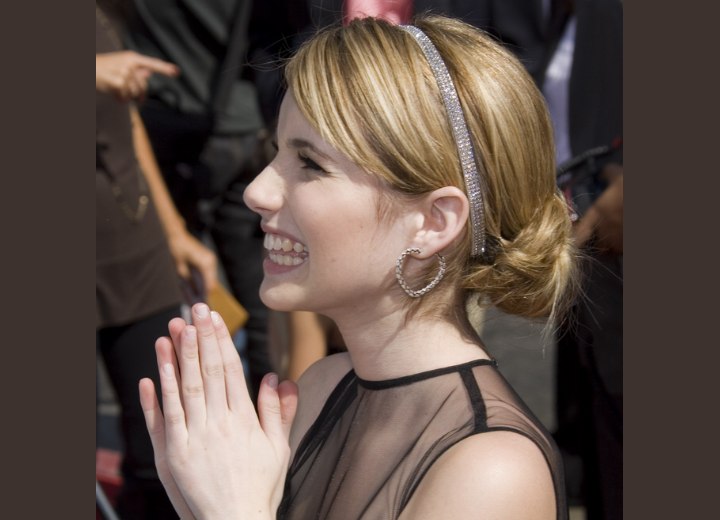 American actress and pop singer Emma Roberts is well known for her acting in Aquamarine and Nancy Drew. Did you ever read any Nancy Drew mystery books? Well, once you begin, you get addicted. I used to read them, when I was a youth.

Emma has lovely tri-toned blondes and browns running throughout her hair telling everyone "the sun did it" and that is exactly what her hairstylist wants everyone to think. Her hair is brushed back and possibly braided, then coiled around into a perfect shaped chignon and secured with hairpins. The top is held in place with a sparkly decorative hair band, while her bangs fall smoothly below her eyebrows, and mix in nicely with the rest of her hair, that flows over her ears. This is a formal looking hairstyle, with all the looks of a Princess. All Emma needs is a tiara, but her hair band comes close. Try this look for yourself and begin to experiment how you can twine your hair into that complimentary chignon for yourself.

Evan Almighty World Premiere - 06/10/2007



Click to enlarge

Actress and comedian Rachael Harris is appearing on ABC's sitcom as Cooper in Notes From the Underbelly.

Rachael's blonde hair is quite healthy and gives a fine tribute into the world of blondes. Her hair has been curled with a medium sized iron or hot rollers moving away from the face vertically. The top has been straightened with a small portion riding over her forehead to lend softness around her eyes. The rest of the hair flows into the sides.

Having her hair a pale beige color goes well with the pink tones in her face. This is all in the name of looking as natural as we possibly can, and we can tell by the authentic realism in her make-up. Notice the neutralism of her pink lip tint and the slight blush on her cheeks. Her eyebrows have been gently brushed with a light medium brown color for the results of only a hint of color. Her make-up is truly impeccable. Rachael's total look gives a refreshing appearance of what refined softness can do for someone.