Bridget Marquardt & Winona Ryder
AFI Life Achievement Award - 06/07/2007


Winona Ryder's latest work is in Geoffrey Haley's blissful drama "The Last Word." Her hair has usually been kept in her medium to dark brunette color and sometimes with a reddish tinge applied. Like the artist she is, she has never been afraid to cut her hair or allow it to grow. A true artist likes change and would see her face and head as a canvas to create the different styles that would make her unique. In this photo, we are seeing her hair combed back in different layers and secured with pins to build a carefree up swirl that doesn't appear too polished or neat looking. This looks like something you would just twine your hair up into a clasp before soaking in the bathtub. She has just one medium sized tendril that has been wrapped with the curling iron to give it that final touch.

This would be an easy style for you to create yourself. Your hair should fall either just above your shoulders or a little bit below. Curl your hair tightly with your iron or hot rollers. Then, comb in different sections bringing it all back and fixing with pins. Place these sections anywhere you so desire in the back. Make sure the pins are hidden and the other hair falls over it. Be sure you have sectioned a small portion in the front to fall over your temple area. When you are done, take a long thin comb and place under your work and gently lift for just a small amount of pouf. There, you've got it.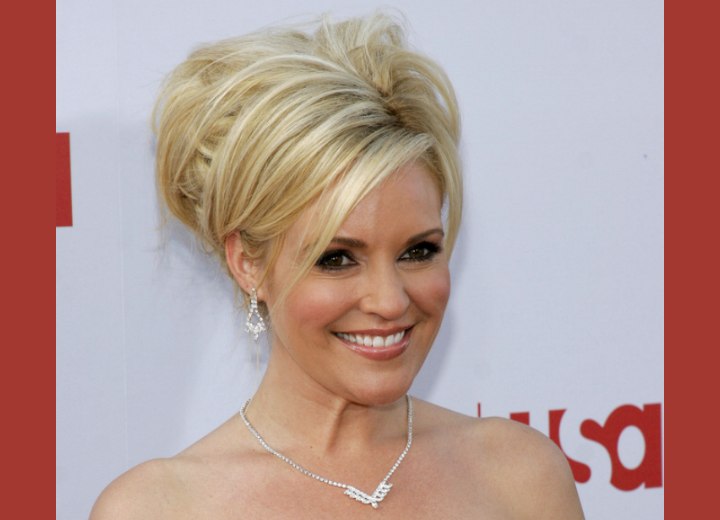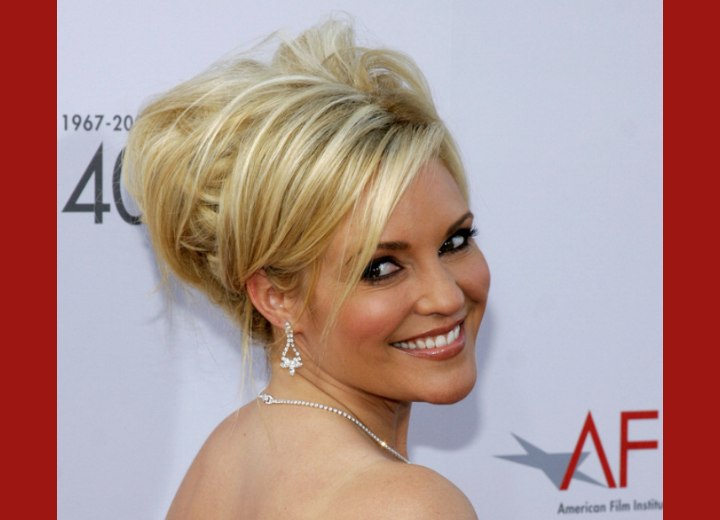 (Click to enlarge)

Did you know that most competitions in the beauty industry use blonde hair because the blonde hair shows every single wave? Lines and even the flaws will show up. Hairstylists cannot get away with any mistakes, when they use blonde hair.

Bridget Marquardt has her hair wrapped up in the back, impressing us with big hair. There has been tightly secured hair in the back and loose sections in the top of her hair that are allowed to lay over the bunch in the back. The top has a side part and is gently back brushed to bring the pouf smoothly over to each side and over her ears. Her color has just a few subtle darker blonde tinges to bring the slight difference she desired. Pink and blonde always go well together and looks, oh so feminine.