Celebrity Formal Hairstyles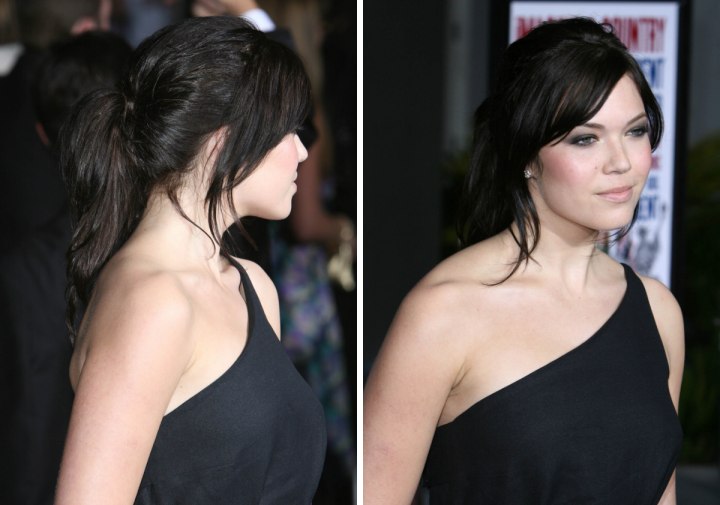 Previous Page

Mandy Moore

Vocalist Mandy Moore has a self titled album called "Mandy Moore" of course. Her dark brown hair stands out against her creamy fair skin. Her hair is styled gracefully a little bit up and a little bit down.



Section your clean dry hair off into three sections in the front. Part on an off center part combing down to take sections of the sides up to join with the first part and fasten with a clip. Do the same with the other side. Take the top of the crown section and clasp with a clip.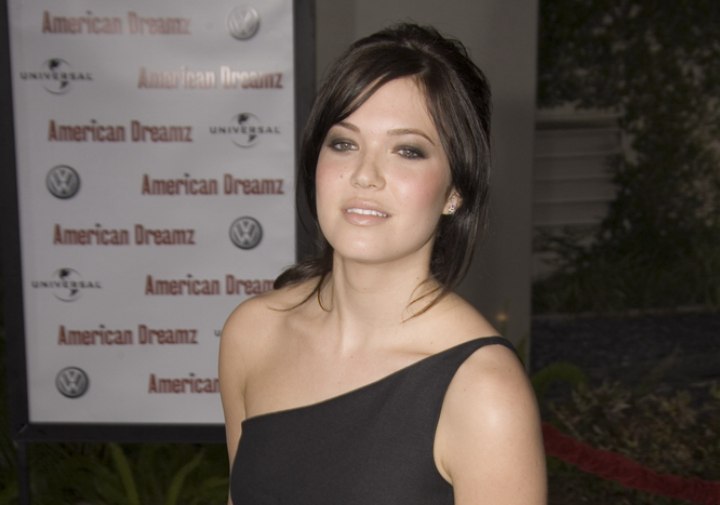 Take one part of the back of the hair and brush back and clip with pins from the top going down until you are about four inches from the neckline. Do the same with the other side. Allow the hair to lie over the pins. Another way you can do this is to brush hair back into one section at a time and twine each section with a band until you have three sections with bands of hair in the back.

Still another way is take one top section and twist the hair and lay into place with a band and hairpins until you have three sections done in the back, one on top of the other. Now go to your crown and backcomb lightly with a brush and smooth the top layer. Take the ends and tuck them into the top of the first band. Smooth the sides and top out with a flat iron curving toward the face slightly and you are done.

Marley Shelton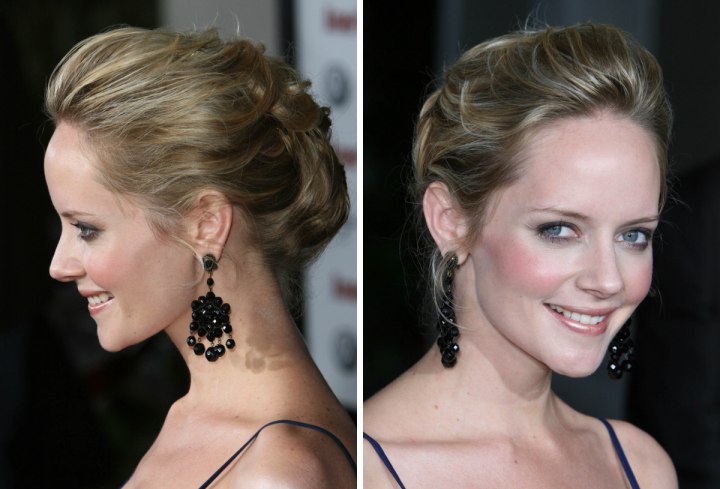 When I think of the talented celebrity Marley Shelton I think of the role she played in "The Sandlot" in 1993. She's all grown up now, but still with blonde hair.

We see her hair styled up exposing her lovely long neck. The cover color of her hair is a dark warm blonde with pale blonde streaks foiled throughout. Everything has been brushed back and off of her forehead, sides and neck.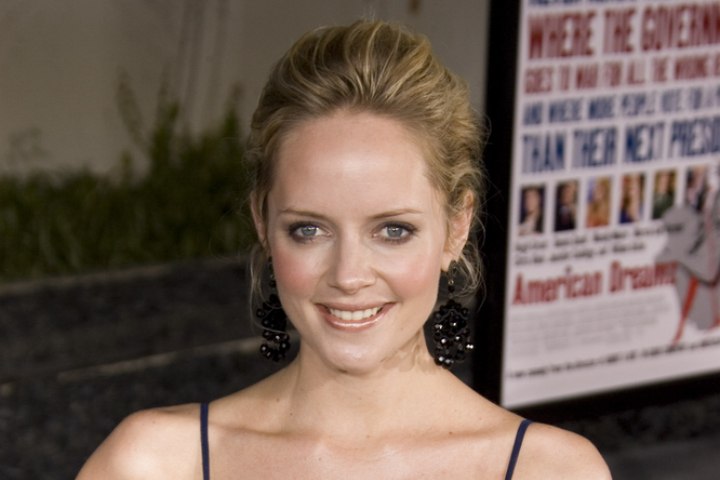 To have this lovely style for yourself there are a couple of ways you can work it. After your hair has been washed and conditioned with good moisture styling crème applied use medium sized rollers all over the head. Roll the top going back, the sides going back and the left side of the back vertically going back also. The right side of the back rolls also vertically towards the center of the back.

When dry vigorously brush back all over. Now brush the top and right side towards the center of the back and begin to use pins to keep your hair there. Brush the rest of the hair and fold over the pins curving the hair under vertically and fasten with hairpins. Smooth with your hands and spray.

Photos by PR Photos

Next Page