Classic Short Celebrity Hair Styles
Usually, the idea of celebrities conjures images of starlets with long, flowing locks in ornate arrangements, strolling on the red carpet at movie premieres, and wearing sleek gowns of beads and rhinestones. But there have always been those stars who marched to their own drummer when it comes to hair fashion. Often, they have been trendsetters, starting fads and trends that soon spread throughout the country.

Among these off-beat beauties a common trait can often be seen: short hair. Here's a look at four celebrities from the last four decades and the hairstyles that have become synonymous with their image:

Sandy Duncan:


Ms. Duncan's career began as a soap opera actress on the show "Search for Tomorrow" and soon her waifish looks and bubbly personality made her a star. Her popularity seemed to reach a peak throughout the 1970s and 1980s with her own television show (The Sandy Duncan Show) and a series of projects with Walt Disney Productions. In the late 70s, it was not uncommon in any crowd of women to find one or two Sandy Duncan look-a-likes who copied her trademark pixie-cut.

Ms. Duncan's signature look may have gone through periodic work-related shifts, but she has always seemed to gravitate back to the short, pixie-like cut that she made popular. Although these days, her sandy-blonde locks sport a darker tone, the cut is the same. Straight, razor-cut layers following the perimeter of the hair with a slightly tousled look. The cut has always suited Ms. Duncan best because of her slender build, petite frame and fine-boned features.

Jamie Lee Curtis:


Another actress who seemed to pick up the banner for the short hair style throughout her career is Jamie Lee Curtis, who started out gaining popularity for her roles as a scream queen in a variety of popular horror films (Halloween, Prom Night, The Fog) and going on to prove her talent in both comedies (Trading Places, A Fish Called Wanda), action films (True Lies with Arnold Schwarzenegger) and dramatic roles (Forever Young, My Girl, The Tailor of Panama), soon found her signature look in the gamine-cropped style that has become her trademark look.

Born to well-known stars Janet Leigh and Tony Curtis, Ms. Curtis was destined to be a classic beauty, and the choppy, cropped look of her traditional style flatters her beauty. That's not to say her hairstyle has remained unchanged these last thirty years. Ms. Curtis has gone from the more mop-topped short haired look, to super-short gamine crops that emphasize her fine features and beautiful eyes.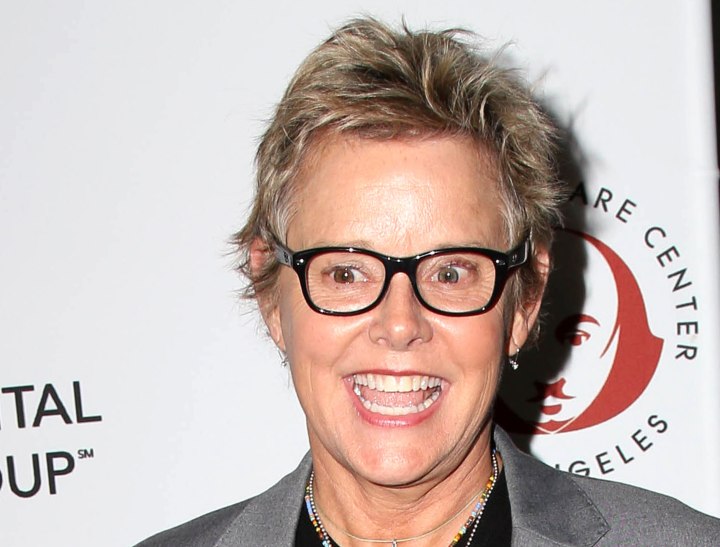 In the photo here we see Ms. Curtis with one of her shorter styles. The hair is super-short, choppy and well-textured. Always one to be unconventional on her views regarding aging, her hair color is natural, showing the pattern of gray which seems only to add shimmer to her look.

Amanda Bearse:

Perhaps best known for her role as the snotty, uptight yuppie, Marcy Rhoades D'Arcy, neighbor to Al Bundy on FOX's Married with Children series, Amanda Bearse has always had shorter hair styles for her television roles. As the series progressed, her chin-length bob slowly began to shorten to a bowl-style mop-top cut, and ultimately to the choppy, spiky gamine crop she wears today.

Next Page