Ashton Kutcher Hair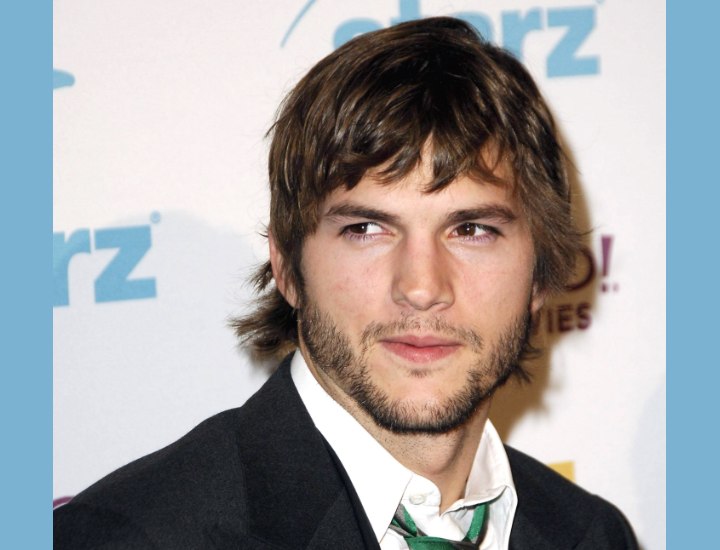 Ashton Kutcher's look changes with regularity, and often sparks a trend among his admirers when he hits on a look that appears to a majority of them.

We see here a layered look that is almost a variant of the classic shag and certainly has the right elements for the mussed look. The cut and style seen here are best suited to lightly-wavy and fine hair types.



The Cut: To create the cut we simply follow the perimeter creating a curved line that starts just above the eyebrow and drops to the bottom of the ear and to the base of the neck at the back. Use anatomical markers such as cheekbones and earlobes to verify that you are maintaining even cuts on each side of the head.

Once the perimeter is cut, elevate slices of the hair to ninety degrees and cut using a vertical cutting line to create a layered effect around the sides and back. The top and crown areas can be cut using a stationary guide and raised to 180-degree elevation in order to create a long-layered "mop-top" effect at the top of the head.




The Style: With the cut complete, the hair is simply treated with a light, leave-in conditioner and a gentle-hold mousse before blow drying. Dry the hair to an almost-dry state and let use your fingers to arrange the hair as desired then allow the hair to air dry the rest of the way. You can also use a small amount of styling wax or pomade to create definition in the style.

If the hair becomes too dry or looks fluffy simply mist with water and finger comb the hair to restore the definition of the locks.

Stacy - Hair Stylist ©Hairfinder.com
Photos by PR Photos

See also:

How to cut a shag

More hairstyles of male celebrities