Natalie Portman's Up-Style

Her hair was worn with a semi circled part on the side with the top styled over to lie upon the other side. The rest of the hair was designed back and away from her face and secured above her neck between her crown and nape. There are several thin weaves of bronzed chroma that lends a certain amount of fine taste to her hairstyle. When in doubt about how to wear your hair in the evening, follow Natalie's example and put your hair up.

Hairpins are usually the natural tool to keep your hair into that knot or French twist you have been thinking about. The rule of thumb working with hairpins is that you usually use the large thicker pins for the long thick hair and the smaller thin ones for thin hair.

The whole idea with using hairpins is for them not to be seen, unless they are decorative. Tip: If your hair is thin and the pins seem to slide out, try back brushing a section of your hair, then; spray some finishing spray and allow to dry and then twist the hair or making a tight round curl to fasten your pin upon.

Natalie has those rich Aubrey Hepburn eyes that charm the socks off of everyone she meets. Her eyebrows are thick and lush and there is concealor in the inner creases, a smoky eye shadow is on the lid of her eyes and blended well with a warmer hue. She has thick encircled eyeliner, lashes and mascara. Just a little bit of angled blush and a neutral tone lip color. Her long dropped earrings match her sequined filled dress.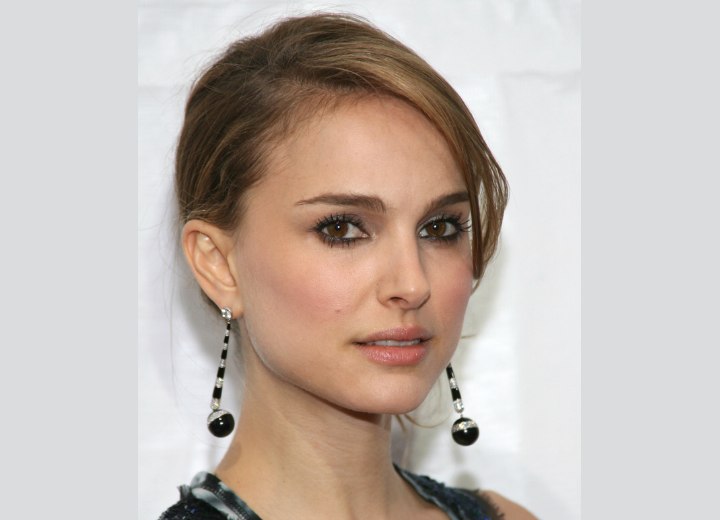 Related Post:
More Natalie Portman Hairstyles