Naomi Campbell's Super Straight Hair

Here's a picture of Naomi Campbell at the 2011 Angel Ball in New York City on the 17th of October 2011. Her super straight, shining hair is styled to form a solid frame around her exquisite face, falling in straight lines down her cheeks and shoulders. Her hair is layered or texture-cut around her face to create that tailored, flowing look around her face.

To achieve this look at home, apply blow-dry lotion and a heat-protecting protecting product to wet hair. Blow dry the hair using a large-barrel round blow-dry brush, section the hair in six sections, starting from the back and working to the front of the head. Hold the hair-dryer above the hair at all times, blowing the hair-cuticles in a down-ward direction to help achieve that super-glossy look. Note how her bangs and front-layers are purposefully blow-dried towards and in a downward-direction around the face.

After you've completed the blow-dry section, section the hair in six sections again, and straighten the hair with a straightening iron, working from the back to the front. It is very important that you always use heat-protection on the hair when you're using heat to style it, especially when using direct heat-contact techniques such as a straightening or curling tong.

Straighten the hair as straight as possible, sliding the straightening iron from root to tip of the hair. To finish off the look, use a silicone-based, smoothing-down product with extra shine to simultaneously smooth down any stray hair and seal the hair-shaft from any humidity in the air.

Naomi's hair is a very dark brown color, worked through with medium brown pieces.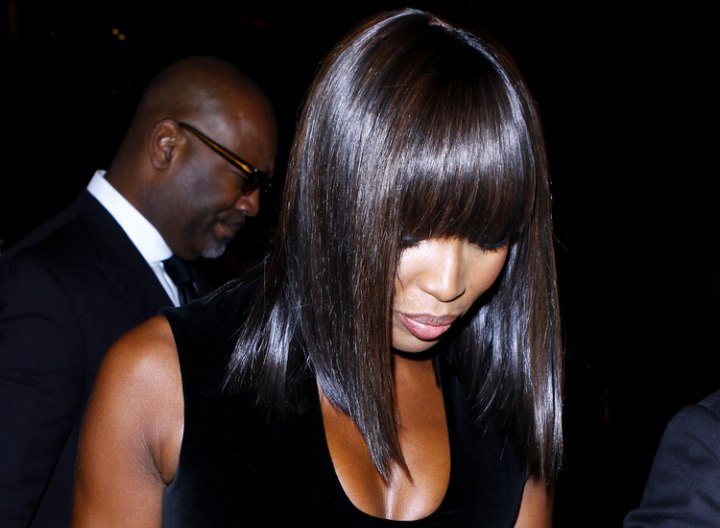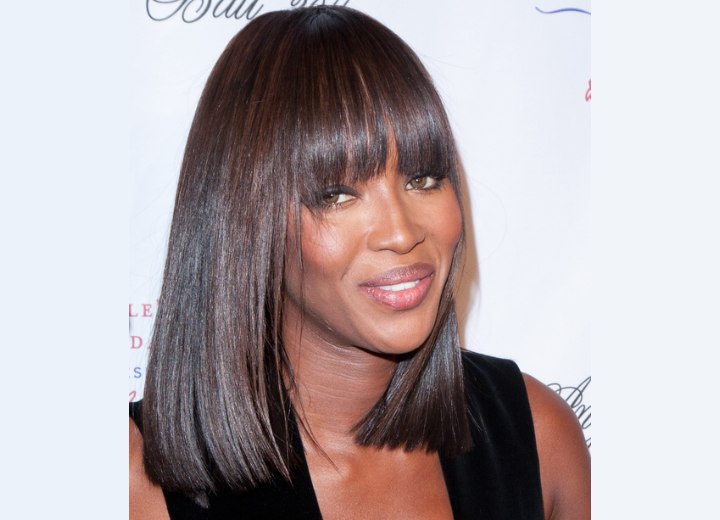 More Naomi Campbell hairstyles