Malin Akerman's Professional Look

The beautiful blonde bombshell, Malin Akerman showed up in black and white for the "Elektra Luxx" Los Angeles Special Screening (March 4th, 2011). The Swedish born actress looks absolutely gorgeous. Her high-waisted pants and silky white blouse are sharp and professional looking. Her soft curly hair is wavy and carefree and is a good offset to the more business like outfit. It's almost like the shine of her satin blouse makes her hair appear more shiny, too! So fun.

Malin's hair is cut to a nice length, just a couple of inches past the shoulders. Longer layers are cut in for a softer texture on the bottom but the overall shape is left without layers so it looks full. Hair is curled with a large curling iron and brushed out for a wavy texture.

Malin parts her hair to the side to allow for side-sweeping bangs. The longer fringe is cut right at the cheekbones and the bangs look very mysterious and sexy. Bangs help add drama and face framing and are flattering for most face shapes. Akerman's piercing green eyes are stunning and go well with her blonde hair. Pale beige locks are heavily highlighted and her natural dark roots are growing in to add dimension and contrast on the top.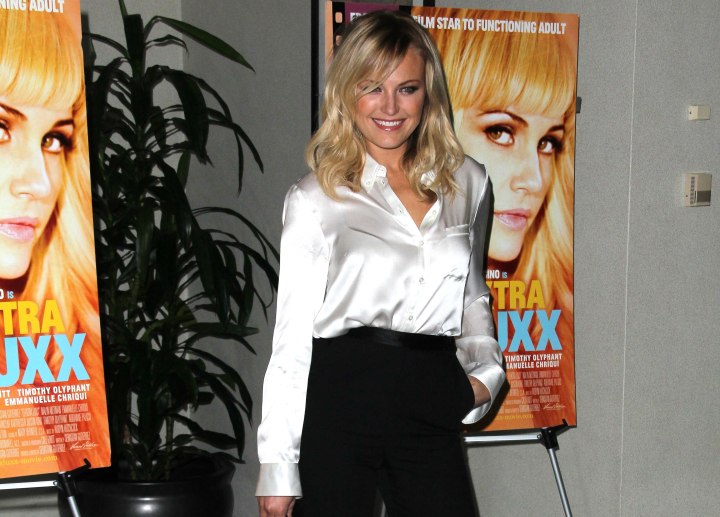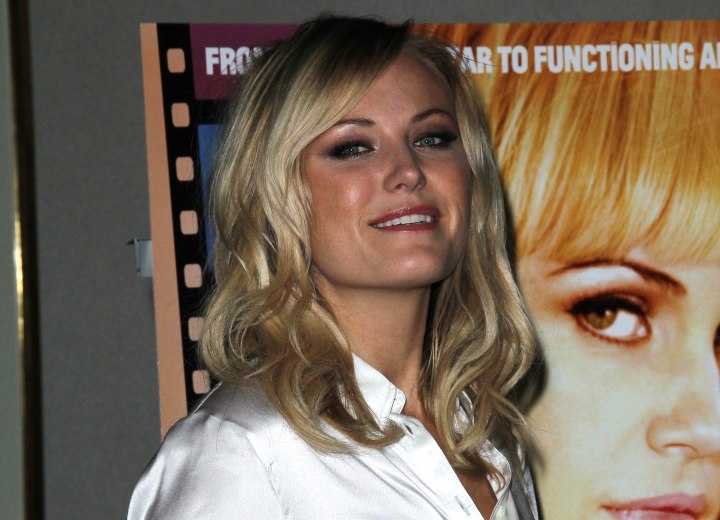 Related Post: More Malin Akerman hairstyles
Photos: S. Bukley / Shutterstock