Hair in a Knot
Louise Redknapp attended the Pride of Britain Awards 2007 last October 09, 2007.

She wore her long blonde hair in a knot between her nape and crown in the back. The top is combed over from the side and brushes along the top of her forehead. The sides are caught with a few strands along the sides of her face with the rest of her hair secured.


The color is high maintenance, even if you are only getting touch ups because Louise's level of blonde can be quite a task if you aren't sure in what you are doing, better to be safe and leave it up to the pros.

The hairstyle is easy, just blow dry and comb the top over from the side part, put your hair into the band in the back by doubling your hair to have a bit of a fan made from your ends. Pull a couple of strands out for the sides and spritz some gloss for sheen. Like Louise, when you wear your hair in an updo it is easier to show off your long earrings.

Louise has a matt foundation with bronze/blush circled around her eyes. Her eyebrows are neatly tweezed with a few penciled fills. Her eyes have four colors and began with a light color as the background, concealor in the creases of her eyes, a light taupe in the bone of her eye and pink beige blended upon her lid. There is eyeliner circled around her eyes with a slight smudge on the top. Lashes and mascara, and a glossy pink neutral lip shade.

She is wearing a boat neck or bateau neckline on her shiny black dress with sleeves just above her elbows. Her length is cut high above her knees and finished with a light turquoise around the bottom as she carries a very large rose red purse.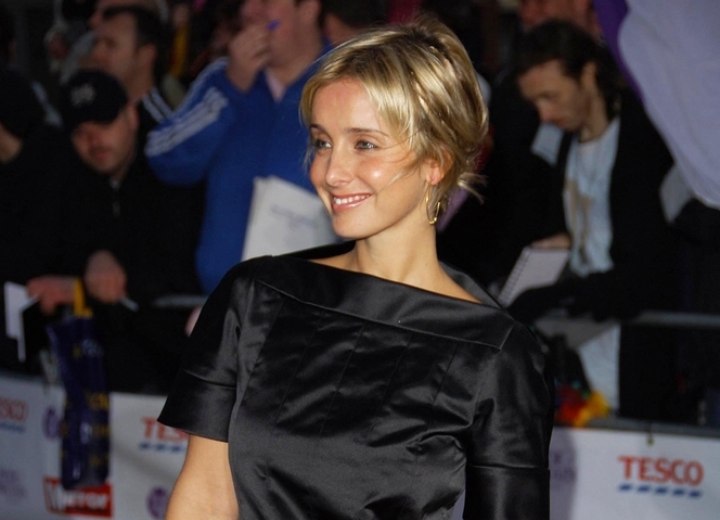 Click to enlarge
Related Posts:
More Louise Redknapp hairstyles
Celebrities wearing their hair up