Jessica Chastain's Curls

On October 26th Jessica Chastain certainly got it right while attending the Los Angeles premiere for her role in the science fiction flick Interstellar. Jessica was channeling Old Hollywood glam, from her impeccable polished waves and glamorous earrings to her flawless crimson lipstick. She strolled down the black carpet in a fierce black lace Givenchy Couture gown complete with a dragon print on it and fabulous emerald Fred Leighton earrings. The green colored earrings are a great contrasting accessory against her copper colored hair.

The 37-year-old actress was confident and cheeky in a gown that had lace side slits clear up to her waist line and hair strategically styled over to one side to show off her plunge backed dress. While we may not be able to rock a Givenchy Couture gown, we are able to recreate Jessica's Old Hollywood glam waves with relative ease.

First and foremost a setting lotion is spread throughout towel dried hair. Next Jessica's hair is parted off center and all hair is brought over to that side. The damp hair is then vertically wrapped up in medium size rollers and Jessica's make up was skillfully applied while her hair was drying in the rollers.

Once her hair was dry and rollers taken out, the crown section was teased and hair sprayed for a little height. A soft bristle paddle brush or fingers are then run through, from bottom to top in effort to loosen the curls and turn them into those sultry soft waves that Jessica does so well.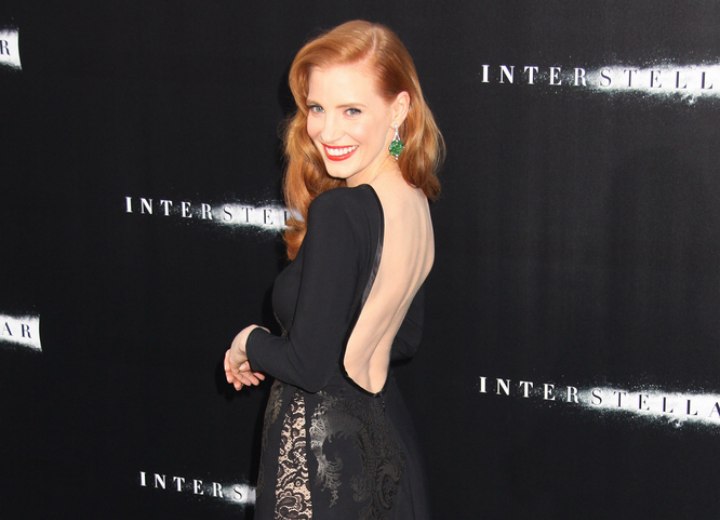 By: Amber Bunyea
See also: More Jessica Chastain hairstyles