Emma Roberts with Curls
Emma Roberts was seen at the Spike TV's Scream Awards on October 16, 2010 and she wore her hair in long layers and lazy spiral waves and fat curls that rested upon her back.


Emma's hair color is a series of panels of blondes, caramel and medium reddish brown. Her hair color is the result of continued highlighting that has evolved into this unique and beautiful color.

The use of a large curling iron is timely, but gives the desired effect. Rollers can be used in place of the curling iron in a vertical position will give the same result and be much healthier. The color mixes well with her pretty hazel eyes.

Her attractive hick eyebrows are the first thing someone sees and they actually bring her whole picture together.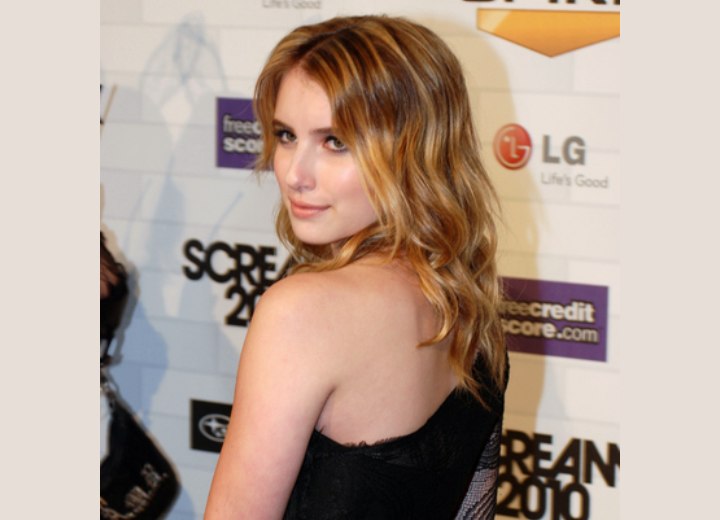 Click to enlarge

Tip: Something to think about is how everyone has one single focal point that can be brought out to go "over the top" Emma not only has pretty hair, but she has outrageous eyes. With her classic oval face, her eyes are outstanding with the eyeliner, smoky shadow, lashes and mascara, barely any blush, and a touch of flesh lip color.

The one shouldered black dress is especially stunning with her hair color however Emma would look sophisticated with her hair up and tendrils along the sides.

Related Posts:

Long curly celebrity hairstyles

More Emma Roberts hairstyles