Getting Hair Extensions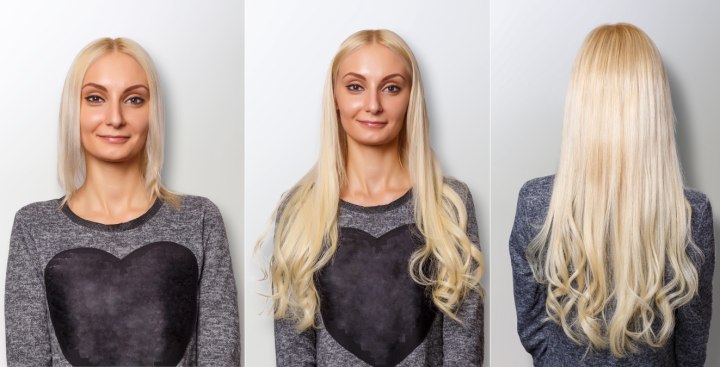 How many times have you seen an A-list star in a magazine with cute, short spiky hair, only to see them on TV the next day with long, beautiful flowing hair? How do they do it? No, they don't have any super hair growth genes, but they do have a super hair growth bank account which can buy them long hair. They are called hair extensions, and they come in a variety of colors and types. They are attached using various procedures.

Let's start with the different types of hair extensions that are available. Synthetic hair is available in nearly any color one could imagine, and it is also a more cost-effective way to achieve Rapunzel-style locks. Full-head synthetic extensions will cost approximately $500.00 for chin-length to mid-back-length hair. Please note that some salons may charge more, and some may charge less, so shop around to find the best deal.



Natural human hair is also available for much more money. Generally, the charge is upwards of $1,000.00 just for the hair, not forgetting labor charges. Hair can be dyed to match a customer's natural hair color, or the natural color can also be dyed to blend with the new follicles. Contrary to the urban legend, natural hair for extensions does not come from morgues.

Hair can come from a variety of sources, including prisons or from willing donors who are paid for their hair. In some cultures, it is a rite of passage for young women to be honored by having their hair purchased. In some cases, young women are ordered by their parents to grow their hair from a young age. When the young lady is finally independent, she may choose to cut her hair as a sign of rebellion, and the hair is then donated or sold by the salon.

Now that you have the hair, how are you going to attach it to your head? There are as many different methods of attachment as there are heads to attach it to. Hair extensions can be applied to certain parts of the head to add fullness to thin or fine hair. They can also be applied to the entire head to add length and completely change a style.

Small extensions can either be sewn into the existing hair or, more commonly, clipped into the hair with very small clips that are virtually undetectable to the eye when the hair is styled. Many of today's stars add these small extensions for highlights, fullness, and a little extra length. Generally, they are not noticeable to the untrained eye and can be a fun and temporary way to revamp a lagging style.

For a more permanent change, extensions can be added for a look that will last up to four months with proper care. Extensions are added to a very small section of hair consisting of approximately fifty hairs. A drop of special glue is added and then activated with a special iron to bond the new hair to the original hair. These bonds are generally so small and secure that they are hard to detect, regardless of whether the hair is worn in an up do or down.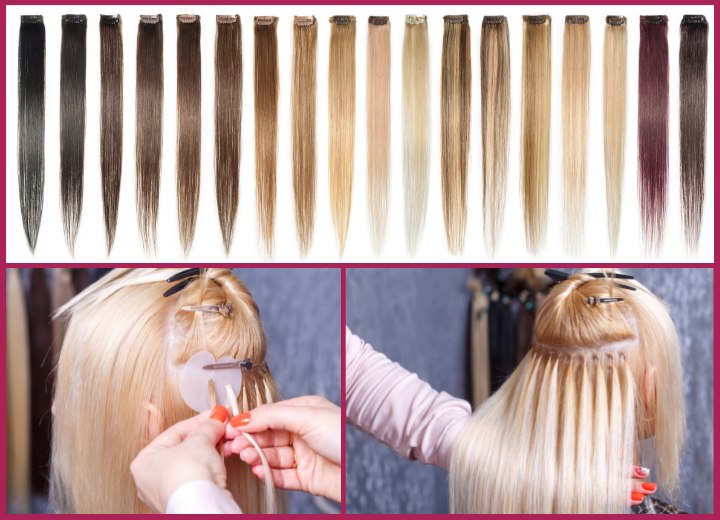 Another way to attach hair is to sew it on. This method has the potential to be a bit painful, as the hair is braided tightly in cornrow-type braids. The extensions are then sewn onto the rows, and some of the natural hair is pulled over the braided areas. A potential side effect of this type of extension is scalp ulcerations caused by the hair being braided too tightly.

What I have written is just a drop in the bucket when it comes to hair extensions. There are many different types, qualities, and methods of extension, and finding the one that works best for you may require some research. I am sure there are salons out there offering full head extensions for a great deal; just be sure you know what you are buying. Sometimes, going the cheap route ends up being more expensive than doing things right in the first place. Remember that there are advantages and disadvantages to all procedures. I cannot stress enough how important it is to figure out what is best for your lifestyle, not what is best for your style of life.

There is so much more to say about living with extensions. I will write more later about hair extensions care and styling, as well as some of the more specific aspects of lengthening one's hair.


See also:

The Value of Hair

Hair extensions buying guide