Hairstyles for Heavy-Set Women (2)
Previous Page

Pear shapes are often lumped into the same basket as apples when it comes to hairstyle choices. They do have the same needs for balance in the overall proportions of the hair to the body, but the upper body is usually smaller than in an "apple" body type of the same weight range. Because of this, pear shapes generally appear less overweight from the mid-torso up. This means that the hairstyle choices can be wider in range, and you can even go shorter than you would for an individual with an "apple" body shape.

With any overweight individual, you want to add volume and height in the top portions of the style and keep the horizontal volume low. This keeps the overall focus on the vertical and helps to make the face appear more oval. If the individual wants to have bangs, avoid a blunt-cut fringe and opt for angled or side-swept versions. The horizontal line of blunt-cut bangs makes faces seem wider, which defeats the purpose.

Face Particulars

The faces associated with these two body types can be as varied and different as snowflakes. However, there are some common traits that are more often found in the faces of these body types. The two most commonly seen are what we call "balanced" faces and "close-set" faces. The differences are clearly defined:


A "balanced" face may be overweight but the features appear proportioned and apart from expected "plump areas" (such as the cheeks, chin, neck, and between the brows) the features don't seem overbalanced by the rest of the face. The balanced face is more often seen on women with pear-shaped bodies, where the extra weight is spread more evenly over the skeletal frame and is only heavier in the lower body.

We can see two examples of the "balanced" face in overweight women by looking at these photos of Kathy Bates and Margo Martindale. In the first photo of Ms. Bates, we see the perfect example of how a short hairstyle can be wrong for a even a heavy woman with a balanced face. The lack of a fringe leaves her face appearing too long and the prominence of her forehead means that the upper half of her head looks bulged.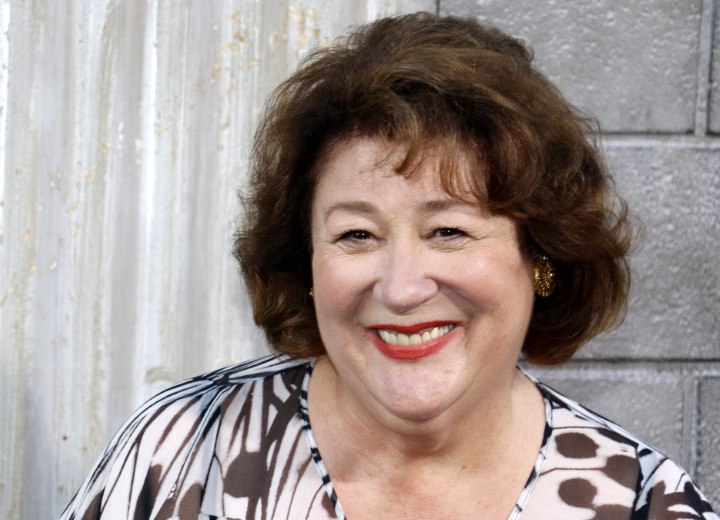 In the second photo of Ms. Bates, along with the photo of Ms. Martindale, we see balanced hairstyles that compliment the faces and make the women look slimmer. While offering flattering wave and balance, the lines of the styles are primarily vertical and very attractive for these ladies.

A "close-set" face is one where the extra weight seems to crowd the facial features. The face often appears round and may be doughy and the features may appear plumped or swollen. The close-set face is often found sitting atop an apple-shaped body and such women may be "top-heavy" and are often petite in stature and therefore lack vertical focus from the start.

The photos here of Nikki Blonsky and Rosanne (Barr) show examples of classic "apple" types. Both women are of petite stature and their weight is predominantly at the torso. Ms. Barr particularly can been seen in through the opening sequences of her long-running series "Roseanna" to have fought a long battle with weight.


The photos of Ms. Blonsky show how different the body appears with a subtle shift of hairstyle. With her hair pulled back from her face, and styled with low volume you see how much rounder and plumper her face appears. Yet, in the second photo, with her hair styled with a little vertical volume and vertical lines and some framing of the face, the hair is gives an overall slimmer impression.

Ms. Barr's photos show two other looks and provide a caution for women of similar build. The first image leaves her looking as though her head is oversized. By such bold dark color, which melds with the texture and look of the garment's fabric, the upper torso and head seems to merge into one unit. The second image shows Ms. Barr with a shorter style, in a softer color which provides balance to the overall look, not only of her face, but of her body as well.

Rules for Hair:

So, the bottom line is simply this: you should keep balance foremost in mind when choosing your hairstyle. For pear-shaped women, keep an eye on balance and consider whether your face is balanced or if you need to adapt a style to compensate (see graphic). For apple women, be aware that your height can exaggerate your size and avoid styles that will make your head look too-big or too-small. A medium-volume, moderate length style is often exactly what the stylist called for.

Speaking of stylists, don't hesitate to ask yours for his or her advice when you're ready for a change in your look.

Stacy - Hair Stylist ©Hairfinder.com