CurlsInABox - Hair Magick from the Emerald Isle
Do you love the look of elegant up-styles with cascades of curl, or beautifully crisp coils? Do you sometimes wish you had a magic curling wand that would let you create these looks yourself without taking all afternoon, slaving away with a curling iron or heated rollers? Well, three American hairdressers apparently felt the same way and came up with a brilliant idea. With the availability of quality hair extensions of real human hair, it seems genius to create hair design elements to allow even the amateur hairdresser to create beautiful hair creations; thus, was "CurlsInABox" born.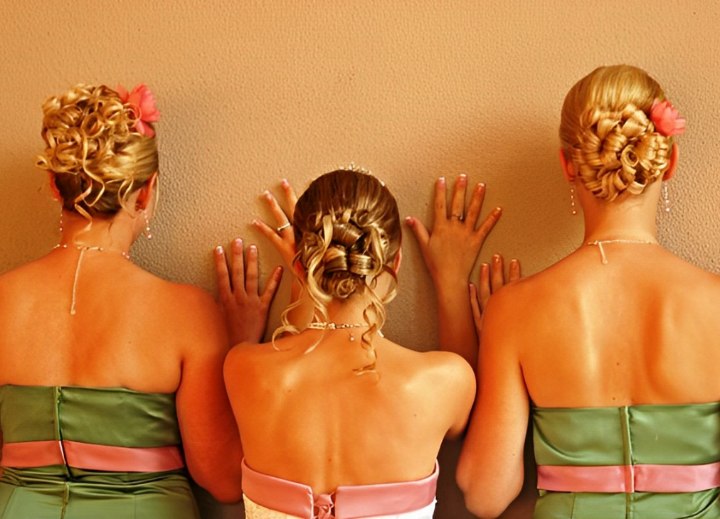 After years of clients coming into the shops seeking sophisticated up-styles for a special occasion, only to be hindered by hair that was too short, damaged, or too hard-to-curl to allow the look they wanted, the creators of "CurlsInABox" began thinking on a solution to the problem. They experimented with traditional hair extensions, but this added lots of time to the style process and the hair added in still had to be styled to create the desired look. Finally, inspiration struck: "What if you could simply wind the hair into a bun and clip in pre-curled hair extensions?"

That's precisely what they decided to do and "CurlsInABox" has become a hot commodity. Now you can have a fashionable, easy to create up-style in mere minutes, with no need for curling irons, straightening tools, rollers, setting lotions or hairspray. Professionals can use "CurlsInABox" to create an amazing variety of up-style effects in a fraction of the time using normal means, and can give these looks to women who would otherwise be out in the cold.



Click to enlarge


"CurlsInABox" products come in 15 natural shades (including multi-tonal blends for women with highlighted hair) and 5 different elements: spiral curls, French curls, wired braids, fans and fountains. The spiral curls are classic coiled curls with minor overlap that are designed to hang and be bouncy and springy. French curls are the traditional roller set curl with the ends of the hair winding inward and overlapped by the next layer.

Fans are small, flat sprays of hair that can be used as accent pieces. Fountains are round sprays whose ends spread out in a circular radius from a central point. Wired braids are long extension pieces that are woven into braids that are lined with fine-gauge wire to allow them to be bent and threaded into the desired arrangement to compliment a hairstyle. In addition to the 15 natural colors, braids, fans and fountains also come in 5 bold accent colors for fashion effects.

All of the products are created with a special, humidity-resistant setting solution, allowing you to take the fresh, crisp curl from the box and clip them into place and rest certain in the knowledge that they'll still look fresh at 3:00 a.m.

You can be sure to ask your local salon about "CurlsInABox" or if you want a look at the full range of product packages and style kits available, visit curlsinabox.com. The website also has a demonstration video and a "how to" photo collection that takes you step by step through the basic methods of using "CurlsInABox". If you are a salon professional, be sure to contact them about getting "CurlsInABox" for your salon clients. These are sure to be a major asset to any stylist's business during the holidays, prom season and wedding season.