Shiny Healthy Hair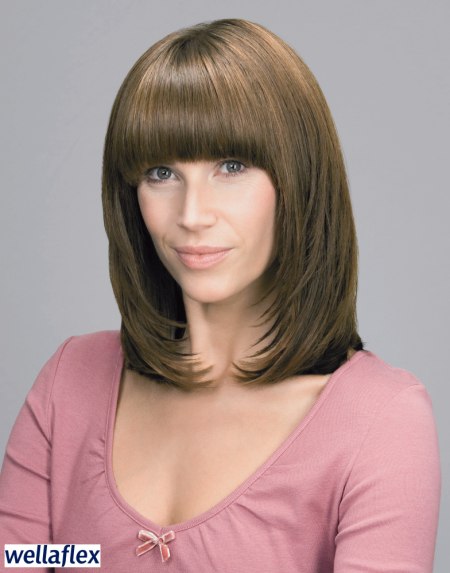 Click to enlarge


Glamorous and Healthy - Wellaflex "Hydrostyle".

This hairstyle brings out your healthy and shiny hair especially well, because the shoulder length cut is ideal for hair that is on the dry side. Together with the heavy bangs the gentle layers in the front areas make the hair look modern and glamorous.

Step 1:
Spray a golf ball size amount of Wellaflex Hydrostyle mousse into hair and distribute through hair gradually using a wide toothed comb. Thanks to its moisture complexes with glycerin and panthenol Hydrostyle smoothes the hair, so that it glows with a healthy shine.

Step 2:
Blow dry hair at medium heat over a large round brush.



Click to enlarge


Step 3:
To increase the shine of the hair and to soothe the structure of the hair further, continue working the hair with a flat iron. This makes is especially easy when the head is tilted sideways and you work on smaller portions of the hair that should not be wider than the heating pads of the iron.

Step 4:
For even more shine rub a hazelnut size amount of Wellaflex Shine & Hold Gel in your hands and glide hair along both palms.

Step 5:
In the end fixate the style with Hydrostyle Hairspray - this way this modern sleek look will keep its shape all day long.

More Wellaflex Styling Tips