Bob with Wisp Outward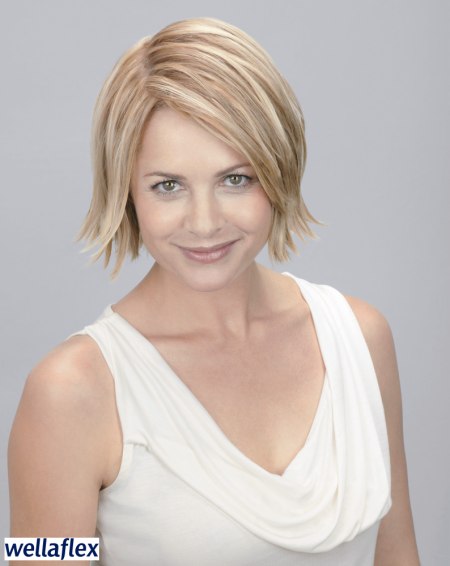 Click to enlarge

Extra strong accents - Wellaflex "Extra Strong Hold".

The classic bob appears especially modern when it receives a lot of texture. A light wisp outward breaks open the basic structure and brings a lot of movement to the look especially with heavier hair.

Step 1:
Spray a golf ball size amount of Wellaflex mousse in your hand, then pick up small amounts with a wide toothed comb or a brush and comb into hair. This is an easy way to distribute the mousse evenly.

Step 2:
Dry hair slightly. Roll hair over a large round brush in sections, blow dry and let cool off. This step will provide much volume.



Click to enlarge


Step 3:
To achieve the desired texture treat hair with a flat iron. Use the iron to lightly define the ends of the hair outward.

Step 4:
To increase texture use an almond size amount of Wellaflex Form&Finish Gel. Rub between fingers and then twist individual strands between fingers to give the outward flic much texture.

Step 5:
At last fixate the look with Wellaflex hairspray for extra strong hold. Tilt your head to the side and spray on from about 20 cm distance.

More Wellaflex Styling Tips