How to Cut a Short Stacked Bob (2)
Previous Page

If there isn't going to be a fringe section, you should cut a half-inch segment in the front/center of the face to the maximum length desired for the cut. Work from left to right and cut in addition half-inch segments until you reach the sides of the face. Remember not to cut the initial guides too short. You can always trim a bit more off, but growing it back takes time.

The Sides:

When it's time to move to the sides of the head, you will need to let down only the lower half of the side sections initially. Depending on the texture of the hair, you may need to undercut the lower half of the side sections in order to prevent the sides from being too bulky. To do this, you simply want to cut the lower half of the section in a short taper, almost as though you were cutting a men's traditional cut.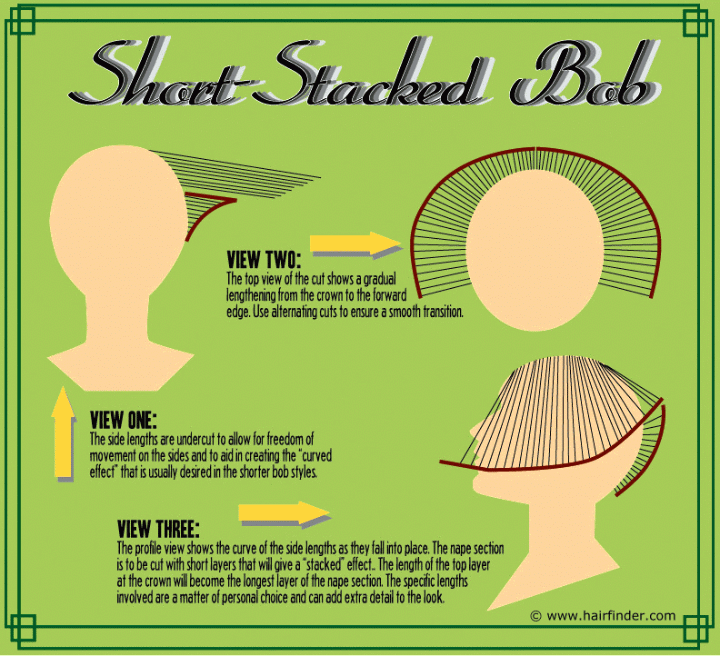 Once the undercutting has been completed, let down the remainders of the sides in half-inch increments and cut them using a curved cutting line, making the length slightly longer with each successive layer. This will ensure that the ends of the hair curl under more easily when you style the cut later.

Furthermore, be sure to pay attention to your landmarks when cutting the hair on the sides. You don't want the hair falling to the middle of the ear on the left, and touching the lobe on the right. Shorter hairstyles offer less room for error and so precision is important. Finally, be sure to pull segments of the hair to a central point to verify the evenness of the cut.

The Crown and Nape:

When it's time to cut the crown and nape sections you may want to do a preliminary crop of the hair to create the surface "weight line" that will carry the look of the remainder of the cut. Let down the crown sections and determine the path you want the "line" to follow through the crown section. Cut the weight line starting in the center of the crown and work using the left-then-right pattern used in the front of the head. The goal is a curved line that meets with the sides in a progression of length.

Once the weight line is established, you can begin layering the lower crown and nape sections. Comb the hair in slices, starting at the center back and cut the hair using a decreasing angle to form shorter lengths as your progress from the crown to the neck. Go from left to right, and then work your way down, segment by segment in order to create the stacked layers you desire.

Styling:

Once you've completed the cut, all that remains is the styling. You can blow-dry the hair using a round brush to create soft, curved lines and encourage the under-turning of the hair ends in the bob along the sides of the face. Use a smoothing serum if you need to control fly-away strands, or use a styling gel to pump up the volume in the crown section (along with redirected airflow from the dryer).

Once dry and styled as desired, you can use a light mist of hairspray and a gentle pat (or the flat of a comb) to add a smooth finish to the look.

Stacy - Hair Stylist ©Hairfinder.com