Blunt Bob with Bangs


How to cut a bob with a fringe and razor texturizing

The blunt bob haircut is one of the most classic looks in history, and is flattering to many facial types in one length or another. It can be worn with or without bangs, and many people who wish to shorten a long forehead prefer to have bangs.

Some people who like the blunt style of a bob haircut don't like the hard line created by the basic blunt cutting. One easy way to get a softer, smoother turn on the style is to use a razor tool to texturize the ends of the cut. We've adapted our previously executed blunt bob style here with bangs and razor texturizing.



Step One:

Perform the Basic Blunt Bob Haircut, and re-wet the hair in preparation preparation for texturizing. If you are working with a previously executed bob cut, shampoo and condition the hair, towel dry, and comb the hair to remove any tangles.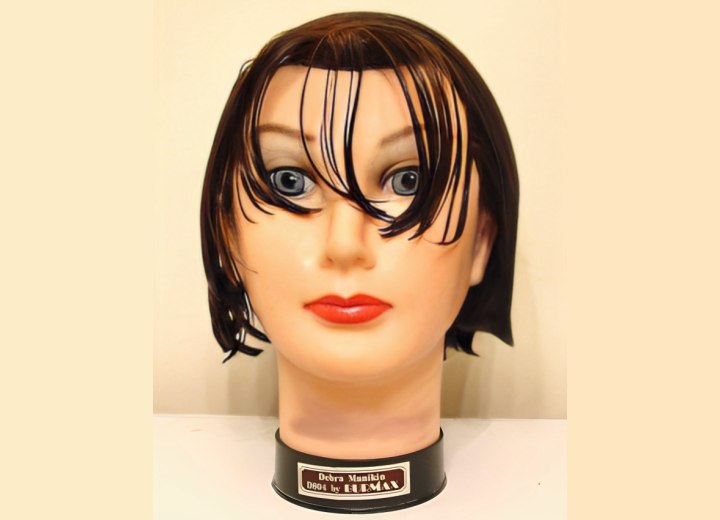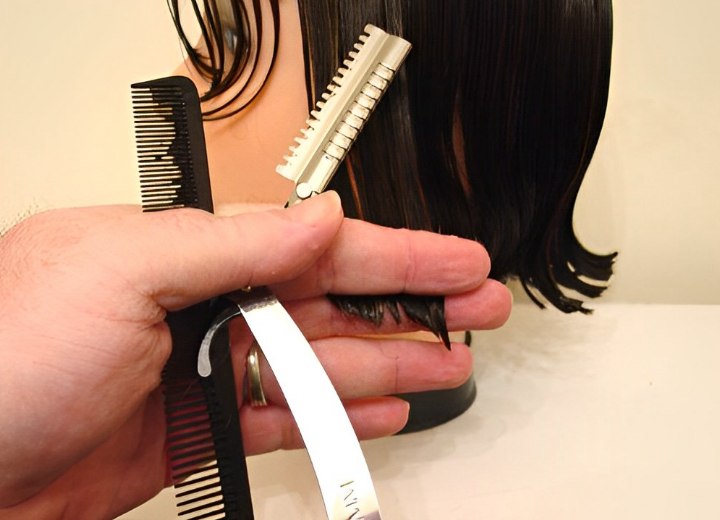 Step Two (adding bangs):

Begin by sectioning off the bangs area of the hair. This section can take any shape you prefer, but it generally extends no wider than the outer corners of the eyes.

For our demonstration, we chose to make the fringe area a crescent shape above the forehead, approximately 1 inch deep at its widest point (directly above the nose). The fringe was then cut straight across following a horizontal line.

Step Three:

To begin the texturizing, we start with the bangs. Comb the bangs together from both the right and left sides, to ensure they are centered. Then, use the razor angled slightly against the hair and gently "shave" the last third of the hair.

The goal is to create a subtle angle on the ends of the bangs, to soften the line. Remember that you can always go back and cut more hair, but once it's gone, it's gone.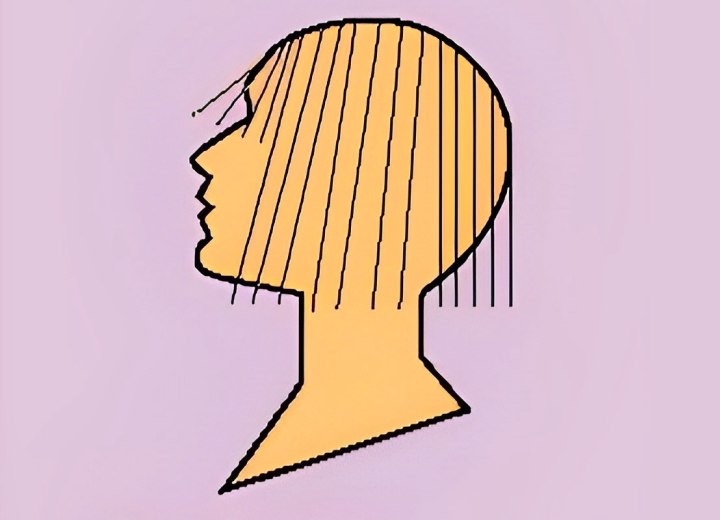 We then move to the blunt line of the haircut. Comb out segments of hair about the width of the razor, and hold them with light tension between the index and middle fingers of one hand.

Use the razor as directed above and "shave" the bottom inch of the cut line. Work your way around the head in this manner until you have razor-cut all along the bottom edge of the cut.

Step Four:

We styled our demonstration using a small amount of gel evenly distributed throughout the still-damp hair. Using a blow-dryer on a high-heat, low-speed setting and a round ceramic brush, the hair was dried and the ends curled gently under.

A light misting of hairspray and a flat iron tool were used to reinforce the straight style. Afterward, a small amount of pomade with a shine enhancer was used to smooth the finished style and define the part in the style.

The finished result is a style with softer lines than the traditional blunt bob hairstyle. The addition of bangs makes it an ideal look for anyone who needs to shorten a long face or mask a high forehead.

Advice: Practice this haircut on a mannequin head before trying it out on a real person.


See also: More Hair Cutting Guides