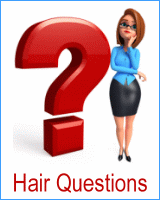 Simulate Gray Hair
Did you ever wonder what you would look like with gray hair? Gray hair can age you, but it might as well look stylish and sophisticated! If you suit gray hair it can look stunning and before getting your hair colored you might want to find out what you would look like with gray hair.

Hair style and color simulation software is a fun way to find out whether or not grey (and other hair colors) suits you. Try it out for free! Register here to get started immediately and upload your own picture!









Computer hairstyle simulation software to try more than 10,000 hairstyles and 53 colors on a photo of yourself. Do countless computer simulated makeovers on a photo of yourself and see what you would look like before you get your hair cut or styled.



- Sign up for free!
- Computer hairstyle makeover software.
- Over 10,000 haircuts, 50 colors & highlights.
- Online software = no downloads and nothing to install
- Frequent updates: new virtual fashion hairstyles added every month.
- Online hairstyle consultation.
- Online hairstyles search.
- Your own password protected area.
- Print all hairstyles and colours with your picture.
- Email hairstyles to your friends.
- Save hairstyles to your "favourites" folder.