A New Look for Brittany (2)
Previous Page

From there I worked on the left, then right hand sections of the head and saturated and combed through the hair in these sections. Once the entire head was saturated, I combed everything through once more and covered the head in plastic for about 10 minutes, smoothing the hair beneath the plastic with my fingers while waiting.

After 10 minutes, I resumed combing through the hair to smooth out the curl while the remaining time for the processing ran out. After the timer sounded, we moved to the sink and rinsed out the hair carefully and thoroughly with warm water, wrapped the head in a clean dry towel and blotted the excess moisture from the hair.

At this stage of the game, it was time to comb out the towel-dried hair and smooth it again into a mostly straight configuration before neutralizing. The neutralizer was applied carefully and combed though the hair until the entire head was saturated, then the hair was allowed to neutralize for 5 minutes before the final rinse.

The final rinse was, as the previous rinse was, done while keeping the hair as straight as possible. The hair was smoothed out carefully afterward before being wrapped in a clean towel and blotted dry.

Finishing Up: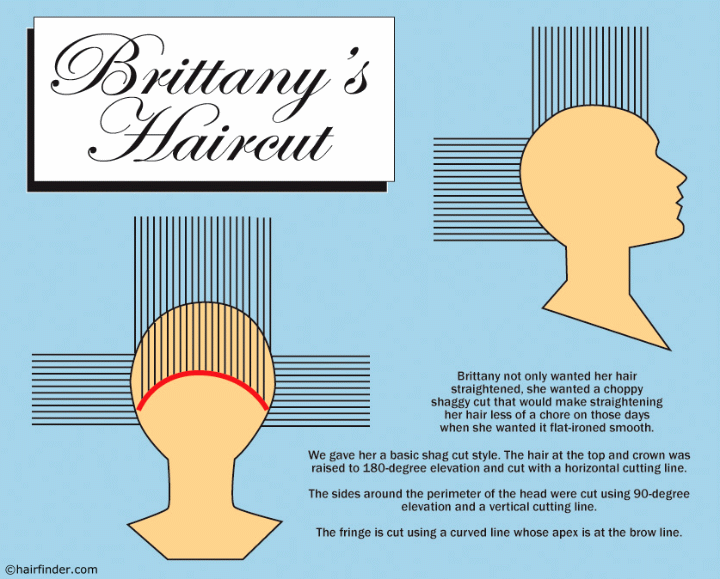 To finish Brittany's new look, I took the now "straighter" hair and cleaned up the fringe area into the curved bangs that Brittany wanted. I then used the middle-length of the fringe area and elevated it to 180-degrees and used it as a guide for the shag-style layering, which she also asked for.

The crown and top of the head, following the parietal ridge, was elevated to the 180-degree angle, while the sides and back were elevated to 90-degrees and cut into layers using a traveling guide and moving horizontally around the perimeter of the head.

While the straightening service did make Brittany's hair significantly straighter, I had warned her that it would not make it stick straight. There are chemical services that can give her stick straight hair (or very nearly) but they are much more time consumptive and much more expensive. But in order to get her hair completely smooth, she will need to use a flat iron. The straightening will mean that the hair can be ironed more quickly to make it smooth.

The benefit of this cut is that it is versatile. Brittany can use the flat iron when she wants to make the hair smooth, but she can also simply apply product to her damp hair and shake it out with her fingers for a tousled look.



(Click to enlarge)

Brittany was thrilled with the finished look. (We flat ironed the hair to smoothness, since she wanted it fully straight at least to start.) Since there was a dramatic change in her look, I assured her that all she needed to do was call me and I would come and "tweak" the cut in any way she wished. I often find that a client who makes a dramatic change, may ask for minor adjustments later as they get used to the changes and see slight differences that they didn't quite know they wanted.

I try never to impose my preferences on a client and to have a clear idea what they are asking for. Personally I would like to see Brittany go with more layering in the back (and a shorter length) while adding more layering around the face. I do think that after a few days I'm going to suggest that we get together and she allow me to do some more texturing of her hair. With some point cutting, I think she can get more of the choppiness she is looking for.

Stacy - Stylist ©Hairfinder.com