Product Review: Strawllers
www.strawllers.com

According to one creative hairdresser/inventor the time has come to embrace the curl once more. Marc Wells hopes this rallying cry will encourage women to give curls a chance. In recent years, straight hair has been more and more prevalent, and Mr. Wells feels that the primary reason is the lack of options in curly styling techniques.

While the traditional roller sets will give long lasting curl, the look of these curls is dated, and rarely the clean, smooth look that women want for their hair. The last popular curly style was the spiral perm which spawned its own variant of micro-curls called the straw perm (because the hair was wrapped on drinking straws to create tiny spirals). But these looks were rarely attempted without the perming step, since the tools weren't designed for use other than as perming tools, and the drying time needed for a traditional "set" was literally double that for true roller types.

Mr. Wells has solved that problem by creating a line of tools that combine the features of the magnetic roller (vented for faster drying times) with the elongation of the spiral tool enabling the creation of long spiraling curls.



Click to enlarge

I received a sample set of these tools, along with a selection of the shampoo, conditioner and setting lotion offered by the company and enlisted the assistance of my neighbor to test them out for myself. "Miss C" and I set out after doing a "mini-makeover" on her hair to try out the new Strawllers and see what they could do for her. Her hair is naturally straight and something between normal and fine in texture, but pretty dense.

We opted to use a mixture of the orange and blue rods to create a more natural look. By alternating the rods we give a more random look to the finished style.

Review: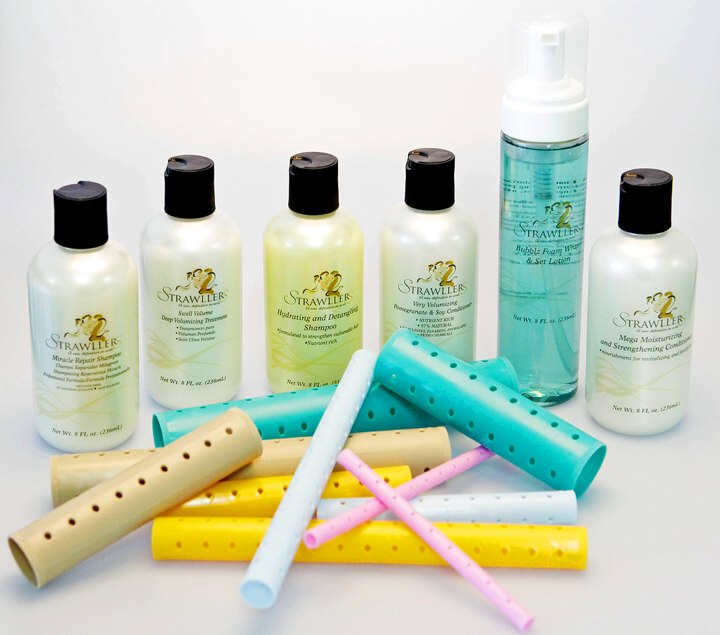 The tools are well-made and smooth, and the plastic is a heavy-duty weight that will certainly stand up to even salon-level use. They are easy to use, as long as you either have experience doing a spiral wrap, or the patience to think carefully as you work with them. (Remember that with a spiral wrap, you work in square sections and work from the bottom upward).

The accompanying products are very nice. The shampoo offers a good level of cleaning without stripping the hair and has a very pleasant fragrance. Combined with the volumizing formula conditioner, the hair was left feeling smooth and silky without being weighted down.

The foaming, setting lotion was another pleasant experience, The foaming formula was easy to apply and required very little to achieve coverage. It, too, had a wonderful fragrance, that was refreshing and fruity without being cloying.

The only drawback I found was in securing the tools in place. The website instruction suggests using bob pins, but I will caution you to be sure and get the large sized bob pins as the smaller ones are not quite sufficient for the task. (I ended up using pins two per roller.) In some instances, I think the use of spider clips might actually be a good alternative to pins.

Results:

The finished style (built from a stacked bob/swing hairstyle) gave a lot of smooth, voluminous curl. "Miss C" was pleased.

Stacy - Hair Stylist ©Hairfinder.com