Up Styles
Cylinder Curls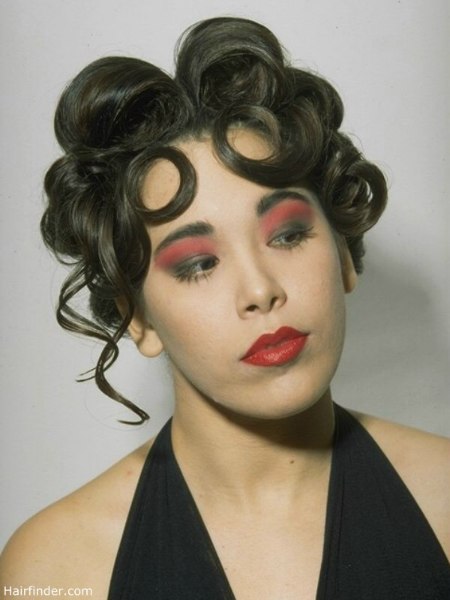 Large round cylinder curls are mastered upon the model's icy brunette hair. The hair is brought into an upswing off of the collar with lackadaisical ribbon like tendrils that plunge over the thick sections of curls. Everything is thick. When you capture this sort of image for yourself, take large panels of your hair and wind them around the curling iron, making a heavier statement circling around your head.

Do not concern yourself in trying to be "even" while you style, with the exception of the two large curls on the top of the head going into the opposite direction. Curl with your curling iron as you go and spray.


Updo with Crimping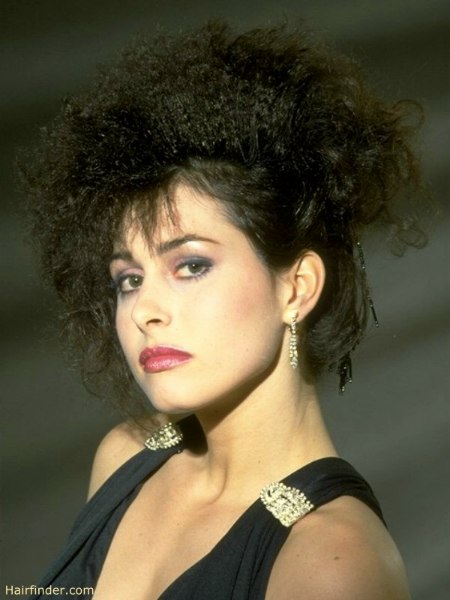 Pithy crimpy kinks are massed into piles of sassy fans of hair that dare to be scattered high above the model's head in the photo. Plenty of pluck has gone into the artistry of this style, as it has been brushed up all around the head and backcombed for height, volume and yes... lots of feminine power!

The hairstyle is fastened up with scores of pins and spray for obedience. The crimping iron has been used generously on the frontlines that are surfed up to meet the sweep of hair. Blend in with your hands, spot curl with your iron and backcomb. Spray around scrunching in various areas and party with your crimping iron!


Fishnet Type Braid


The uniqueness of braids are formed from a central section and are lightly twisted from the front, winding back into a larger construction that is gathered around the nape of her neckline and drapes upon her back into a bulging fishnet type of braid.

This one of a kind hairstyle is dressy, conservative and sophisticated and would make a positive impression at any dinner party. Just remember though, if you tend to be a bit heavy; long hair will only make you appear heavier; even if it is braided.


Classical Updo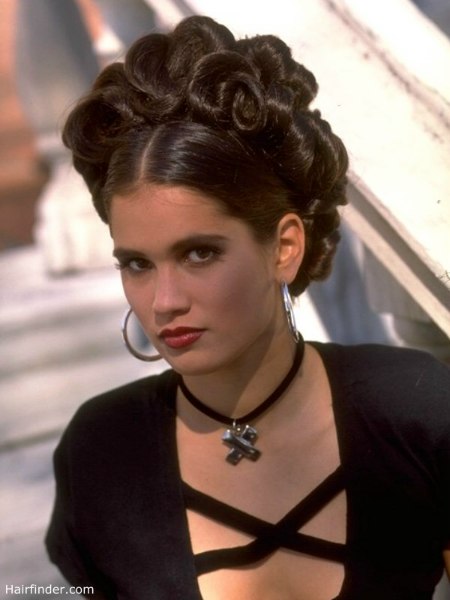 A true classical form of sculptured coiled curls has been individually twisted into a design, and then arranged around the crown of our girl's head. The hair is strictly divided in the center and brought back tightly and almost appears to be a hairpiece that has been attached upon her crown.

Fastened securely with pins, the curls were fashioned from the bottom and worked up as each curl was positioned either next to each other or on top of each other. Use spray for each curl as you style.


Up Do with Tendrils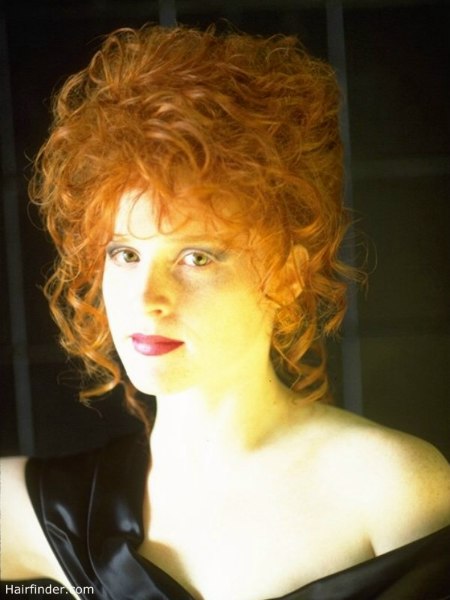 Tendrils are always in style. Women want to look sexy and then, sexier! A large rolled twist has been created in the back with bountiful amounts of backcombing to get the coveted obedience and height.

Fashion-secure, but not too neatly with plenty of swirls, curls and coils to frame the model's face. If you have long hair and would like to wear this type of hairstyle, the best thing you can do is use conventional rollers all around your head and allow to dry. Make sure you set a series of small vertical rollers around where you would like your tendrils. Back comb in spots when dry and fashion your twist and tendrils as you spray.


Brushed Away from the Face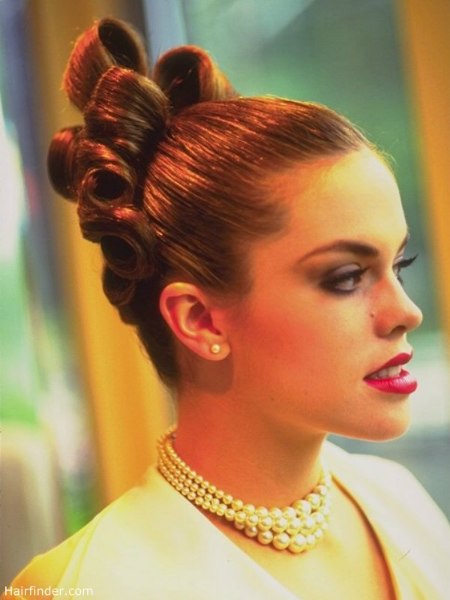 Our model is wearing her hair brushed severely back away from her face and joint barreled curls set around each other in the crown. Depending upon the texture of your hair, will depend how heavy you apply your styling gel. If you have fine thin hair, you will want to use a heavier application while rolling your hair.



Plenty of back-brushing and hair spray will be in order as you set each curl where you would like it to be. This is a very artistic touch and if you are one who knows how to work with your hair and have practiced different hairstyles, there isn't any reason why eventually you will be able to do these curls for yourself. Secure with hairpins.


Bouquet of Curls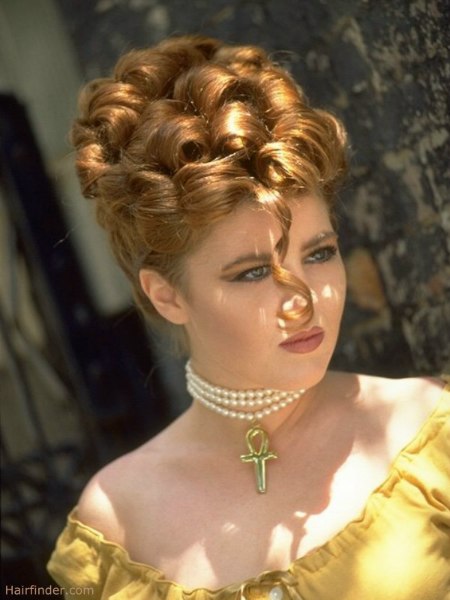 More curls are the delight for the day with an easy upswing of the hair, in the back that evolves into the bouquet of curls we see in the photo. One plunging thick curl cascades into the center of her face highlighting the curls and the sun rayed focus of her golden strawberry hair color.

Upswings bring a touch of old fashion charm complete with ruffled collars and large broaches. Curls also add any needed softness to an otherwise too severe image whether they would be on the top of the head or around the face.


Softening the Face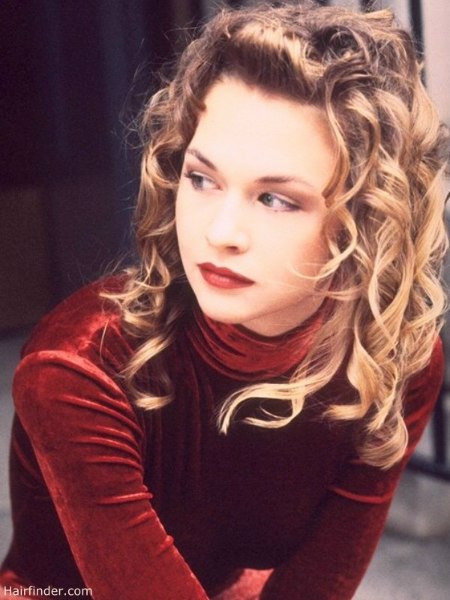 Ribboned coils dominate our model's lengthy pale layers that lie below her shoulders. The top is brought up and back exposing her forehead and her eyes, yet allowing the downy along the sides to soften her face.

Begin with your curling iron and your favorite styling spray on a bottom row in the back, taking small sections to curl your hair vertically into positions. Go to the next row working your way upward. When you get to the top, curl your hair back, back brush a little bit and smooth over with your hands as you spray.


Up Style with Large Roll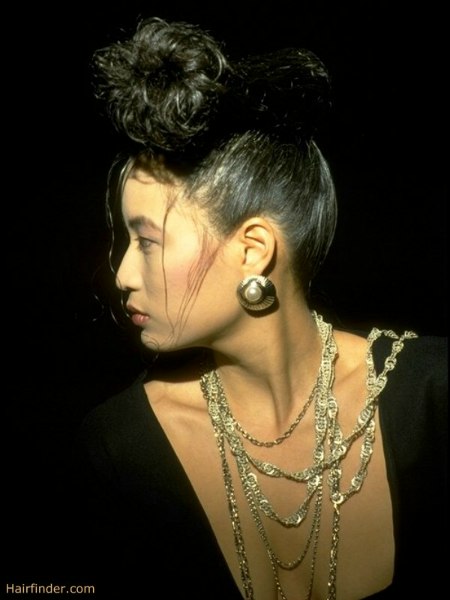 The genuine artist first has a vision in their mind, like the famous Picasso or Rembrandt and all they do is work toward what they are seeing in their minds eye. They never lose sight of their vision, and they know how to arrive at the finish line. They analyze a face, then the hair and begin to work as the sketch is formed in their mind.

Little by little the masterpiece is completed until we see something like the model is wearing. Her rich ink black hair is brought up into a large roll that sits on the crown, and a decorative hair flower is positioned in the left frontal area. Thin wispy tendrils fall over the face and along the sides that match the ones that lie upon her neckline.


Up Style for a Gala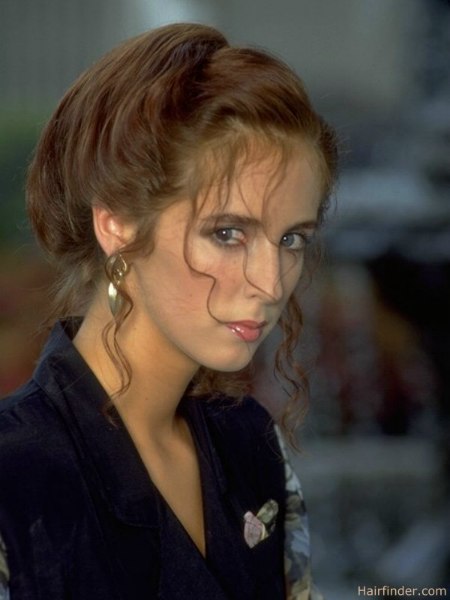 Resplendent warm brown panels of hair have been brushed first back away from the face, then, tucked over the one side of the head exposing the lush texture of the hair. The permissiveness of thin curls designed to escape more heavily on the one side is an added enchantment, as they circle around the model's form.

Enjoy this rare hairstyle that you won't find on anyone else at the gala. Practice rolling your hair into the direction for the hairstyle and when completely dry, brush out and secure with pins. Use gloss and spray.


Swooped Up and Piled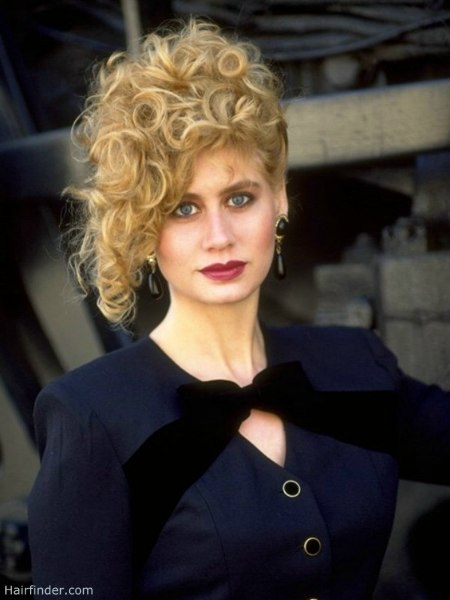 The agglomerate chunks of untamed hair on our girl have been swooped up and piled high in disarray of rippled curls and also target along the side of her face.

Roll your hair in various sections and positions around the head. When dry, back brush and form the curls while securing with hairpins and hairspray. Use your hands to bring the hair up to sync with the desired volume.


Quick and Neat Updo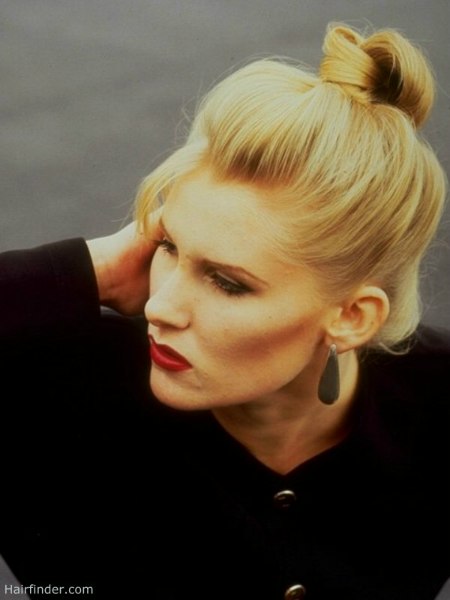 Looking for something quick, neat and elegant all of the same time? Try a clean head of dry hair and brush it up into a hairband. Take the outside sections of the hair that are in the band and wrap around the band and fix with a pin.

Bring the inside of the hair over the hair making a roll and secure with a pin. Take a small portion of hair out to lie upon your forehead and spray. Quick and so easy!