Body-Building Tips for Hair (Continued)
Previous Page

Effective Additives: If you just want to add a little body to your hair, without a lot of muss and fuss, try witch hazel as an extra setting / styling lotion. Be sure, however, to select a witch hazel solution without alcohol. Just put the witch hazel in a sprayer bottle and apply it liberally to your hair. Allow the witch hazel to sit on the hair for about 5-10 minutes and then style as you normally would. If you feel your normal hair product weighs down your hair, you can even use the witch hazel alone. It may make roller styles more difficult to wrap, but with a little practice, you'll be fine. The witch hazel helps to evaporate the excess oil in the hair, and will increase the circulation in the scalp, which helps to balance oil and sweat production.

Protein Packs: Another good way to add body to hair in need is through deep-conditioning and restructuring treatments called protein packs. These treatments are formulated to penetrate the hair's cuticle layer and allow the proteins in the treatment to be absorbed into the cortex, strengthening the hair and giving it more substance. Protein packs can improve the hair's elasticity, and in some cases even enlarges the individual hairs for a limited time due to the swelling. Protein packs should generally be applied once a month, or as needed to keep the hair strong.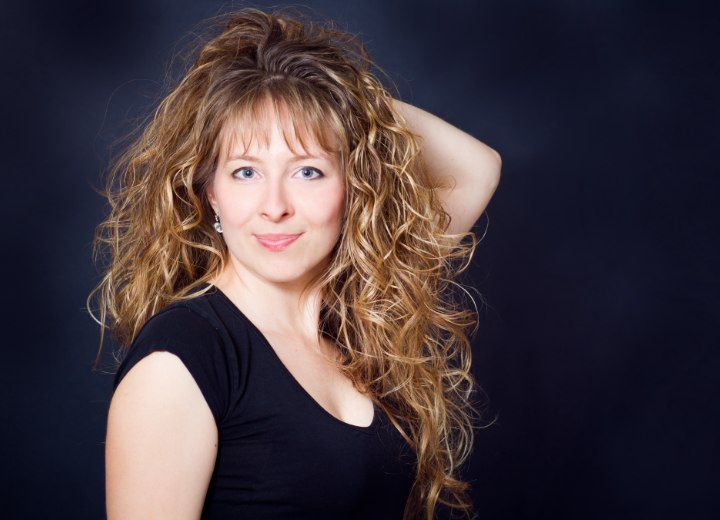 Perms and Body Waves: In some cases the lack of body in the hair is more pronounced and the hair needs significant restructuring to add body. Many women find that getting a perm or a body wave is the best answer in this situation.

The perm could be done as part of a style choice, such as a woman who often likes to wear her hair in a curly style choosing to go ahead and get a spiral-wrapped perm. (She can always straighten the hair with blow-dry styling and/or the use of a flat iron as desired.) There's little need to worry about the kinds of hair horror stories from your mother's and grandmother's day, because advances in hair chemistry have produced much safer and gentler perm formulas, including at-home perm kits that are self-timing for those women who prefer to do it themselves. The only drawback to choosing to include a perm-based style is the cost of maintaining the style - typically six to twelve weeks.

A body wave is essentially a permanent wave that is wrapped using the largest perm rods possible for the length of the hair being permed. The goal of the body wave isn't to add a specific wave pattern, but rather to add to the structure and substance of the hair, enabling it to better hold a style. There are even perm formulas available today that contain an additional 'restructuring' step where a protein-rich solution is applied and allowed to saturate the hair while the cuticle layer is open. These 'protein-restructuring perms' make excellent products for performing body waves and can result in hair that is in better condition than before it was permed. Body waves also demand less in the way of maintenance, needing to be repeated much less frequently than traditional perms.

So, if you feel that your hair suffers from a lack of body, there's no need to accept it as simply the whim of genetics. There are many options available to improve the body in your hair, from simple grooming tips to restructuring treatments. You can have the hair you always wanted.

Stacy - Hair Stylist ©Hairfinder.com

Related posts:

How a perm works

Quick fixes for common hair problems

Household tips for a beautiful you