Tchip
Hairstyles Autumn-Winter 13-14


The fall and winter hairstyles collection by the always innovative and crazy creative Tchip gives us a wide range of personalities expressed in hair, from "good girl" to sporty, edgy and extremely seductive.

Charlize Theron, Cameron Diaz and Tilda Swinton might have influenced this line a little with their personal styles, but it is also a reflection of the biggest trends on planet hair. Volume, boundless movement and texture - all with a perfect cut and a controlled, harmonious silhouette.



The hair colors this season are going back to nature with earthy browns and refreshing, unpretentious blondes. Color effects have been toned down to just subtle hints of highlights in a color that is close to the base.


Long, Sleek, Soft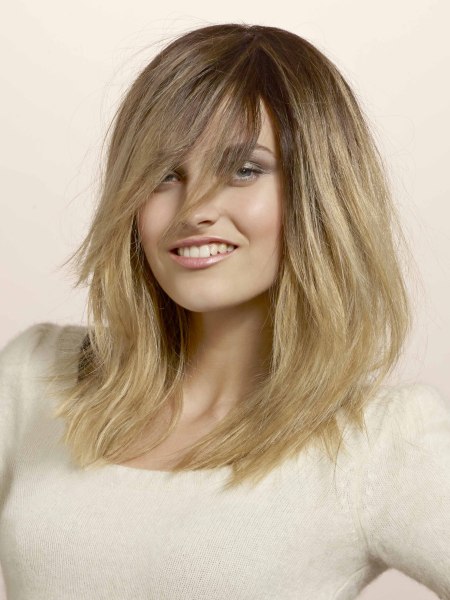 Find your blow dryer and dust it off. You will need it to recreate this exciting look for long hair. The volume comes from underneath and within. It is done with a big round brush and over the head to get as much stand on the roots as possible.

A very "designer" element is the long fringe that was styled in a straight line across the face with a few peek-a-boo openings. Long layers and some texture in the tips guarantee a rich flow of the wheat blonde hair, that gradually lightens up in the lengths for a look that brings the last days of sunbathing into the colder months.


Shoulder Long Bob with XXL Bangs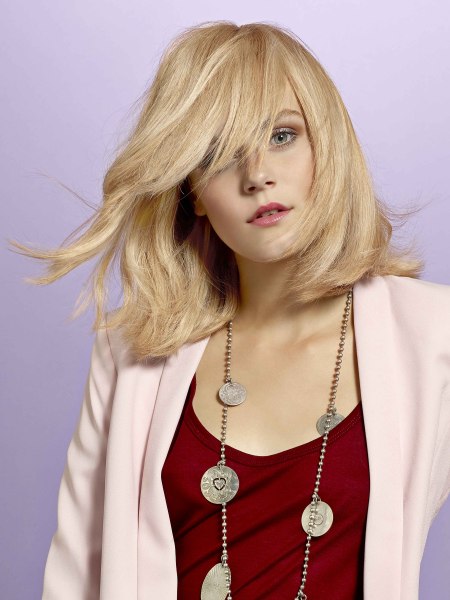 This is how a classic turns sassy. Add texture and long bangs, the color of autumn wheat and a rustic roughness. All is shaped to fashion success with a windblown styling. If you are looking for subtle you won't find it in this look, which is direct, bold and undeniably beautiful like a force of nature.

The hair was blown out for a straight fall, then some curves and movement were added to create excitement in the hair. The hair colors are golden blonde and a light beige.


Glamour with Volume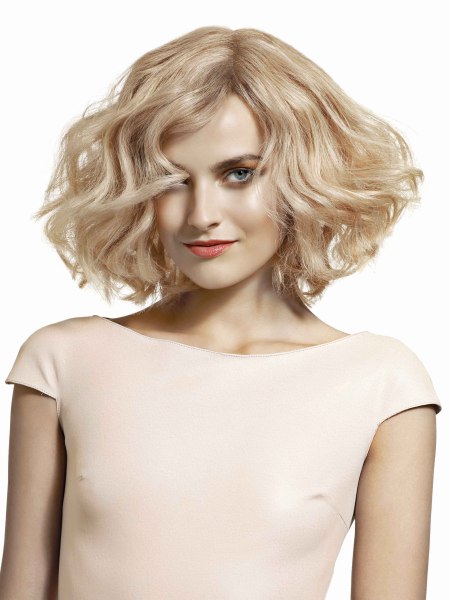 The trapeze shape of this bob haircut is intriguing all by itself, but to push it to the top, it comes with huge and wonderful waves. Get your sexy self to come out in every little curl and strand of this glamorous hairstyle.

The hair is parted on the side and still reminds of some classic Hollywood styles, but has so much modern texture and styling that it creates a class if its very own.


Schoolgirl Look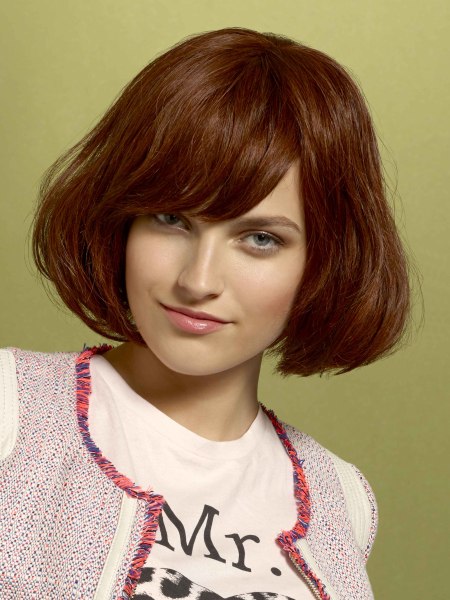 Even without pigtails, this hairstyle has the schoolgirl touch with its slightly off center bangs and the rounded lengths ending at the chin. Simple and adorable, but not without any trouble on the way.

The sassy and chic part of it is in the volume, blown into the hair over a wide round brush. A little lift of the roots gives it a good body on the crown and the sides are fluffed out. Retro and classy but with enough spice to work great for women of all ages.


Short, Sporty and Brunette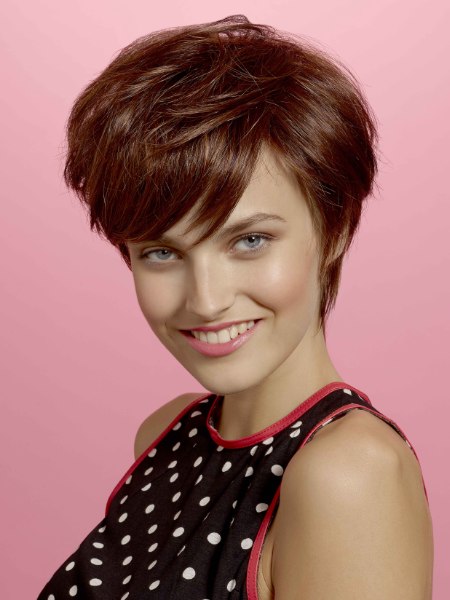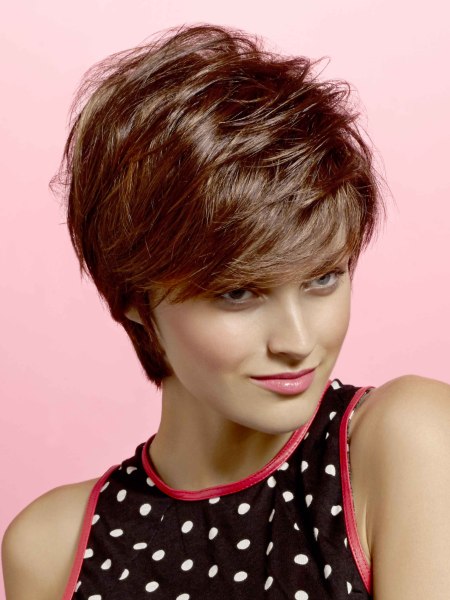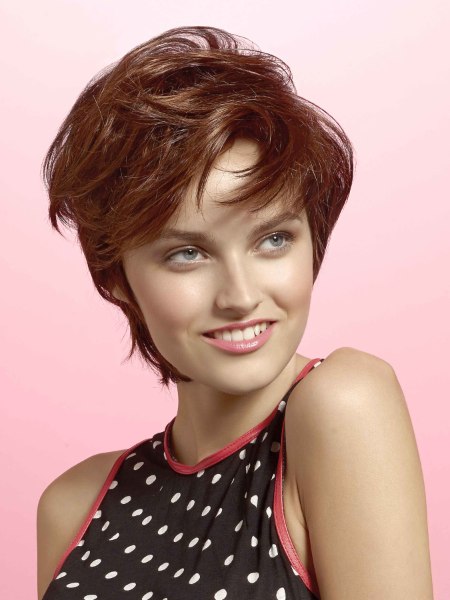 The asymmetrical fringe and the cute short neck are the greatest trends for short hair this winter. With enough layers to build some volume and movement on the top, this hairstyle qualifies for one of the sassiest around.

Give the pixie an extra boost with some gloss spray and a gently disheveling of the surface with your fingers and you are ready to chase away the cold with your super hot hair.


Short Hair with Asymmetry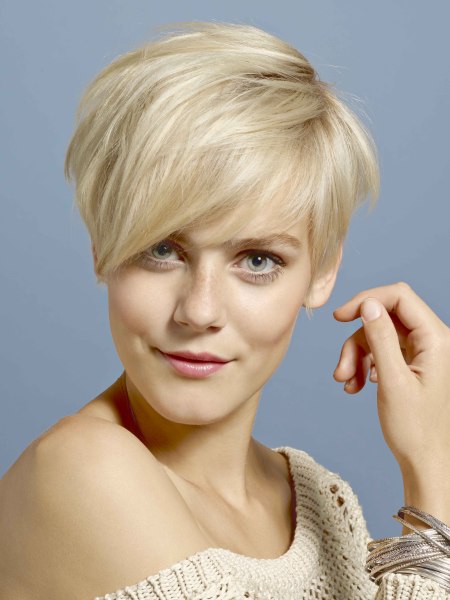 So you want to be the coolest blonde around? Go for some asymmetry in the bangs and very short sides with an equally short, graduated neck. This will leave enough room for all of the wonderful, fuzzy scarves that want to be worn this season.

The top hair is delightfully long and gives much opportunity to play with and to style it in a range of fun versions. Here is it defined with a short side part and the deep plunge of the pointed bangs.

Hairstyles: Tchip