Muse by Petra Měchurová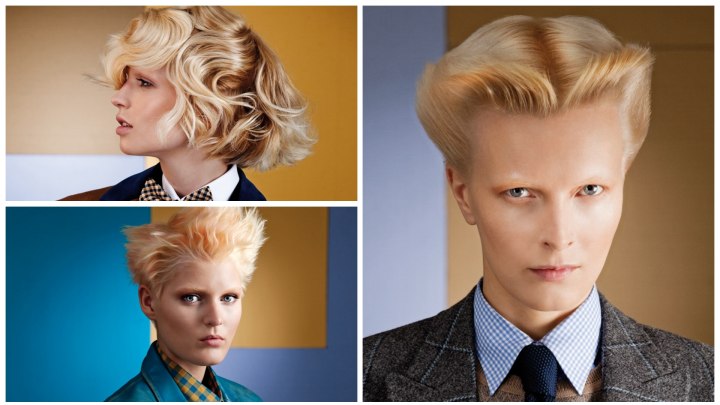 With her collection Petra Měchurová blurs the lines between masculine and feminine hairstyles. Outside of the conventional boxes she explores the powerful effects of color and texture, a delicate play of balance and expression.

Kissed by the muse of extravagance, passion and fine craftsmanship, Měchurová delivers a stunning trio of rebellious, seductive looks that are the child of a mind blowing affair between dandy and diva.



Blonde is elevated to another realm with a blush of peach, a warm whiff of honey and enlightening brights. She uses textures to create moods from calm and controlled to irresistibly sensual and finally utterly rebellious. A treat for the eyes, this exquisite collection is blazing a new trail in the world of hair.


Tapered Texture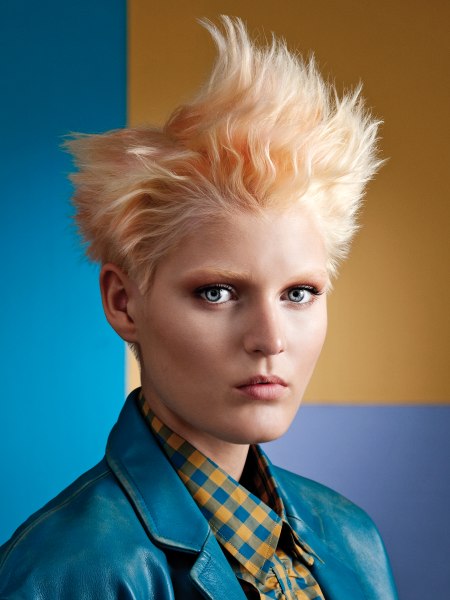 An untamed spirit finds its expression in the flame shaped structure of the uprising strands. The essence of Punk and the flamboyance of Rococo are harmoniously married in this spiky hairstyle. The hair was cut with very short sides and a gradual lengthening from the ears to the crown.

The longest hair sits right on top and with some help from bottles and tubes it will lift up. For extra excitement the strands were waved with a curling iron. The soft, warm glow of a peach colors radiates from inside of the hair, as it is most concentrated at the roots. The tips sparkle in a light champagne tone.


Seductive Waves in Bob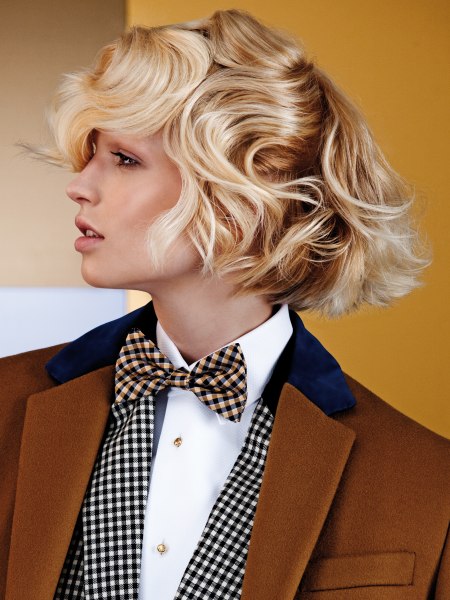 A classic bob gets its groove and movement with thick, carefully shaped waves. This short and divalicious hairstyle is utterly seductive, especially when paired with a masculine outfit. It is always a strong contrast like this that creates a raise in blood pressure and heart rate.

The placement of the curves and waves is surprising and unconventional, adding another surprise element to the expressive style. Control and a tingling amount of disorder play their game and we can be delighted about the mesmerizing patterns they produce. These are enhanced by the light and shadows on the beige blonde base.


Centered and Smooth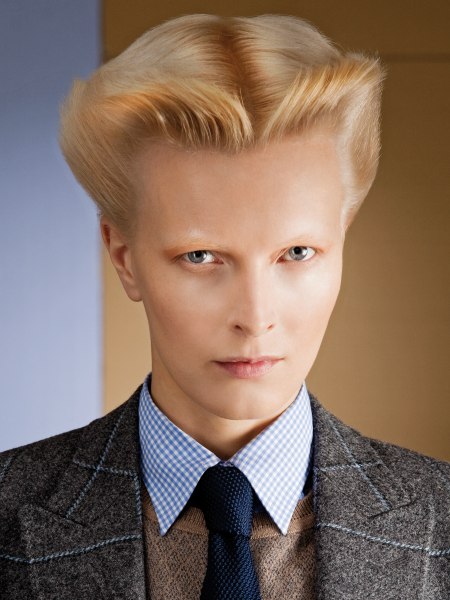 Androgynous to the core, this short hairstyle pleases with its balanced form and the very centered, organized expression. This all does come with some spice however and proofs that neat does not have to mean bland.

Inspired by men's hairstyles and the flair of David Bowie and his contemporaries, the sleek hair was combed upward in from and bent backwards. The surface is smooth and silky all over and the color plays with our senses once again with its shiny hues from honey to a subtle platinum reflection.

Hair: Petra Měchurová
Make-Up: Kristýna Georgievská
Styling: Mária Kohútik
Photography: Milan Dočkal