Collection 13 by COIFF1RST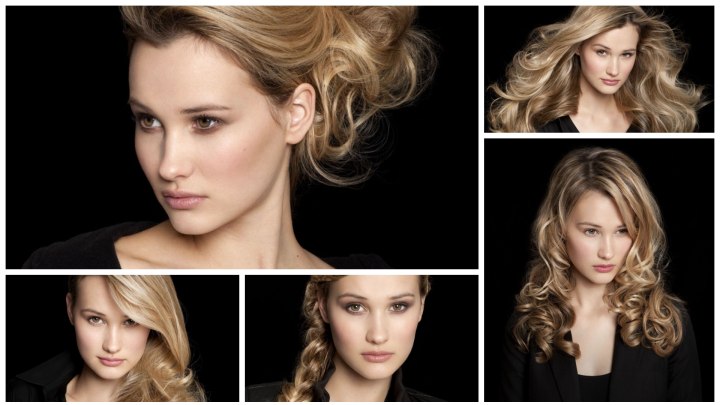 Long hair is undoubtedly beautiful in all of its shapes, colors and textures. Many women often wonder what they can do with their long hair to give it a different appearance. There are plenty of ways to style long hair. Get creative and you'll find out that there is more out there than just the simple ponytail, updos or long flowing and open hair.

COIFF1ST gives us some great ideas with their Collection 13. The model had long beige blonde hair that reaches her mid back. A light natural wave helps with some of the hairstyles. The expression of these looks is all feminine, attractive and very, very luxurious.



Treat yourself and your beautiful hair to something special. It is worth the effort and some of the looks are surprisingly easy to recreate.


Side Part with Long Curls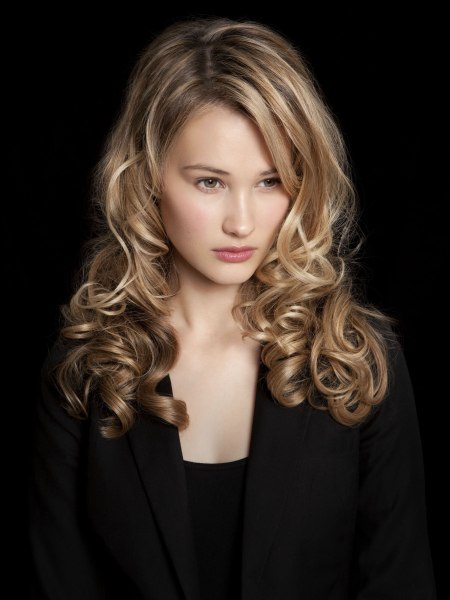 Heat it up with some heat set curls. The long hair was parted on the side, which gives it a very elegant touch. The hair falls over her shoulder in a cascade of beautiful curls, all of them in their full definition. These can be created with heated rollers or with a curling iron. The heat helps to achieve the shape of these curls and also to preserve them for a longer time.

Once set, the long strands were just gently plucked apart and arranged with the fingers. This slightly casual styling also shows in the smoother top hair, which looks like it was just raked through with three fingers. Use a little hairspray for more hold and extra glow.


Long Hair Styled to the Side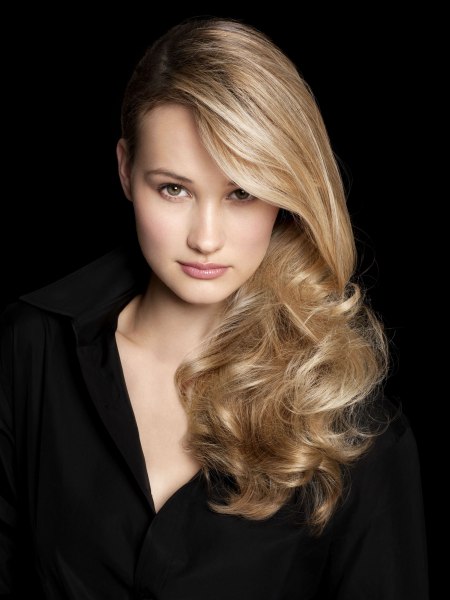 Diagonal looks always get much attention. They can only be created with hair that is long enough to be pulled from one side, around the back and then over the opposite shoulder. You could use some pins in the back to hold a shorter length in place, but it is the effortless look that makes this style so appealing.

The hair was drawn across from the smaller side of the side part and now all of the bountiful curls and all of the beige blonde glamour fall asymmetrically for a very sophisticated and sexy hairstyle.


Simple Upstyle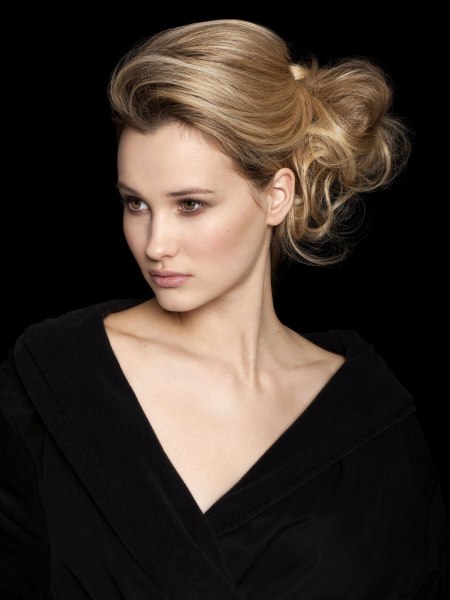 Special and even formal events that ask for your most elegant hairstyle are no longer a threat with this simple and so very glamorous and sophisticated look. The long hair was pulled into a ponytail just a big off center in the back of her head.

All of the hair leading to this ponytail is smooth and bounced up a bit with some underneath teasing and the way it is held when the elastic or the clasp is applied. Part of the lengths is slung under to create this fluffy chignon with its large and just tad unruly curls. Once again the curling iron should be your weapon of choice.


Two Braids and a Leather Jacket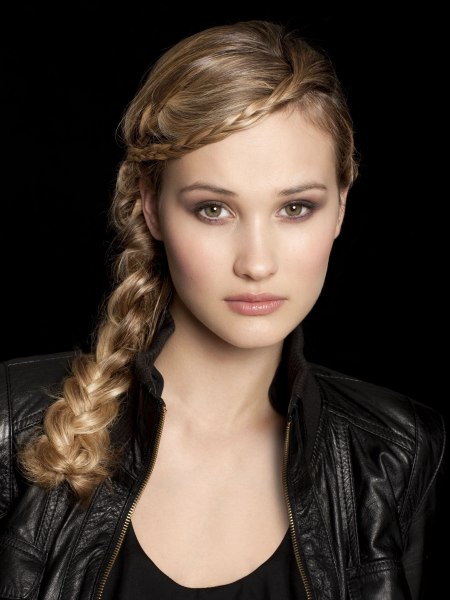 She does not need any lace with her leather to show her feminine side, a couple of fine braids give this strong woman an attractive touch with a golden shimmer. The finesse is in the detail as the narrow braid that runs diagonally across her forehead originates at a spot much further back.

The long and thick braid on the side is created with a loose fit and the ends are tugged in. A very romantic look styled as a modern day fairy tale.


All Brushed Out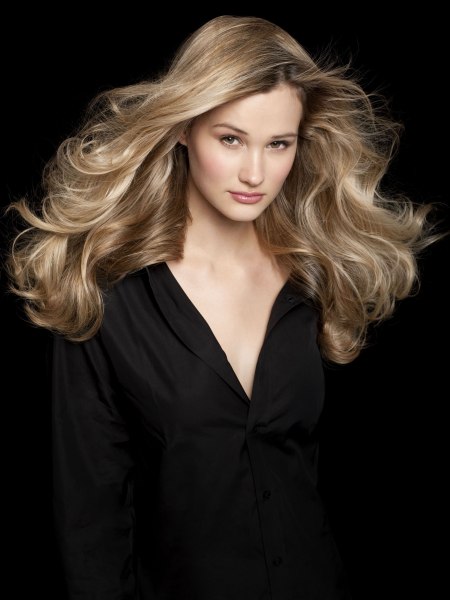 Every now and then it is just the right time to flaunt it! If you have it, don't hide it away in little buns or ponytails and delight the rest of the world with the amazing beauty of healthy long and shiny hair, blowing in the breeze and glistening in the sun or moonlight.

Her natural curl needs no enhancement, but a thorough brushing with a natural bristle brush and just a tiny amount of shine serum will set this glorious force free.

Hair: COIFF1RST - Paris