"Decisions" by Keller haircompany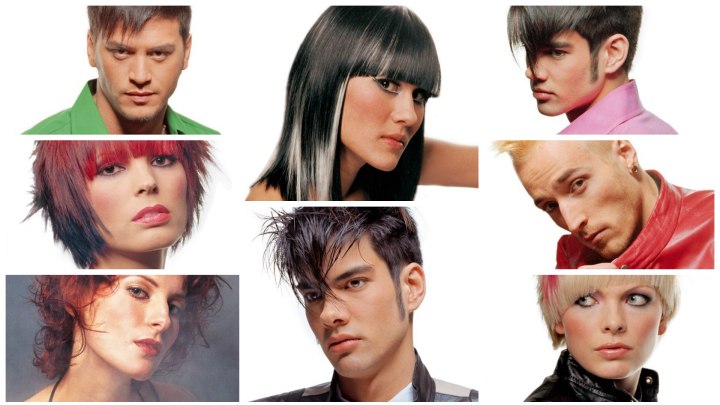 The models in the following pictures did not always look this spectacular. They all underwent a makeover that took them from bland to bold. As you will see - it does not take much to put drama and momentum in your hair.

Keller haircompany delights us again with a collection of spectacular hairstyles for modern men and women. The looks are rich in shine, color and diverse textures. Bangs are the focus and a rounded silhouette is one of the key elements.



Each cut features a distinctive play of colors and shape, both supporting each other. The palette ranges from black and white to fierce red shades and golden blondes. Exaggeration is the motto and just as the color, the texture is also taken to a higher level by its cut and styling.


Fashionable Curly Hairstyle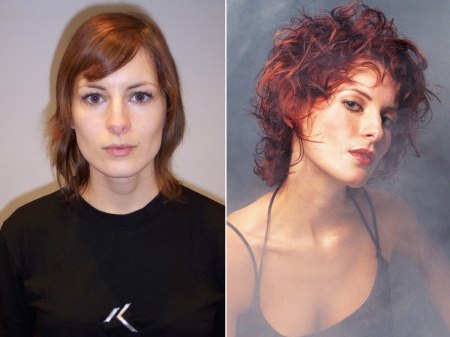 The grown out short cut did not do this model much justice. Her pretty features come to live however with the semi short curly creation that pumps up the volume and the heat. To achieve this major shift of energies the hair was cut into even layers around the head with slight texturizing of the ends.

The hair color plays an important role and radiates with copper, deep red and very dark contrasts. The hair was fashionably mussed and tousled with the hands and a dollop of product.


Short Buzz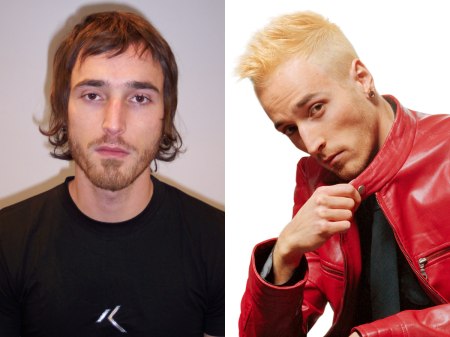 Who would have thought that geek boy had it in him? The couch potato look with the stubbly beard and grungy hair was way too 90's and had to go. Now our model shines with a sharp blonde cut, millimeter short sides and back, punky spikes on top and a face as soft as a summer's peach.

The short buzz requires regular maintenance cuts, but the daily upkeep and styling is super easy.


Short Hair with Round Bangs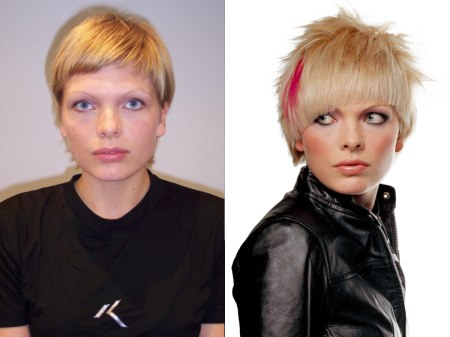 The short, side swept bangs brought too much attention to the wide forehead of our Nordic looking model. With the long bangs, cut in an asymmetrical but round line that continues all around the head, her distinct features are enhanced, as they should be.

Gentle, textured layers on top bring wispy volume to the look and the flash of fuchsia on the longer side is just the spice that she needed.


Bright Red Bob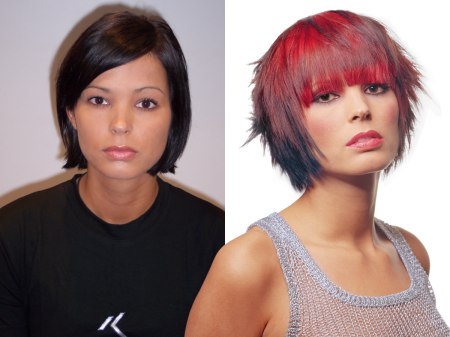 We all love the classic charm of a bob. The always flattering cut has much more to offer than being a nice look for the office. This makeover took a little courage but look what an amazing change took place!



The new look has the same length but the cut was modified by layers, texturizing, full bangs and a bold color. The bright red is contrasted by raven and reminds of flowing lava. A hairstyle like this will put a new bounce in your step!


Bleached Streaks


It does not take much to radically change a look. In this example the healthy, shoulder long hair was given straight and blunt bangs. It was cut just a touch shorter with a few strands left longer than the rest.

In comes the most dramatic new element - a layer of bleached white hair amid the shiny black tresses. With every move a new pattern emerges and takes this Cleopatra style into the 21 century.


Lightened Hair for Men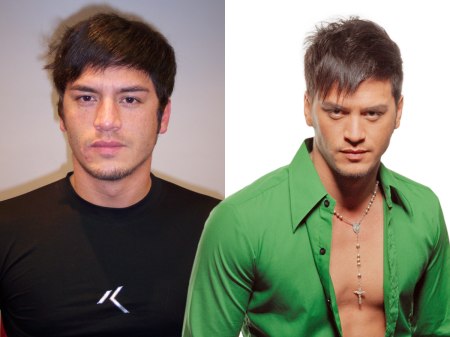 This hunk of the day looked a bit heavy and unbalanced before his thick hair underwent the magic Keller haircompany treatment. It was lightened not just in color but also in weight. With a new layering and texturing of the hair a lot of weight was lost.

At the same time the dark brown turned into a light brown/ash blonde that actually brings more attention to his face. This is also emphasized by the spiky shape of the bangs that diagonally grace his forehead.


Male Metamorphosis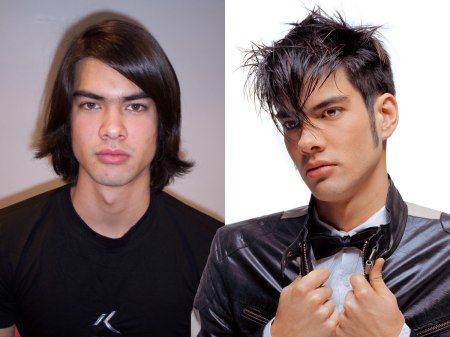 Skater boy turned rockstar with a great cut and a new leather jacket. Short sides and long top hair take the friendly but blah appearance of this handsome male to spiky heights. Sexy sideburns and extremely short sides and back are topped by long strands, made slick with gel or wax.

This versatile look is quickly styled with the fingers and will always leave a lasting impression.


New Look for Men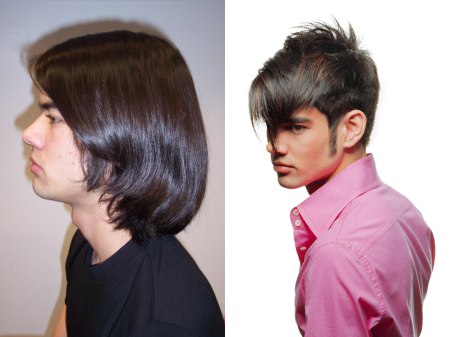 Long grown out hair for men is so last decade. The new man is stylish, well groomed and has fun playing with textures and colors. The well defined cutting line of the new look brings attention to his distinct features.

Short sides and back keep him cool and the long top hair is styled in different directions with spikes on the crown and much finesse in the bangs. The sideburns feature a most delightful touch with a cut in a diagonally striped pattern.


Makeover with a Bang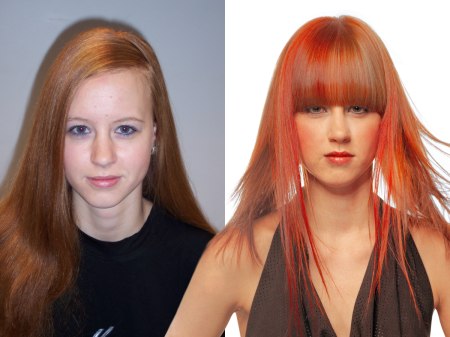 She had beautiful long hair to begin with. But as many women she did not do much with it and just let it flow heavily around her pretty face. Nice but boring. Keller haircompany got out the scissors and the color.

Her mane lost a lot of weight thanks to the skilled use of a razor and thinning scissors. The heavy texture is accompanied by a vavavoom color that is blended shades of blonde, copper and red.

Hairstyles: Keller haircompany