Hob Salons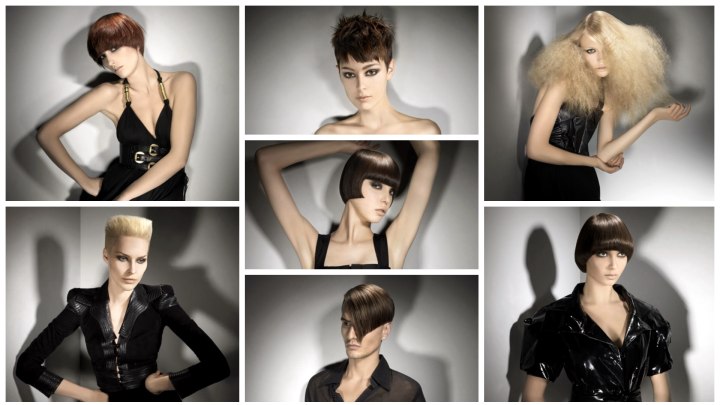 British Hairdresser of the Year Hob comes up with envied hairlines of preppy sauciness and smooth structures of satin clipped precision. There are organic earthy rich browns in gathered minute spikes and others in an angular density.

There is a fun presentation with casts of sprays of blonde that fan out in the background and then a tamer arrival that beckons a smile.


Hair Encasing the Face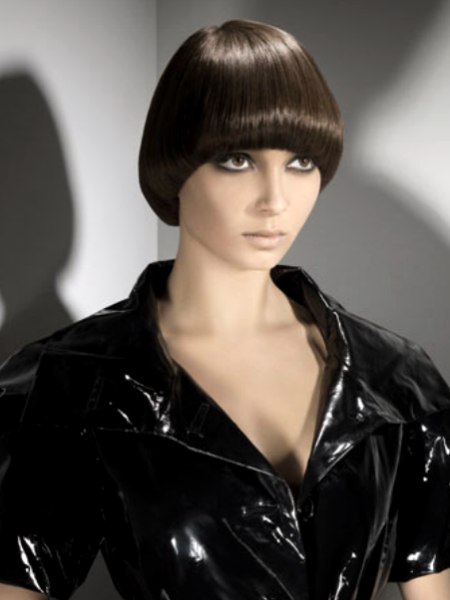 We can see the indelibly smooth structure of deep brunette lines flowing from the crown and tilted over the eyebrows and encasing the face all the way down and around the back. Toni Tennille of Captain and Tennille made this haircut famous in the 1970's.


Hair with Crimping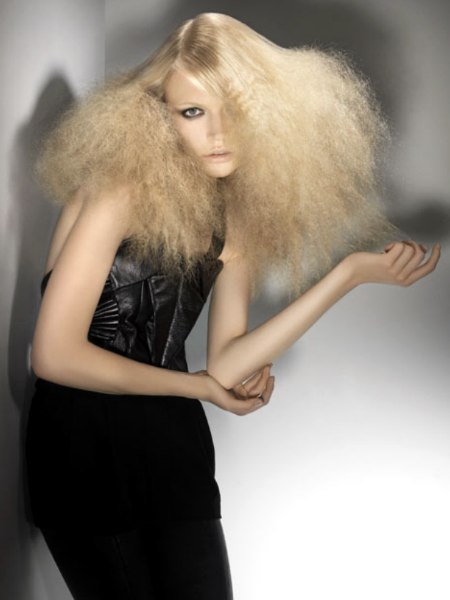 Ever shiny long blonde tresses make an entrance resembling a rare poufy flower in the south of France. The glossy top begins with a straight part and works its way out with a sudden intent of crimping and kink, enveloping the model with a mane of angelic protection.


Slick Back Bob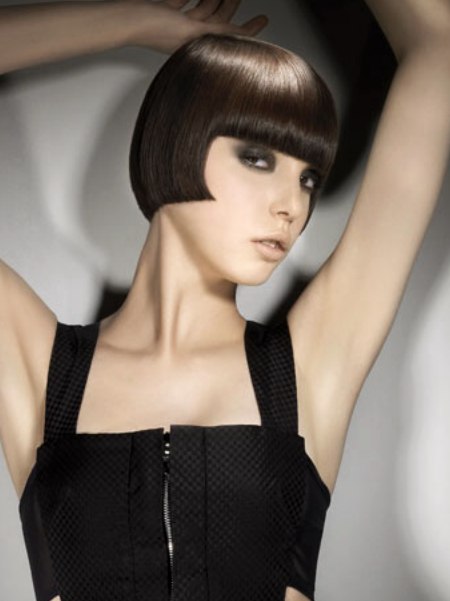 The slick brown bob is edged closely just under the ears into a synchronized shock of intrigue. The thick sexy bangs and the very small curve of hair toward the face captures the whole essence of this attractive hairstyle.


Audrey Hepburn Pixie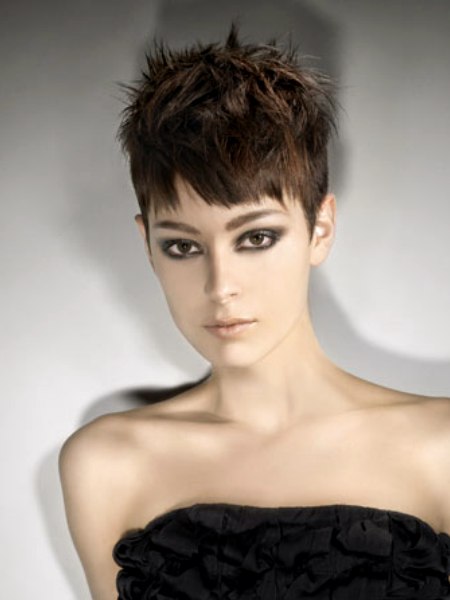 A fine breeze of yesterday with Audrey Hepburn stirs our soul as we look at the nature of this short hairstyle. Glorious light earthy/clay brown hair is chopped into selective layers to double a punch with spikes coming from the crown as if a fancy Parisian hat.

The bangs are clipped well above her attractive brows and the sides go over the ears leaving just a wisp around the face.


Horizontal Haircut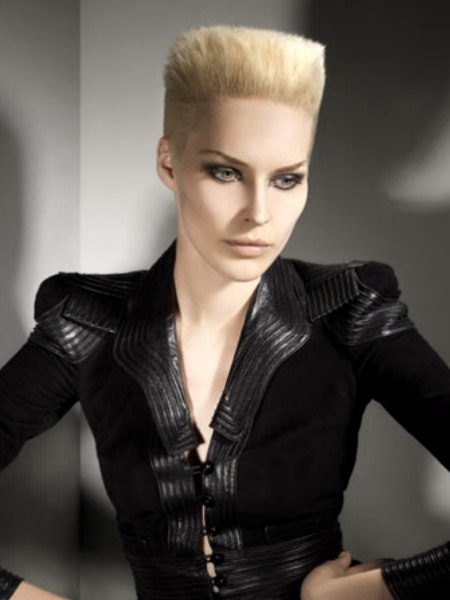 The horizontal haircut involved in creating this linear look is ingenious through the hand of experience and creativity. The sides are closely clipped up and go around the back into the nape. The length begins its growth to be measured around the temple area.


Vamp Look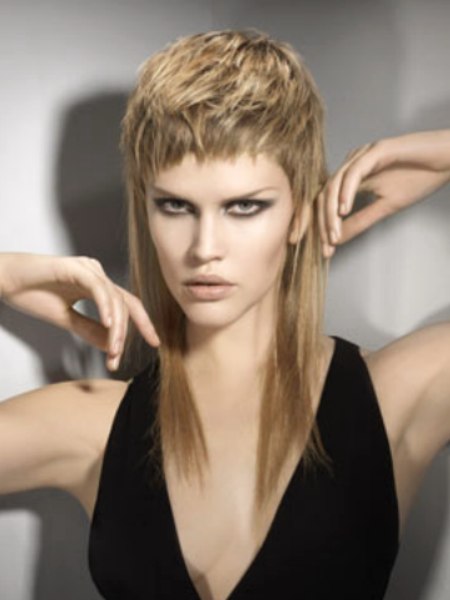 They call her a vamp, but she has beige blonde hair. In fact, the vamp's cut is delightfully clipped in short layers along the top, crown and sides. The bangs are in carefree splits of hair designed into a circle around her face. The rest of the hair is brought around from the back to plunge below the shoulders.


Smashing Red Hair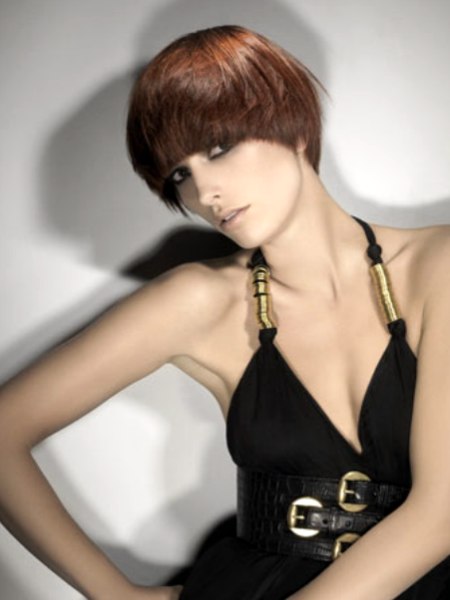 There might be more blondes on earth, but redheads have the power to keep many in complete awe. The red gingery color is totally smashing with the light flicks of layers that captivate the face.

The longer sections begin in the crown to meet the versatile shorter pattern of hair that covers the brows and edges around the back.


Sophisticated Men's Hairstyle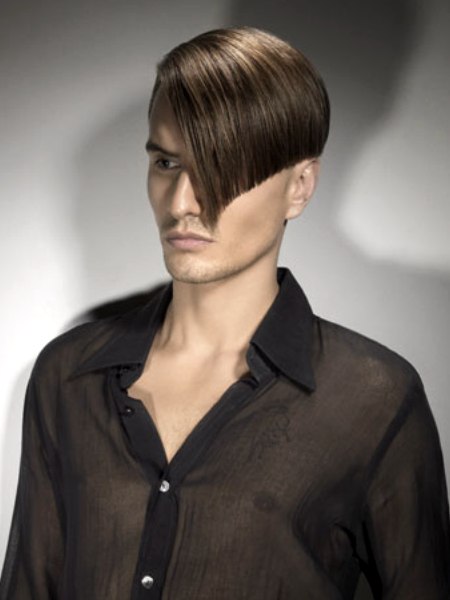 The model has closely clipped hair in his nape and tight sides. The top has a far side part with the heavy thick belt of straightness that joins in with the hair in the crown. The hair statement is next to the belt and designed into a point just above the corner of the mouth.

Hair: Akin Konizi @ Hob Salons
Make-up: Emma Miles
Styling: Damian Foxe
Products: Wella Professionals
Photography: Andrea Klarin