Mister by Peter Prosser Hairdressing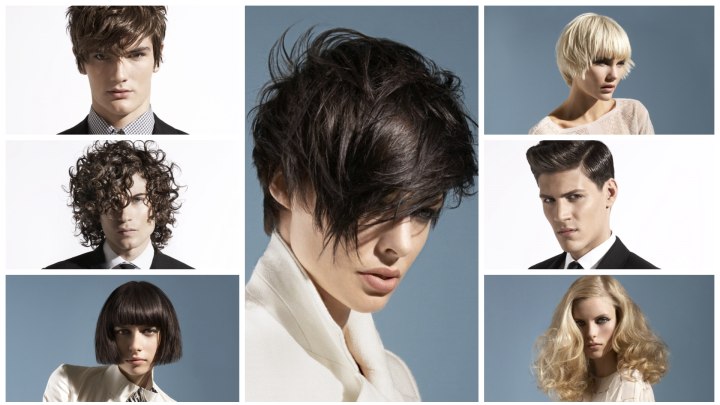 Peter Prosser proves to us that glamour does not have to be complicated. In his collection of hairstyles he delights us with luxurious, elegant styles for women that are based on timeless ideas paired with the perfect cut.

"With an emphasis on manageable glamour, I wanted to create a collection inspired by sophisticated and elegant form that builds upon the salon's repertoire of wearable timeless styles."



He also has very handsome ideas for men and gives them looks that take them out of the box of the universal short and neat cut. "I wanted to created tailored, functional looks with an edge for the man about town."


Just Under the Ears Bob


This classic was cut in a straight and blunt line just a tad under the ears. A gentle thinning of the hair increased the volume and helps to achieve this artsy geometric shape.

The deep bangs together with the subtly curved sides makes an intriguing frame for the face and gives it an expression of sexy mischievousness.


Shimmering Bounce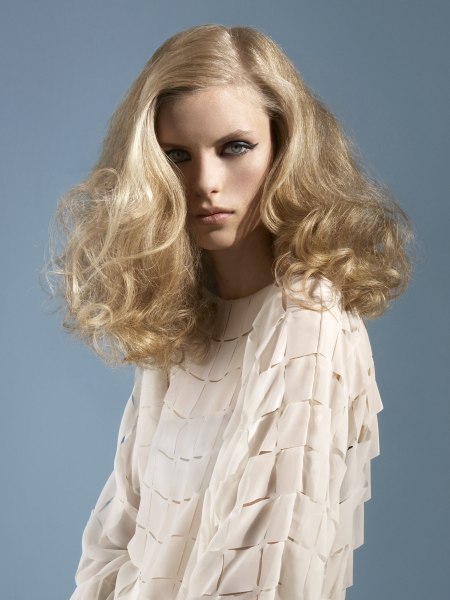 Never underestimate the power of long blonde curls. These bountiful waves flow over her shoulders like spun gold and illuminate her face with irresistible radiance. The hair was parted diagonally off center, creating a slight asymmetry. Pure luxury not just for special occasions.


Cool Edge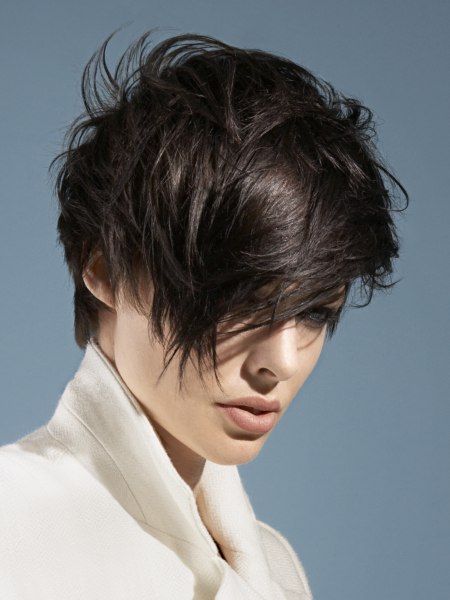 For the bolder types Peter Prosser suggests a layered, frayed cut with increasing length from the back to the front. The styling options are endless and we love this asymmetrical long fringe with lots of texture. It's trendy, short, seductive, rebellious and comes with cool sophistication.


Textured Round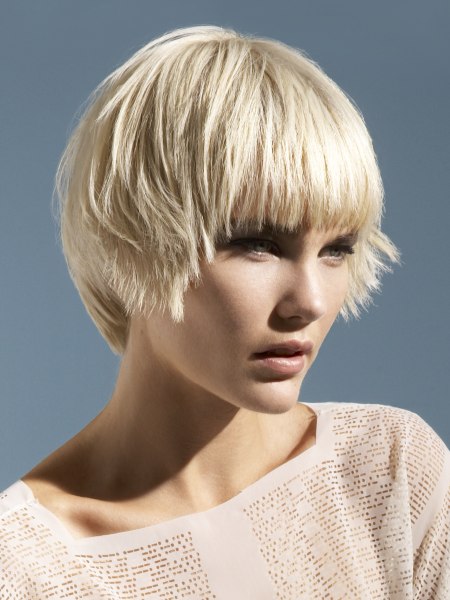 Based on a classic round cut this almost bowl shaped short hairstyle bedazzles with its gentle texture and the warm vanilla blonde. Elongated and textured side sections rescue the shape from being bland and bring a lot of sizzle even to hot summer days and nights.


Wall Street Calling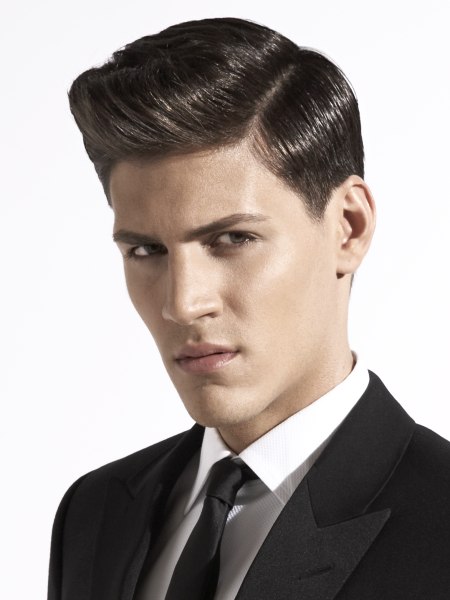 Clean cut and dapper is the look of career minded men of today. But with all the neatness, let's not forget about a little style and personal edge. This style incorporates both. The sides are super clean and short while the top hair is longer and styled to a high, thick quiff. All held together by a touch of pomade. With a great base cut many variations to this look are a breeze.


Male Medusa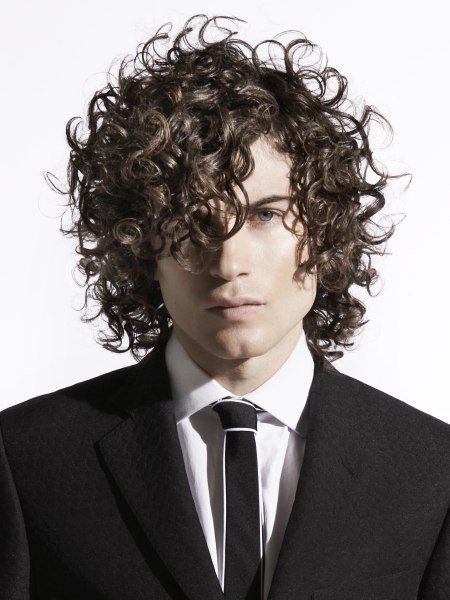 Artistic men of today look great in suits, but also like to express their inner world through their hairstyle. Here we have an explosive meeting of early 60's clothing style and the free spirited long hair of the Aquarius age generation. The avantgarde styling gives each of his curls the highest definition and direction.


Coiled Fringe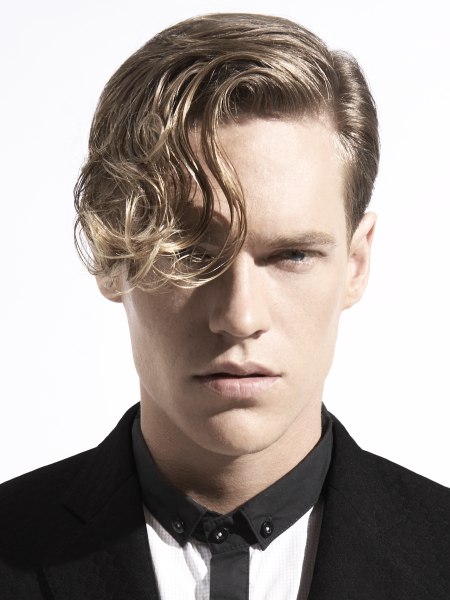 Out of a layered and neat professional men's cut comes a great surprise. The bangs are long and coiled! What a contrast to the short and controlled rest of the style. These alluring curls can be worn as seen here, giving him a bohemian, mysterious touch, but also look good slicked towards the back with some pomade.


Mixed Texture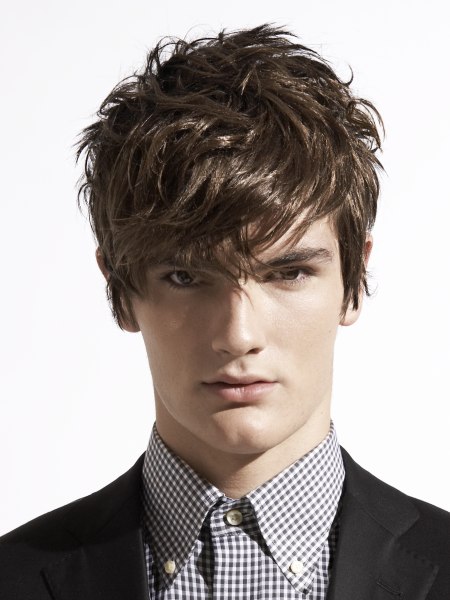 This men's look just sparkles with fun textures and movement. The hair was layered and boldly textured with long bangs and choppy sideburns. Styled with the swirling center on the crown this look mixes waves and spiky textures - all resulting in an irresistible, touchable and wearable hairstyle for every location and occasion.

Hair: Peter Prosser Hairdressing
Products: Wella