Levitas
Tracey Hughes @ Mieka Hairdressing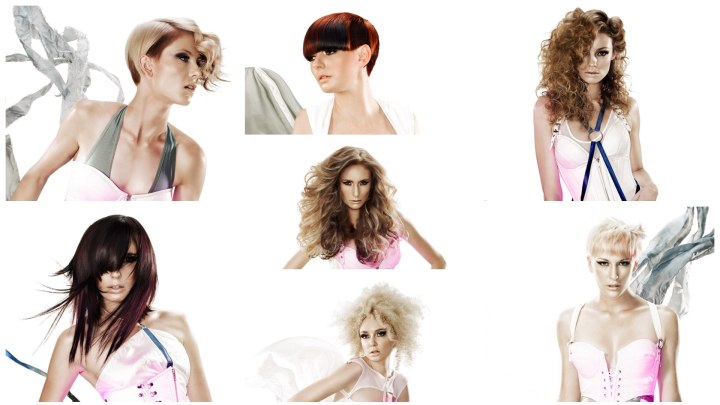 Def. Latin for levity; "lightness"

A gentle sophisticated new vintage emerges with freshness and lightness being the essential philosophy behind the trends. Levitas by Mieka Hairdressing's Tracey Hughes is an enchanted fantasy where images defy gravity and contradict gloomy realities with a refreshing lightness.

The collection's striking shapes are inspired by classic minimalism, architecture and romance whilst a hybrid of nature, craft and science collide as natural transparent filaments fuse with technological accents to produce emerging colour sensations.


Silky Thickness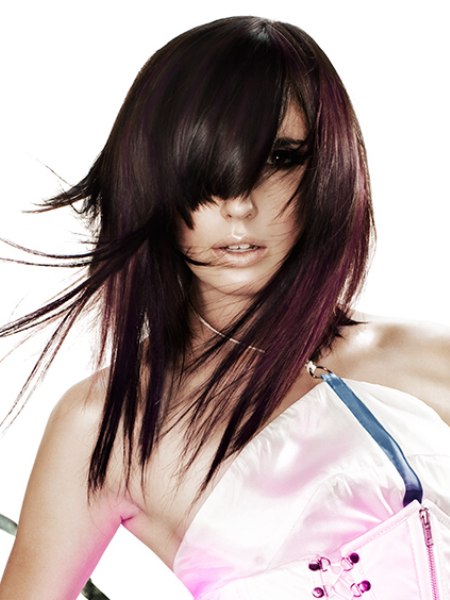 Full long hair is brought to its full potential with this striking look. The cut features choppy, heavily textured lengths with increasing denseness towards the tick inner base that has a barely shoulder length neck section and thick sideways bangs.

A warm chocolate brown was infused with the color of pure temptation, a sizzling red tone. Styled to ultimate lightness with sleek lines and flowing strands, this look expresses all elements of the current trends.


Fluff and Crinkle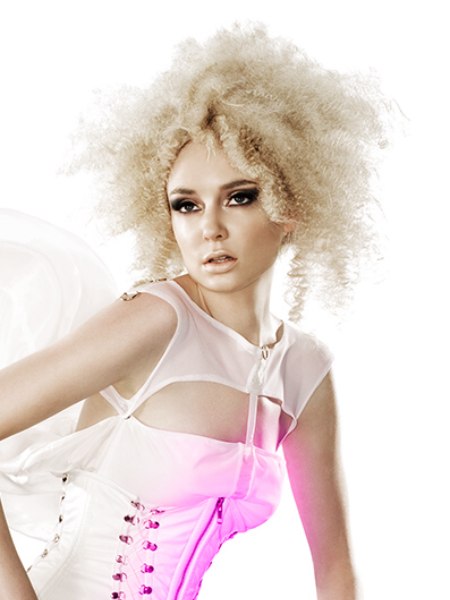 Modern goddesses of the Afro look go for blonde and crinkles. The result is an angelic look with a lot of texture and an exciting edge. The hair was elaborately shaped to tiny, crinkly waves and then carefully brought into its heavenly fuzzy shape.

The hair color is a balanced mélange of light filled platinum and a deeper, sandy blonde for substance and dimension.


Waves with Shades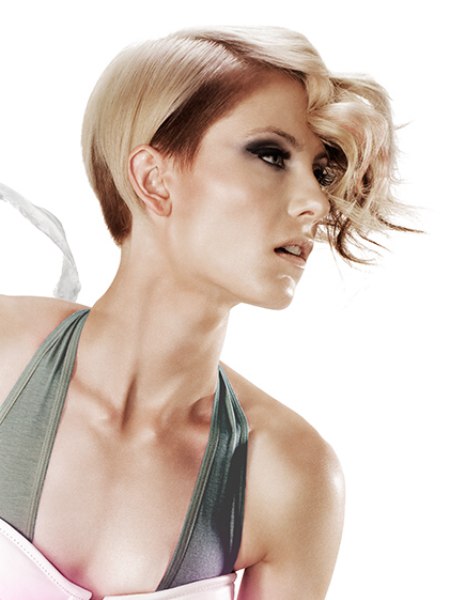 This short and long creation boasts a play of textures and colors. The appeal of the gamine base cut with the strict cutting lines along the sides and the back is intensified by the gravity defying wavy section in front.

The ondulated bangs are full of feminine energy and emphasized by the effect of a deep mahogany and a subtle, matte blonde meeting and enhancing each other.


Rusty Shades of Midnight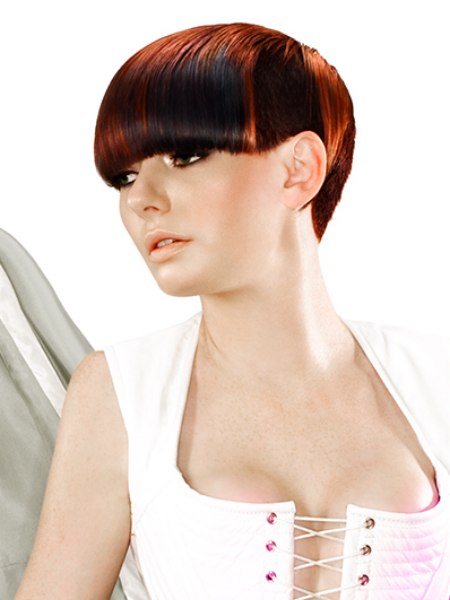 A short, sleek styled haircut is a great canvas for exciting coloring techniques. The stylists are showing their sensational skills on this magnificent radiant piece of hairart. Minimalism of the cut and creative expression of the color come together in a creative big bang.

The bangs are round and reach the eyelashes while the sides and back are masculine and short. Colors of choice are a deep mahogany, bright copper and a cool midnight blue of a special effect.


Ebony and Ivory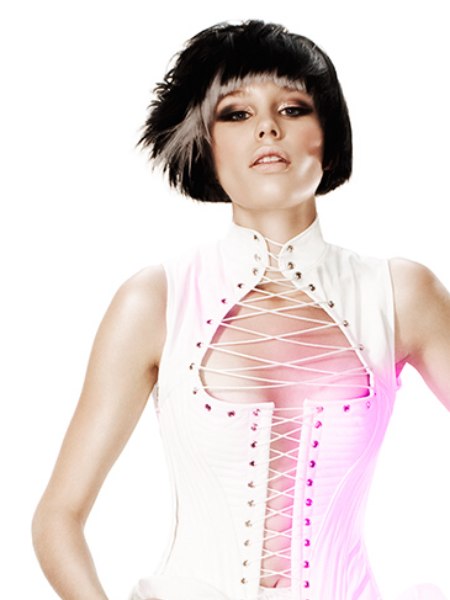 Every story has two sides and we love the black and white narration of this formidable look. Be it for an enchantress of the night or the daytime diva, the stark contrasts of the structured bob speak for themselves.

The asymmetry of the color is repeated in an asymmetric styling that works with smooth and fluffed, pointy textures to frame the face.


Evolution of Waves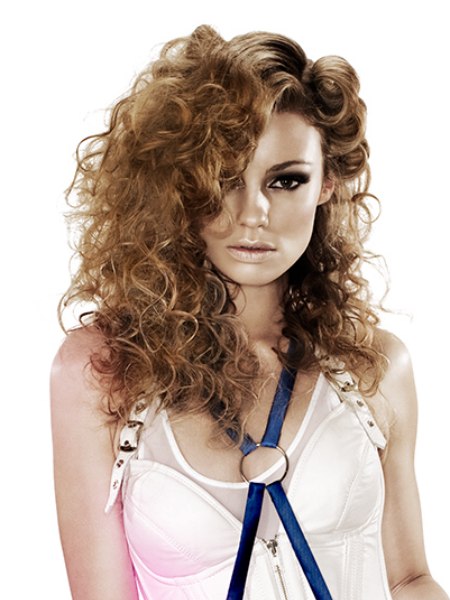 Long hair is even more luxurious in a wavy incarnation. Besides coming with all of the attributes of a sexy, opulent curly look this style is especially stunning with a range of architectural displays of the stages of a wave.

Going from a round barrel, the first stage to the loosened and more and more crinkly curves this style is a great example that there still is much room for unexplored creativity with hair.


Pink Lightning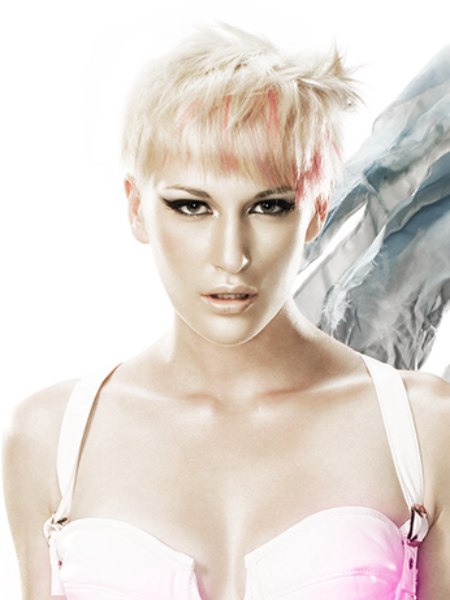 Pixie and pink is the recipe for a truly unique combination of cut and color. The short layered hair is textured to ultimate fineness and silky flow. On a base of blinding platinum blonde a few pink sprinkles where places like the frosting on a cupcake. Who could resist that?

The styling allows many variations each one determining a different appearance of the color pattern. Here the look was punked up with some mouse to get a tousled, spiky appeal.


Big, Big Hair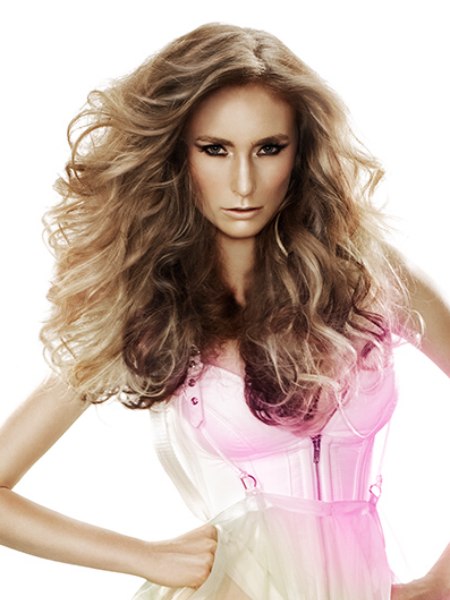 A flavor of the huge, bouncy looks of the 80s as sported then by Farah Fawcett and friends, comes along with this thrilling force of hair-nature. Parted casually on the side the hair billows full of volume and fluff in an oversized cascade tinted in chocolate, caramel and snowy platinum tones.

Color, cut and the wavy texture all work together to come out as one statement of feminine strength and confident style.

Hair: Tracey Hughes @ Mieka Hairdressing, Melbourne
Photography: Christian Blanchard
Make-Up: Ellinda Corbisiero
Stylist: Marc Wasiack
Products: Redken