Jack Holt Coiffeur Créateur
Hairstyles Spring Summer 10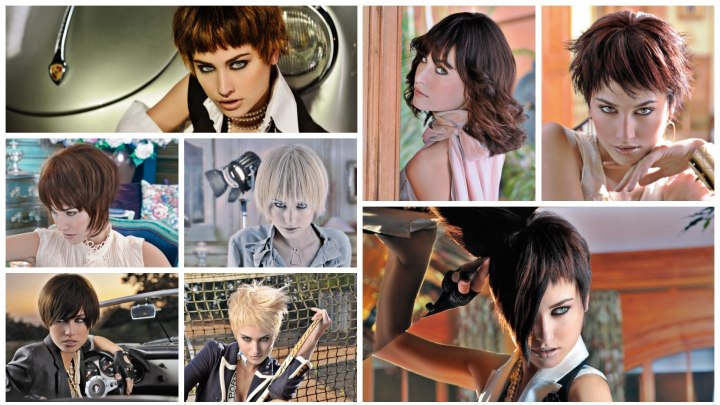 The creative minds at Jack Holt Salons share their vision for spring/summer hair - and it is round. Smooth curves, round silhouettes with much texture. The attention is on the hair and the architecture of a perfect cut. Hair color supports the shape and remains in a natural spectrum.

Volume is an important element. In jack Holt's hairstyles collection it is created around the crown with a serious lift of the roots and skilled styling techniques.



The real star of the season, however, is the fringe. Bangs come in many shapes and lengths. Straight, smooth or jagged and asymmetrical. Great bangs add instant pizzazz to a style; they also rejuvenate and could rightfully be called the botox of hair. Try it!


Ears Covered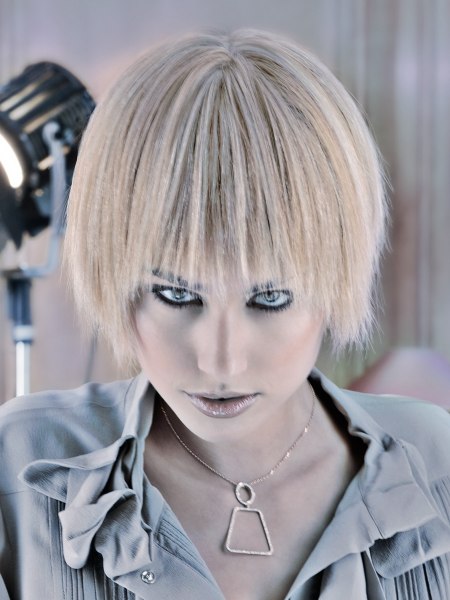 The thorough filigree texturing lets this short hairstyle appear very delicate and soft, almost fragile like finely spun sugar. Rounded density surrounds the crown, forms a full fringe and covers the ears.

In comes the skilled use of sharp scissors and all edges blur to baby soft texture. Together with the simplicity of the contour and the beige blond color all elements combine to a casual, chic and superstylish look.


Pixie Cut with Short Bangs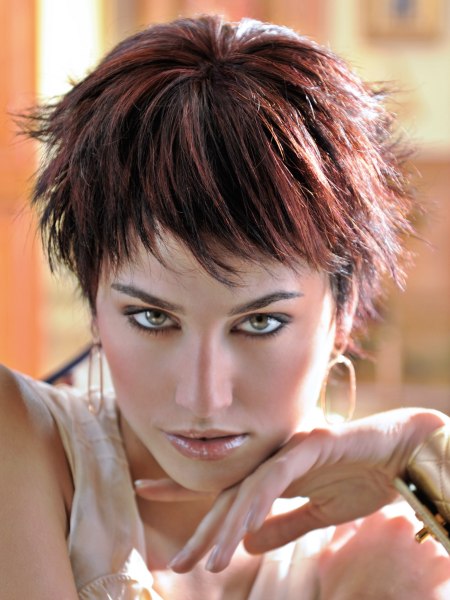 Short but not lacking in flamboyance, this ruby red pixie style is a gem of a haircut. Movement galore, texture and invigorating colors are the ingredients for this feminine look of feisty elegance.

The short bangs as well as the sides were heavily textured to form a jagged outline and wispy ends while the dark and lighter tones of red create a swirling, attractive surface.


Timeless Medium Hairstyle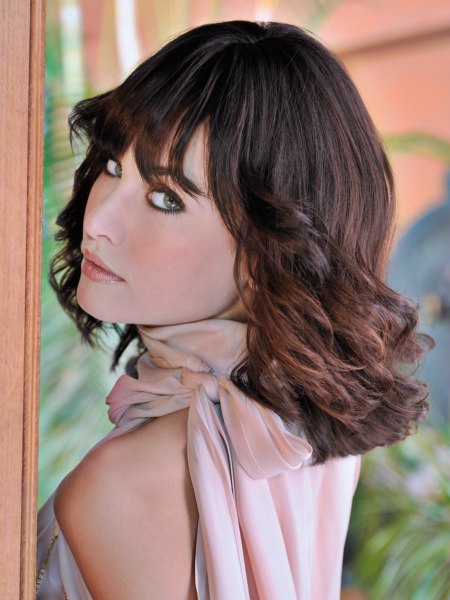 A timeless and romantic hairstyle with a fun wreath of thick waves. Modern fashionistas like to be inspired by famous looks from the past decades and bring them up to date with modern styling techniques and new textures.

This casual but stylish look does just that and flatters the face with deep bangs, a lot of swing in a deep and luscious brunette color.


Long Half Fringe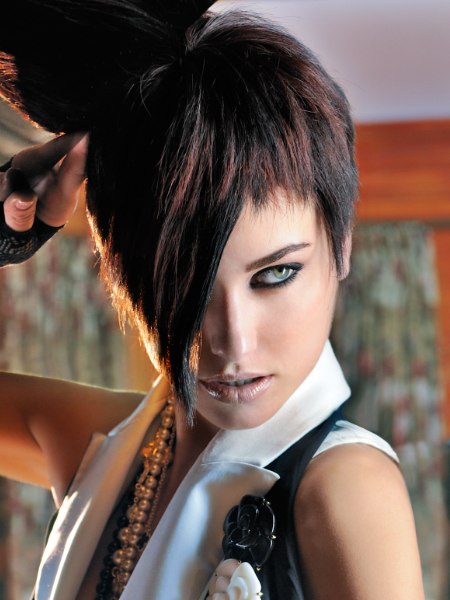 This short hairstyle comes with a haunting rhythm that will get anyone out of their seat. A touch of flamenco and a touch of rock are expressed with the short and long elements of this top modern creation.

The long half fringe has just as much finesse as the shorter sections of this seductive, powerful haircut. Above all it is easy and versatile when it comes to styling.


Short Rounded Haircut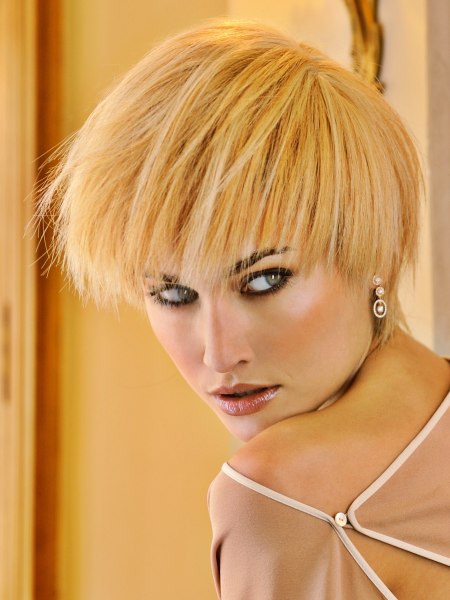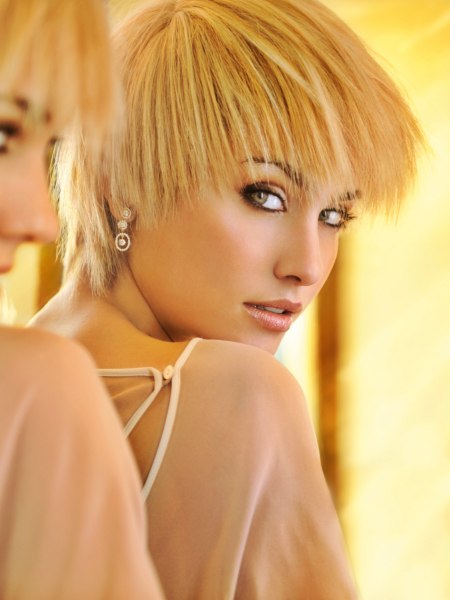 Gold has been a reoccurring theme in fashion and it is especially pretty when infused into the hair. This short, rounded, slightly gamine cut comes with a lot of fine texture and movement and radiates in the most beautiful golden shine.

Gentle highlights increase the shine and add depth to this adorable mix.


Close to the Neck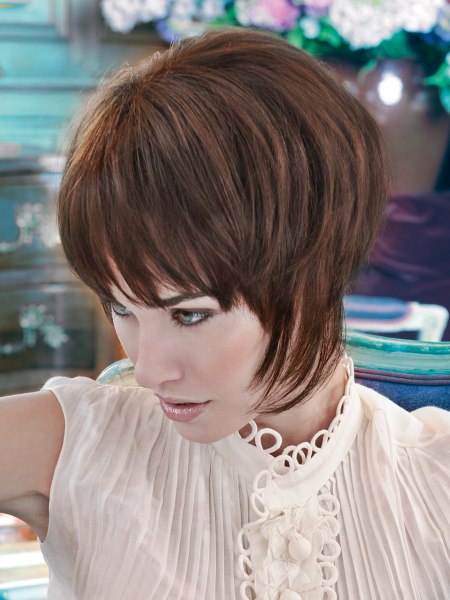 Just in time for a resurgence of tea parties and cucumber sandwiches, there are elegant new hair creations that will take us through the day in style. The textured lengths are styled close to the neck and skin to frame the face while a lot of chic volume is created in the top section.



This short haircut has charm and also a lot of versatility to be styled a little differently whenever the mood hits.


Tapered Haircut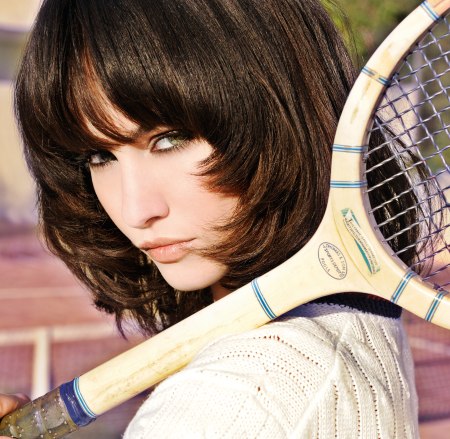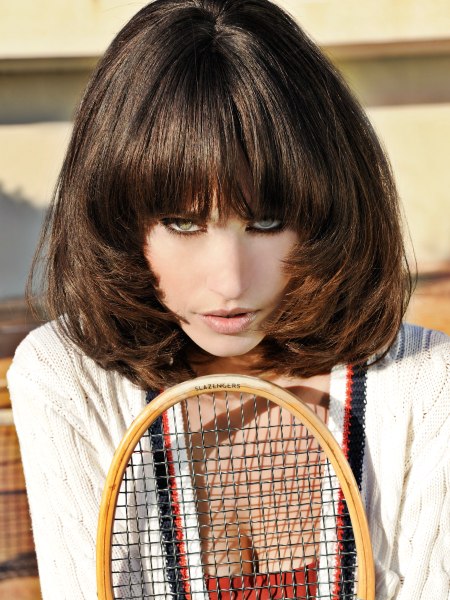 On the tennis court or off - this face framing round medium long hairstyle is a winner. Always stylish and an evergreen since the 70s it has not lost any of its impact. The bangs are longer and the tapered sides have more texture today, but the basic idea remains the same.

It can be styled into the face or feathered towards the back. And who does not love the color of dark chocolate!


Face Framing Hair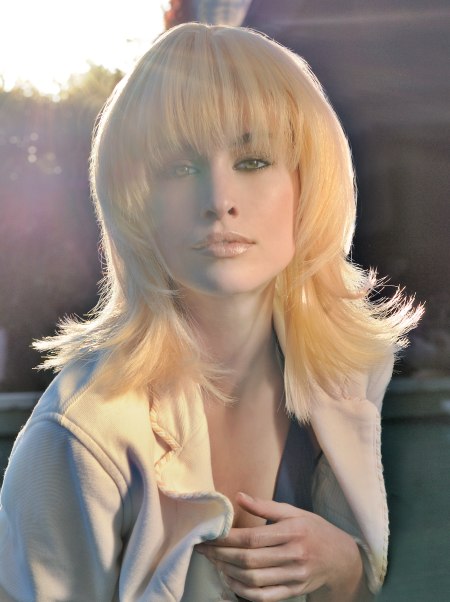 Face framing roundness is off set by a longer sub-layer that swings up to wispy grandeur. What a classy way to welcome summer! This exquisite long hair creation seduces with its vanilla color and the consequent softness that can be found in all its elements.


Wispy Bob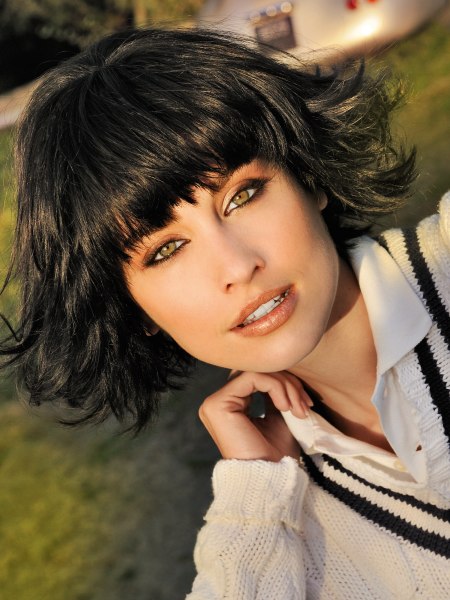 Perhaps the most versatile of all haircuts, this wispy bob will accompany you on all adventures. Make it a summer of style and enjoy the great styling options of this perfectly balanced cut.

Bangs barely cover the eyebrows and flow smoothly into the sides that are textured and beveled to take off some weight and to add lightness for airy, wispy looks like the one you can see here.


Short Cropped Bangs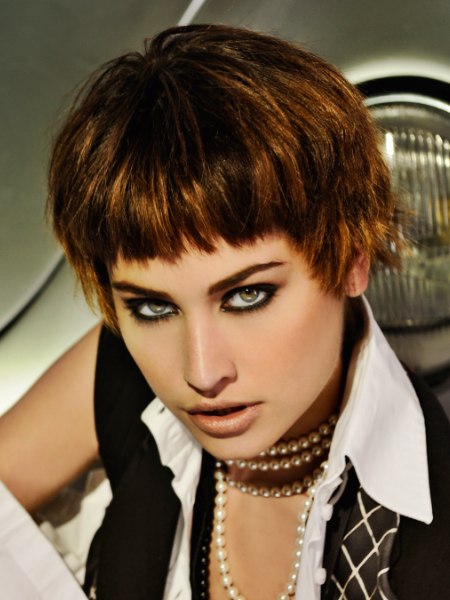 With a choppy texture, short cropped bangs and rugged styling this haircut seems determined to stand out in its androgynous beauty. It is rebellious but also soft around the edges, especially when it comes to the choice of hair color - a warm combination of honey blonde and chocolate tones.


Low-maintenance Pixie Cut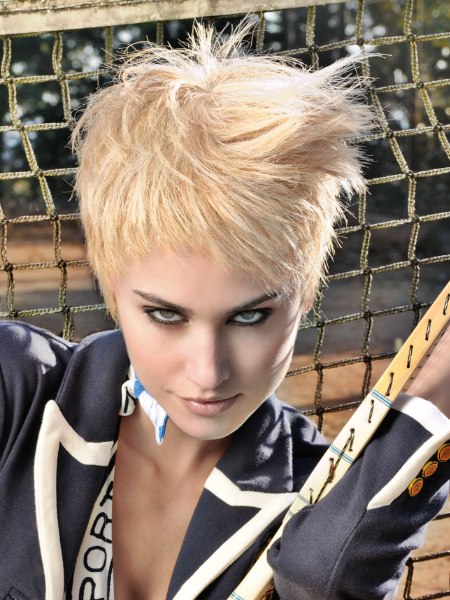 Indulge in style and expressive shapes! Short, slightly textured layers of this almost androgynous cut are thrown just enough off balance by a change in direction of styling on the left half to get a fresh, dynamic image.

This short haircut is razor sharp and besides being low in maintenance it is way up high on the scale of attraction, especially when colored in a soft blonde.


Chignon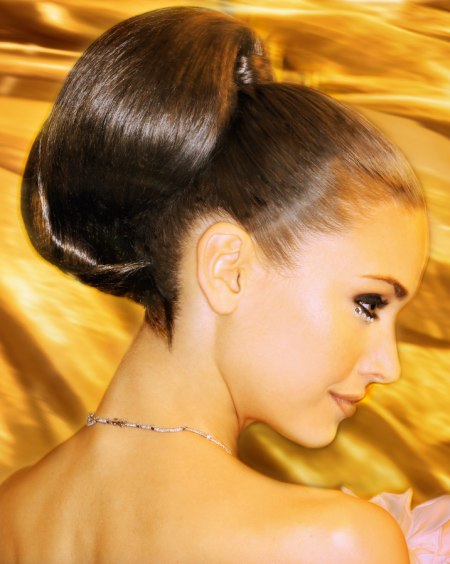 Get ready for a special event with a timeless classic. This full-bodied chignon smoothes itself to the back of the head and into the neck with silky elegance. No accessory takes away from the beauty of the hair itself and even the ponytail holder was wrapped in a wide strand of hair.

Two sections were slung around each other to form this simple, yet amazing knot that is so luxurious with its clear lines and out of this world shine.


Short Hair with Long Bangs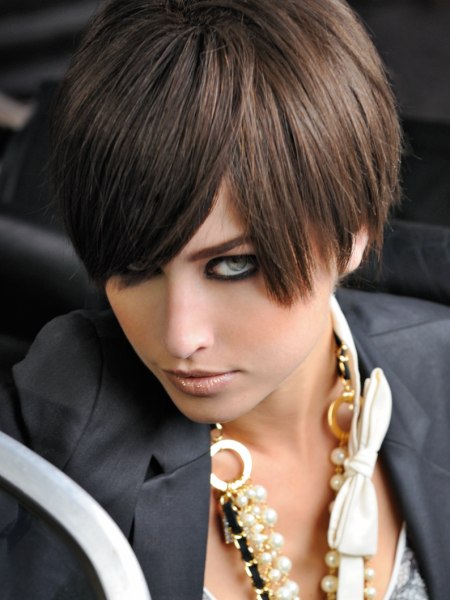 The length of the bangs determines the cutting line around to the graduated back of this cute short hairstyle. A little lift on the roots provides the delightful volume and rounded silhouette which brings in a very attractive element to the androgynous appeal.

Textured tips and a delicious cocoa brown add even more for the senses and soften the blow.

Hairstyles: Jack Holt Coiffeur Créateur
Photography: Studio Didier Michalet & Karen Firdmann

See also: Short hairstyles | Medium hairstyles | Long hairstyles