Lux Profusion by XYZ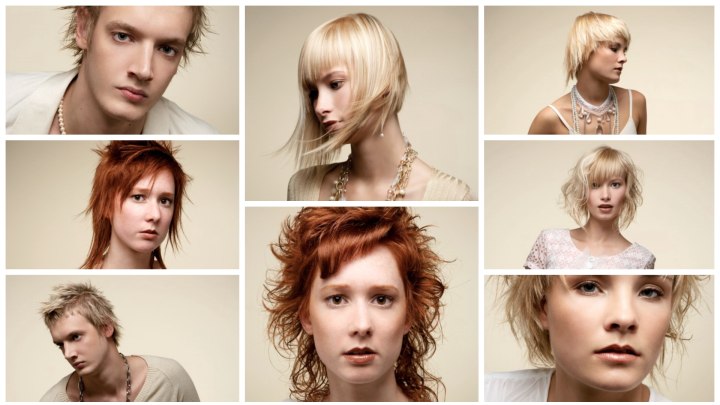 Scroll down for more photos ↓

Inspired by articulated cartoon figures (cartoon girl) and by Playmobil toy figurines, the collection creates a style with a techno feminine touch to assist the comeback of an intriguing persona, whose innocence yields to audacity with graphic luxury and electro pop detailing.

Sleek geometric cutting lines, overcut techniques and well-marked thinning out of hair as a finishing touch. The hair frames the face in a sweeping movement, with multiple and adaptable lengths. The hairstyling technique defines a texture for locks that can be both crunched or smoothed, giving a visual effect of depth to the whole.


Bevel Cut Bob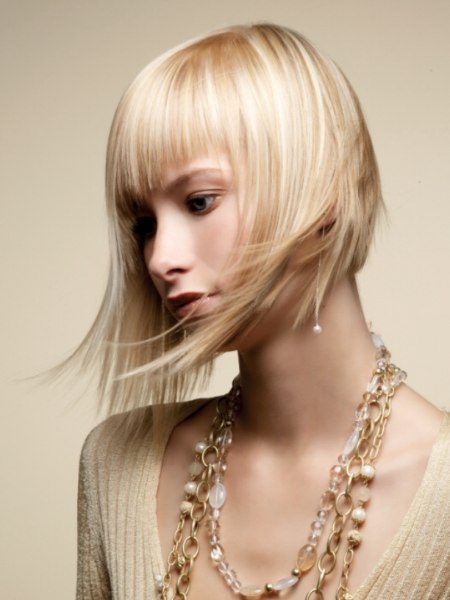 Bevel cut and textured in a flowing A-line shape a new member of the bob family emerges in a golden glow. The hair was thinned in strategic places to allow for a fine texture and airy flow with much movement and dimension. Streaks of light blonde highlights add to the effect.


Simple Short Haircut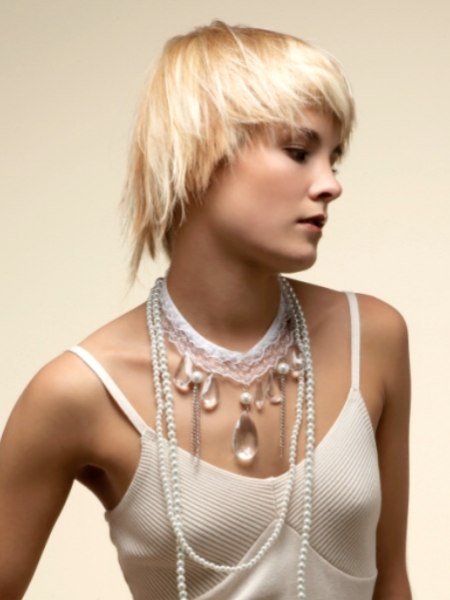 The simple shape of this short haircut comes to live with fine texturing and layers of color. The movement of the hair reveals the underlying color, a warm caramel tone infused into the sunshine blonde.

It was styled for maximum dimension by crunching and pulling outward and towards the front. A great look not only for glam summer nights.


Spicy Spikes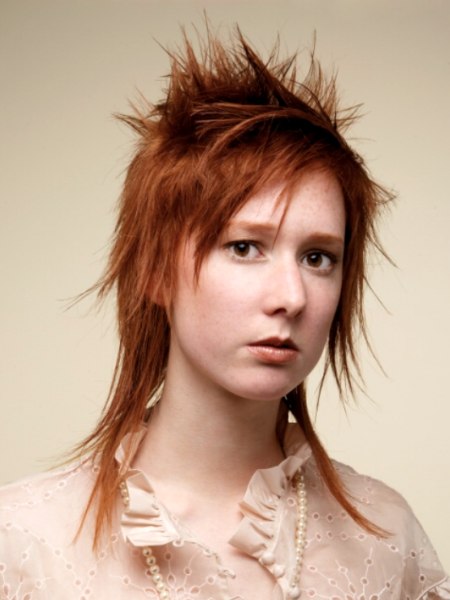 The cinnamon colored hair was cut to rough and choppy layers with great extremes in length. The hair is short enough on top to be styled to spark spikes while the neck section flows in fragile silken strands just below the shoulders.

Skilled thinning and texturing enhances the play of bold and tender elements that make this hairstyle so intriguing.


Short Curled Hairstyle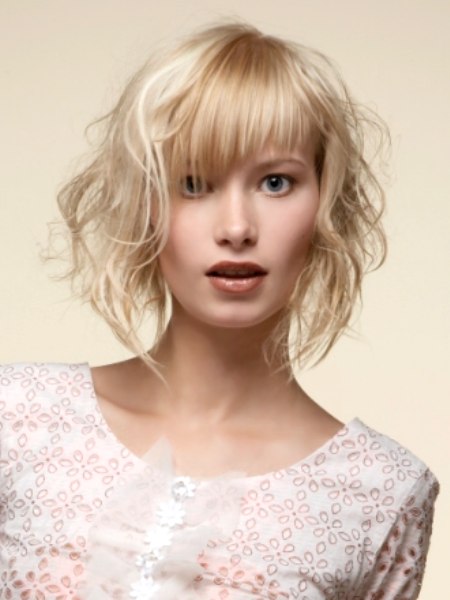 Two tones of a light and a smooth caramel blonde add a modern edge to the large curled style. The curls appear in thin strands which make this hairstyle especially sensuous and at the same time the texture brings in an ethereal lightness.

Bangs are cut in a diagonal line with a fine texturing at the end and stand out with their sleek styling.


Fun Short Haircut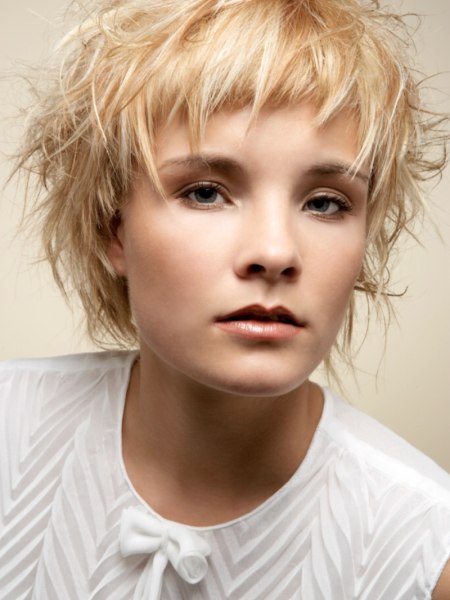 Naughty and nice are combined in one hairstyle. The contrast of wild texture, which resembles spun sugar and spikes of caramel surrounding vanilla icicles, and a basic round shape with supershort and well-defined bangs, brings a lot of invigorating tension to this fun short haircut.

Varying lengths and surprising contrasts of textures allow a lot of different options for styling.


Barrel Styled Bangs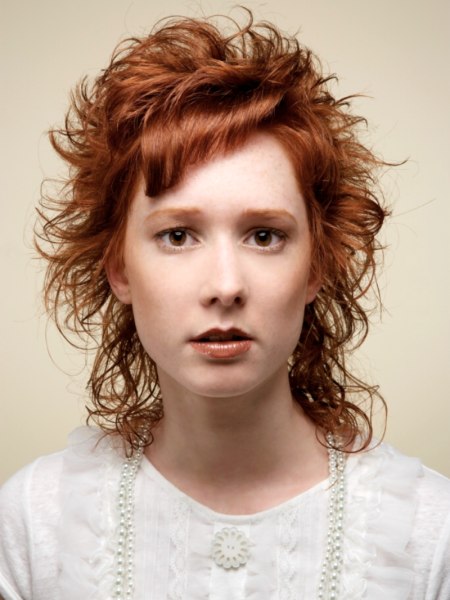 The diagonal line of the barrel styled mini bangs is a nice contrast to the wild bunch of copper colored layers that frame the face in radiant flames. A smooth center in the middle of the raging texture.

The longest hair sprouts out in the neck and the length shortens gradually towards the crown. A nice 1980s touch with new elements and a stunning color!


Chopped and Cropped Men's Hair


Rough and smooth are expressed in a choppy texture which shines in a warm, dark vanilla tone. The base length was strongly textured, resulting in a spiky surface opposed by the more blunt edge of short miniature bangs. Styling for this male hairstyle is easy and the effect of this cool cat look will never fail.


Short Haircut for Daring Men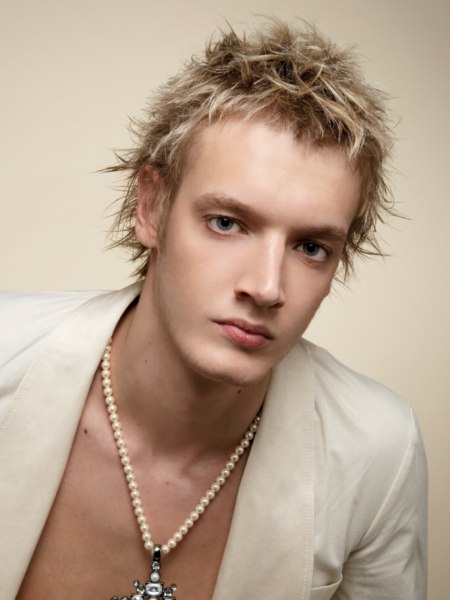 Light and texture are the elements of fun and sexy appeal that lets this short haircut for daring men stand out. The short chops have slightly varying lengths but all are finely textured in the ends to achieve a soft, yet dynamic feel.

With the frosted tips and strands more light is infused into the sandy blonde and the look comes to live with a lot of motion and depth.

Creative Directors: Séverine Tieleman & Michaël Del Bianco
Hairstyles: Michaël Del Bianco
Photos: Fabrice Hauwel
Make-up: Florence Van De Winckel
Styling: Vivianne Audenaert
Production: ©XYZ BELGIUM

See also: Short hairstyles | Medium hairstyles | Men's hairstyles