Carpy Coiffeur
Hairstyles Spring Summer 10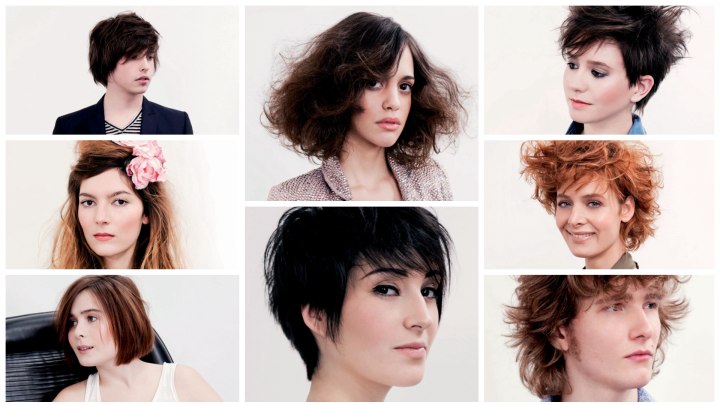 Let the sun shine in, let the wind tousle your hair and make it the best summer ever. With the new hairstyles from Carpy Coiffeur the sun and wind are already built in. This fabulous collection features eight summer looks that are full of movement, texture and charisma galore.

Short and long looks are fashionable tousled and offer numerous styling options. All are chic, wearable and summer sassy with a strong touch of nature in their structure and flow. Colors remain in the natural range and no gimmicks or extreme effects distract from the artful styling.


Hair with a Loose Bun & Flower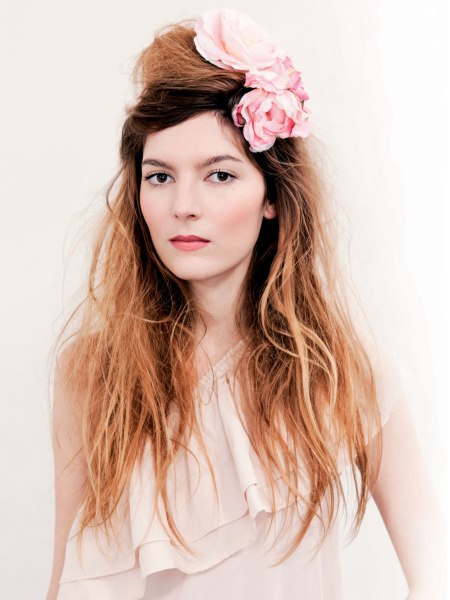 Long textured strands are not separated but instead encouraged with a handful of product to stick together in a structure similar to tropical raffia. A portion is sectioned off and rolled to a lightweight and loose bun on the crown where it is adorned with a large silken flower.

The natural look is enhanced with the color of wheat and dark honey, applied with the darker hues at the bottom.


Brushed Out Hair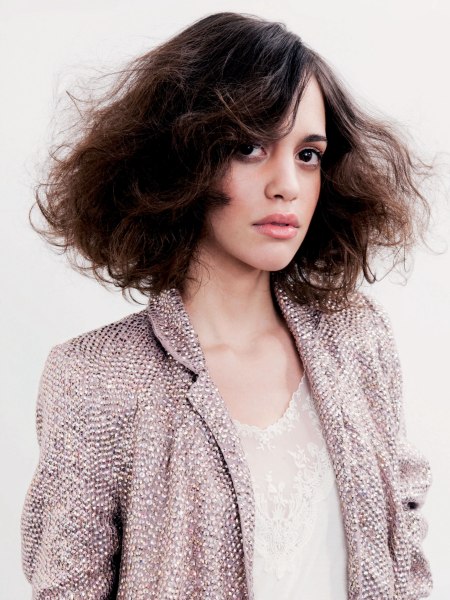 This frothy pyramid look gets its volume from a mass of deconstructed curls. Brushed out and tousled to wild strands it has a seductive and yet classy appearance.

The haircut keeps the hair at one length but is slightly beveled to achieve the 45 degree angle right above the shoulders. It is parted on the side and uses the chic asymmetry for a trendy long and diagonal fringe.


Chic Short Haircut


Fun and feisty with the sunny side up. The hair was cut in short and steep layers in the back to shape an almost vertical line when it all puffed up by a bundle of mischievously deconstructed curls.

The front section's longer layers are set free with a lot of tousling and a good mousse. Frizzy strands express a joyful attitude, free of any worries. Sporty and chic appeal is a welcome side effect.


Bob with Messy Styling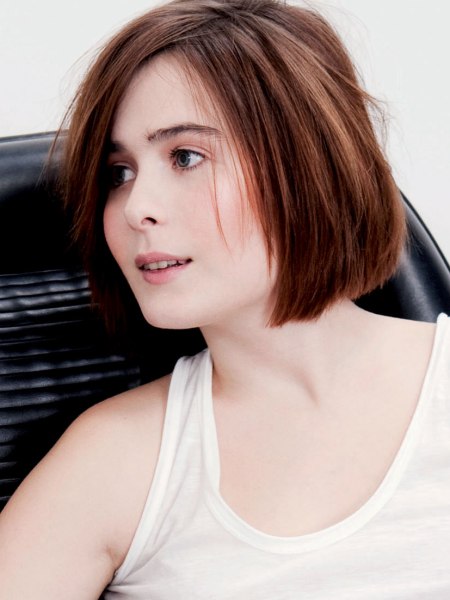 The side parted bob got a trendy treatment with a targeted messy styling. The straight cut chin length bob is timeless even in its more edgy incarnations. No other hairstyle has been reinvented this often and with such success.



Some loose individual hairs and thin strands bring a casual summer feel, intensified by the subtle kisses of sunshine in the medium hued highlights on the base color.


Rocking Pixie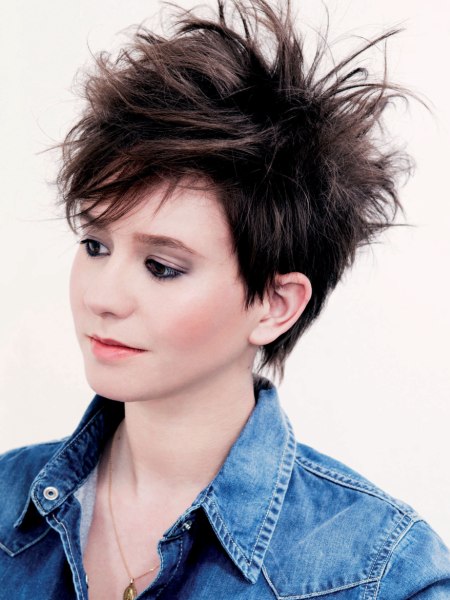 With a nod to the 80s this pixie variation takes on the stage featuring a steep neckline, as short and contoured as the roughly textured sides. Towards the crown the hair increases in length and spreads out in wild and tousled points.

A little teasing and a lightweight strong hold product provide the lift and the punk-gone-chic rocking attitude.


Feminine Short Haircut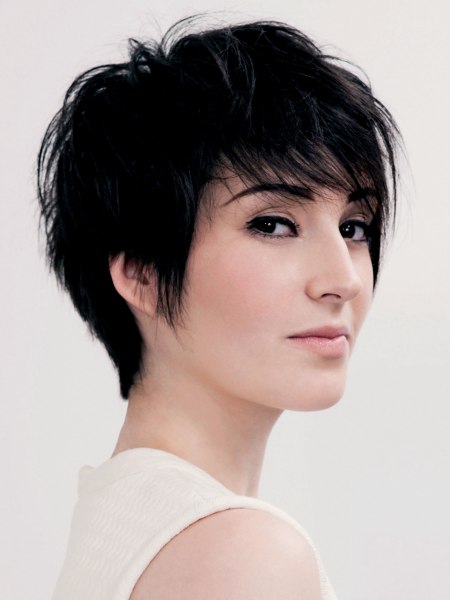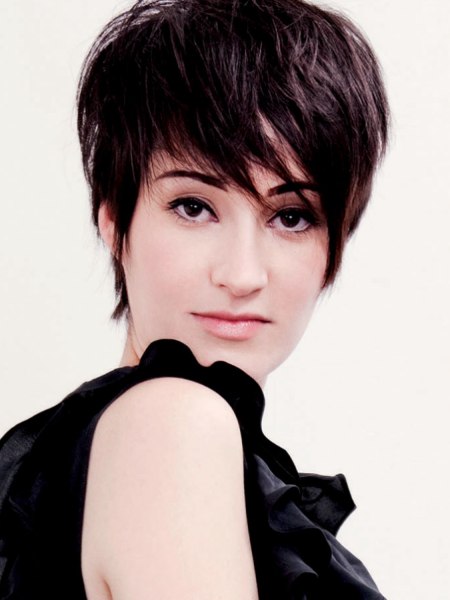 With a lot of lift in the roots but no more pointy peaks the pixie haircut turns into a feminine and fashionable short haircut. Slightly deconstructed and with a lot of motion it still retains much of its feisty approach.

A great fashion statement are the long, textured sideburns, which complement the rugged, side swept fringe.


Grown-Out Look for Young Men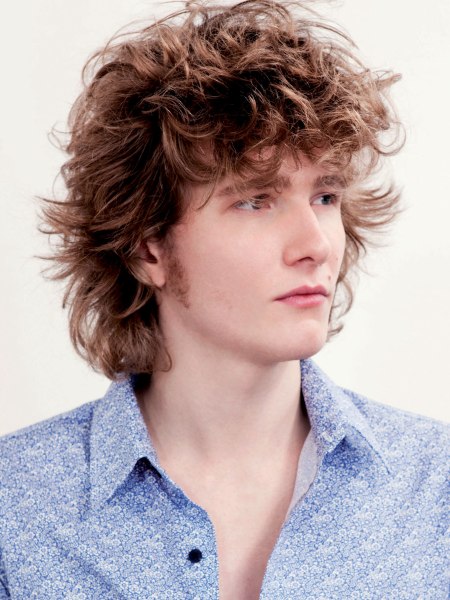 Long in the back and in front this hairstyle has a lot of material for fancy, fun curls and wispy ends. Perfect for summer this grown-out look for young men comes with a casual surfer feel.

The curls are messed but styled shapely following the curve of the head. A dark blonde base has just enough highlights to keeps its natural look.


Goodlooking Boy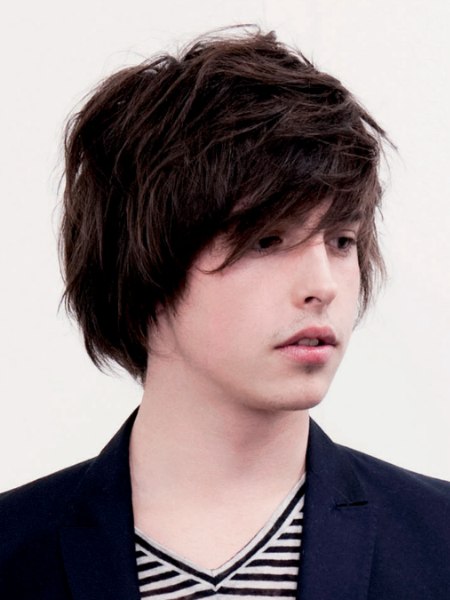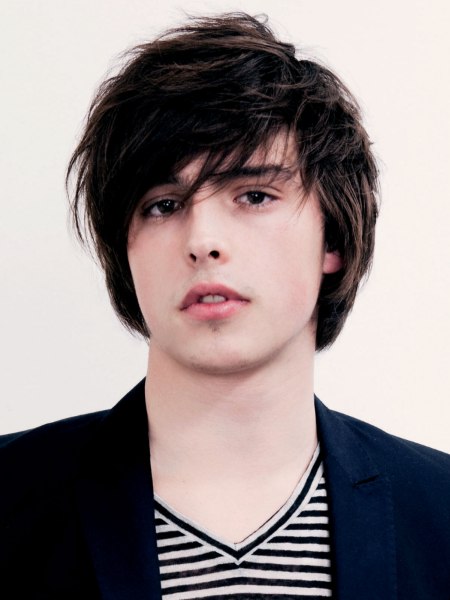 Like many members of the young celebrity in-crowd this goodlooking boy wears his hair at mid-length in the neck and with long layered and textured tresses around the head.

The thick fringe is pushed to the side in order to not fully cover the eyes and the ears are covered. The rounded silhouette is refreshed by a tousled structure.

Hair: Carpy Coiffeur
Photos: © Filippe Darocha