Jack Holt Coiffeur Créateur
Hairstyles Spring-Summer 11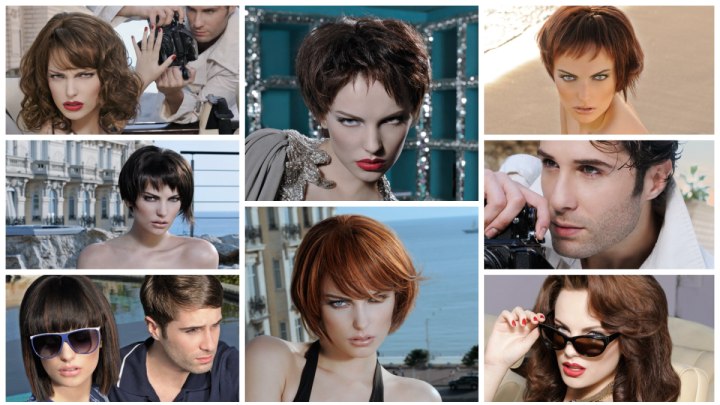 Scroll down for more photos ↓

Glamour and elegance dominate the scene. From short to long, the message is luxurious. Seduction and drama are oozing out of waves and volume while asymmetrical short haircuts and controlled geometry satisfy the need for an extra edge. Everyone can be a celebrity.

We all play the main role in our own movie already and now it is time to show the world the glamorous you. Be a diva, a seductress, a rebel with a lot of cause or a dapper gentleman. The world is your stage.


Modern Short Haircut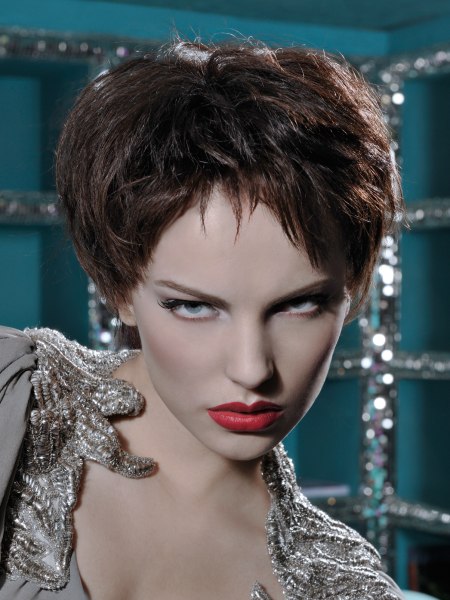 A modern short haircut with an unusual distribution of top volume and a lot of texture from the short fringe to the graduated neck. Undercut on the sides and with longer hair on top, the hair can easily be styled to this rounded silhouette.

The fringe is deconstructed to a soft edged triangle which frames the face all the way to the ears and gives it an edgy and appealing vibe.


Vintage Hollywood Hairstyle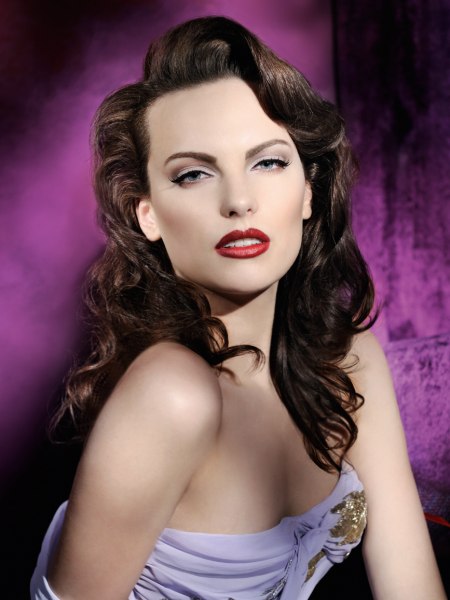 Hollywood is close with luxurious long waves in the style of the vintage screen icons. Tempting elegance for the femmes fatales of our days is alluring and utterly seductive with its sensual shapes and extreme glossy shine on the rich brunette color.

Long layers increase the movement, and a stylish side part allows the long fringe to flow in a beautiful swoop. Most of the hair, however, is styled out of the face to not obstruct her radiant beauty.


Slick Men's Hair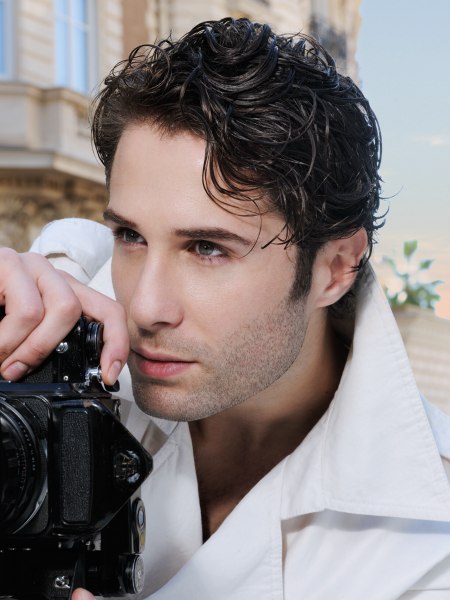 Dolce vita in each of the slick strands, this layered men's haircut with the graduated back and beautiful sideburns brings a lot of sizzle to the party. Long bangs can mischievously fall into the forehead or be styled to the back.

The natural curls are enhanced with a dab of gel and provide the swanky motion and elegant bad boy flair. His hair color is a dark chocolate brown, deepened by the intense shine that comes with the hair styling products.


Sleek Updo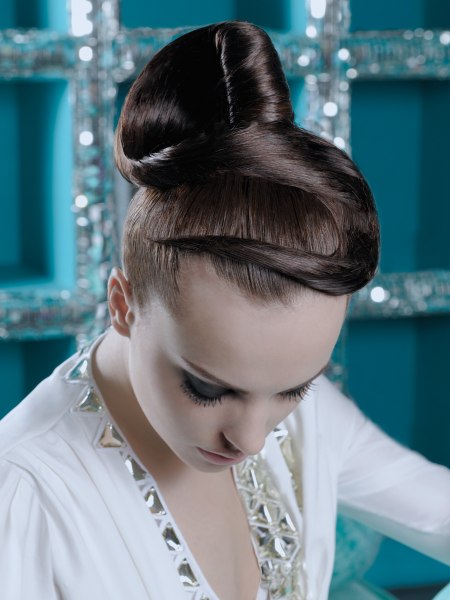 You don't have to wait for a red-carpet moment to show off your long hair in this elegant updo. What once was a tight ponytail is now slung across the head in a sleek S-curve. All starts with the hair being gathered high and then twisted to a narrow, cylindrical shape before the length snakes its way towards the front.

The key for this hairstyle is to attach it invisibly and to use enough styling product to create the sleek surface without any flying hairs.


Medium Hairstyle for Curls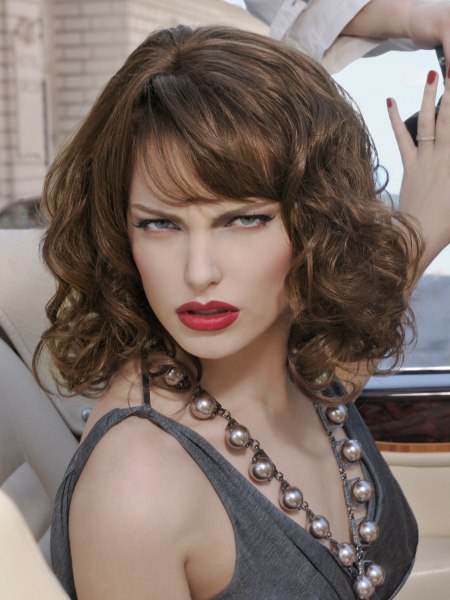 Natural curls are brought out with a refined layering to boost the volume. Soft, opulent curls with a casual definition spell seduction and luxury. You don't have to be a celebrity to unleash your inner diva.

Treat yourself to an exquisite hairstyle that makes the best out of your natural curls. A side part and the oval silhouette are extremely flattering to most face shapes.


Short Men's Haircut & Gel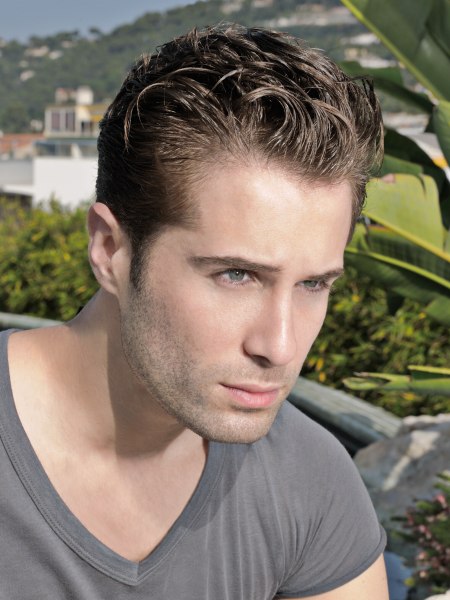 The essence of the eternal rebel is captured in this short haircut. Sides and back are short and strongly graduated and the top hair remains long enough for all kinds of styling escapades. The texture on top helps with the soft flow and fullness.

If there is a natural wave it will be more pronounced, if not it can easily be styled with some scrunching-in of gel or pomade.


Irregular Asymmetrical Hairstyle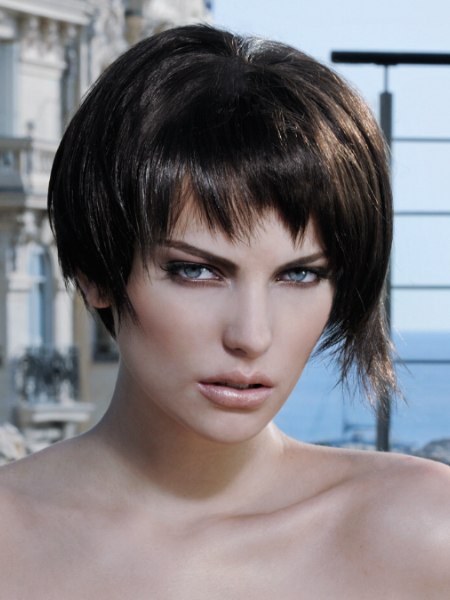 An asymmetrical hairstyle with irregular edges for the playfully minded who also like to have that certain edge to their appearance that will help them to rise out of the ordinary. Feisty and seductive attitude captured in a million dollar look.

The fringe is fully deconstructed while the long top hair provides an elegant roundness and balance. High gloss on a dark brown color adds precious sparks.


Short Asymmetrical Hairstyle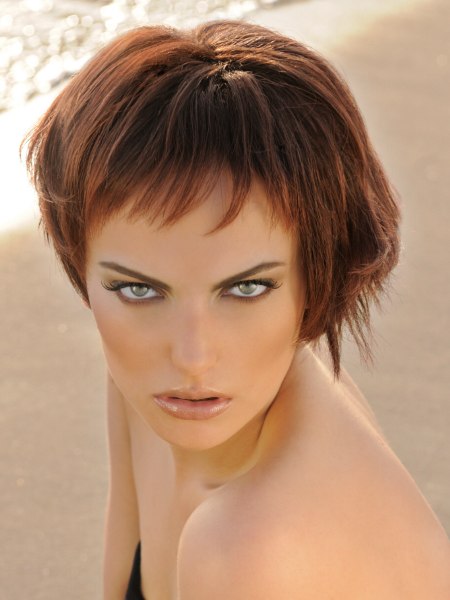 Another asymmetrical hairstyle vibrates with the flair of bold and audacious mystery. Deconstruction is the name of the game here and it shows in the short fringe, different lengths and the jagged to non-existent partition.



Of course there is plenty of texturing throughout to make sure the edges remain soft and appealing. A warm, reddish brown appears to be kissed by the setting sun with a luxurious hue.


Long and Sleek Ponytail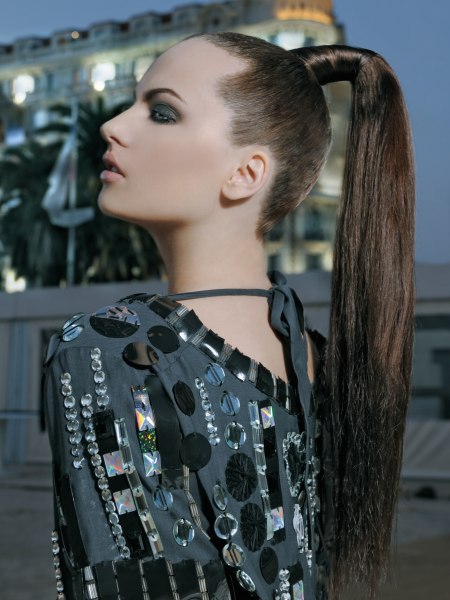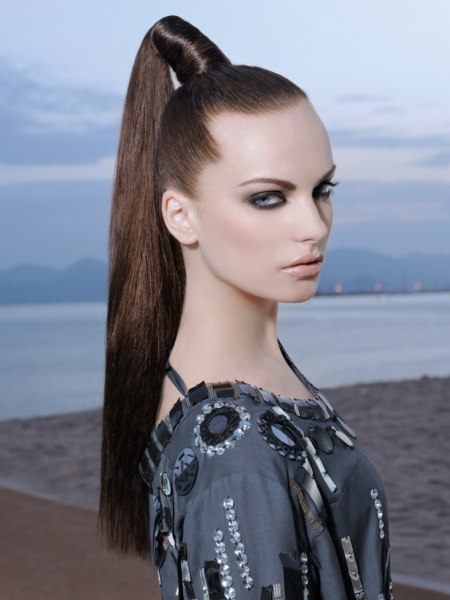 Whip it with a stylish, futuristic long ponytail! Pulled tight in the center of the crown, a two inch high base is shaped by wrapping a wide section of hair around the tail. This gives it the height and extra impact to stand out of the masses.

Long and sleek, treated with a smooth coat of shine serum this temptress will dominate the scene.


Polished Bob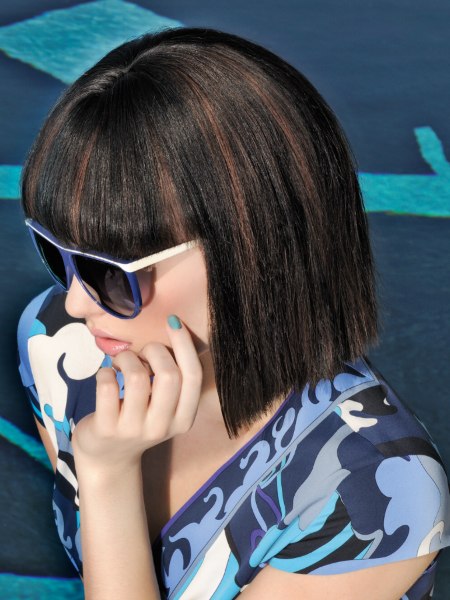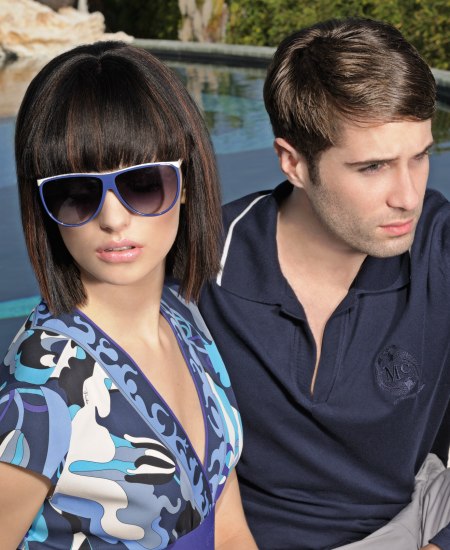 Always polished and stylish this timeless icon of international hair fashion comes in a variety of shapes and flavors.

Here the straight and strict bob softens up with pointed texture along the harsh lines and medium brown highlights illuminate the dark base color. Geometry and simplicity still are the main contributors to the fame of this evergreen look.


Short Haircut and Sideward Fringe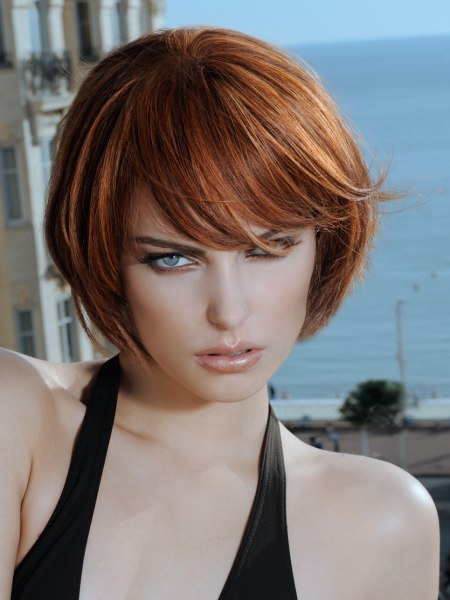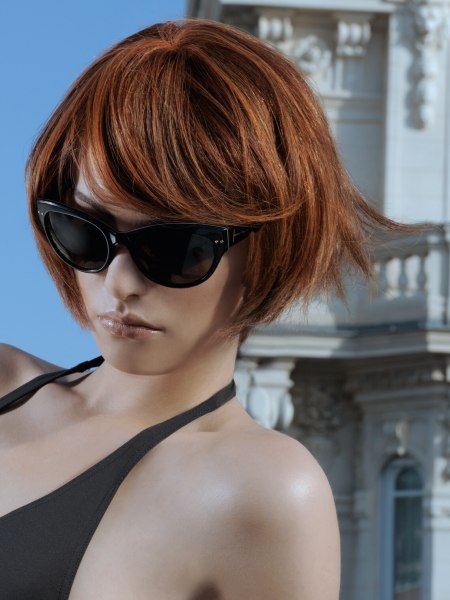 A natural elegance emanates with ease from this short bob haircut. Layered and sliced to achieve a rounded silhouette. The sideward movement of the long fringe appears as natural as a sudden breeze on a humid day.

Sun-kissed highlights gleam in a papaya blonde on a mahogany base. This cut follows her every mood due to its versatility when it comes to a range of different stylings.


Glamorous Long Hairstyle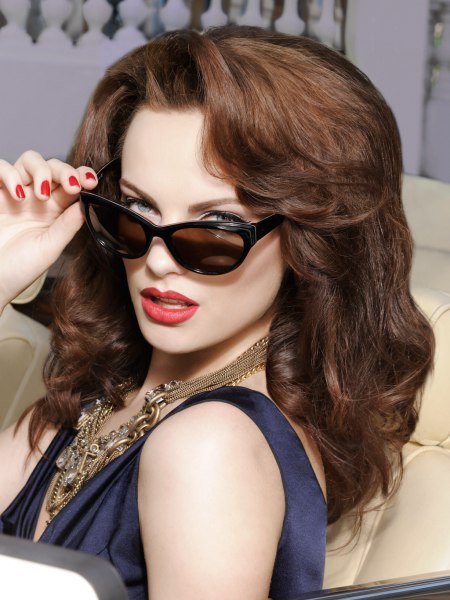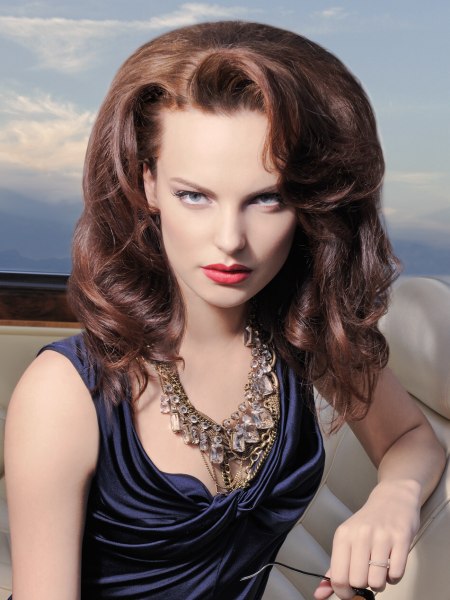 Sophistication is in every ounce of the big volume sensation. A lot of lift on the roots takes this over the shoulder length hairstyle to glamorous heights. A bit of teasing always helps - in the hair and to spice up our social life.

The waves and curls are partially well defined and intensify towards the ends while some are more diluted to achieve an effortless and natural look amid all of the exclusive styling.


Casually Styled Curls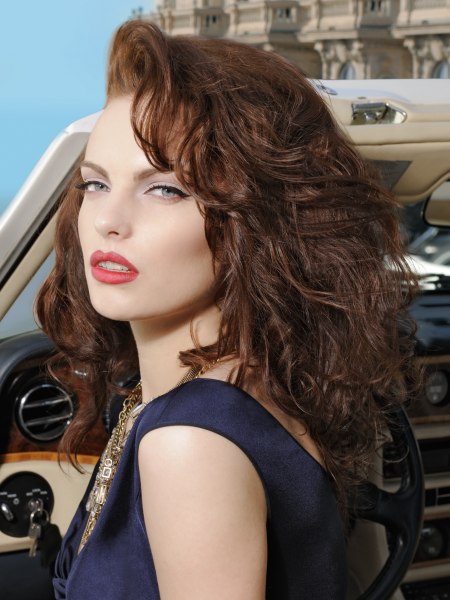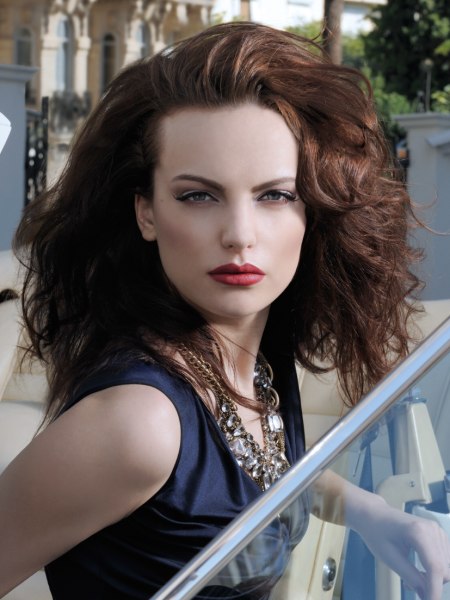 A picture-book mane: Long layers and a high forehead with a ton of boosted volume are the perfect match for an elegant outfit and a day spent in the cafes on the promenade. The generous and casually styled curls create a mass of wild and adventurous hair that is extremely feminine, luxurious and just head-turning stunning.

Simple yet full of esprit and a perfect hairstyle from breakfast on the beach to a midnight cocktail.


Wet Gel Styling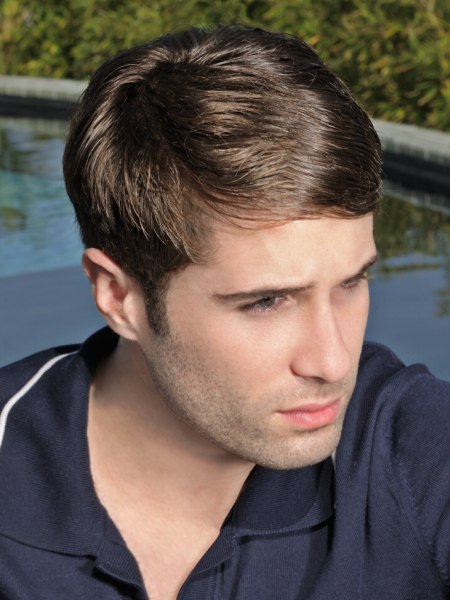 Using wet gel for hair styling does not have to result in big, sticky strands as is proven with this short and dapper men's haircut. The hair was textured with a razor to give this almost classic male cut a new soft edge.

Styling spins around a high pivot point on the crown and a gentle application of gel keeps the hair in place and provides extra shine.


60s Hairdo with Volume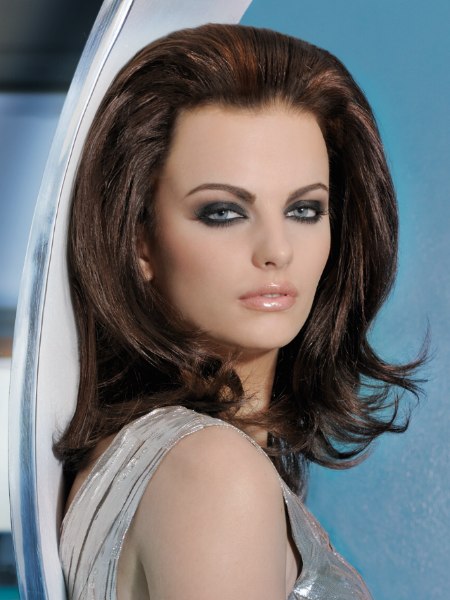 The famous, flirtatious and outrageous hairstyles of the 60s are celebrating comebacks over and over. Vintage locks make a bold statement with their extreme feminine lines, their opulent volume and a powerful styling. The brunette color with subtle highlights around the face enhances all of these qualities.


Huge Chignon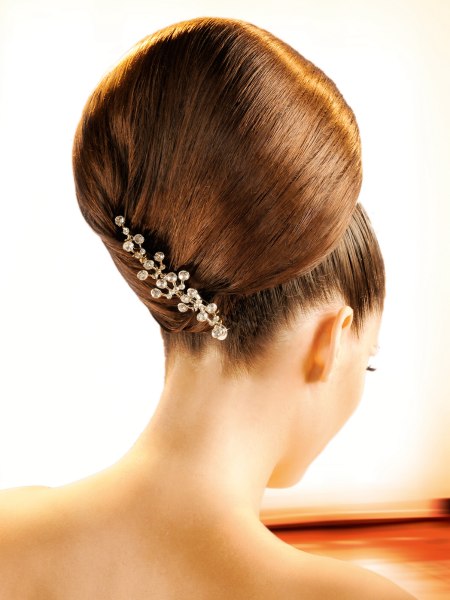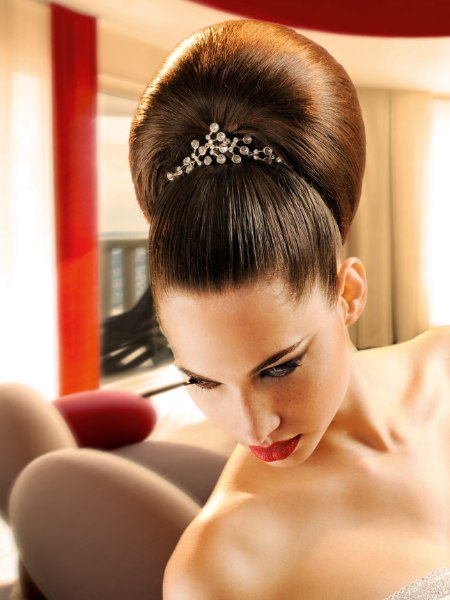 You won't need a fairy godmother to be the most beautiful woman at the ball. A flamboyant updo, elaborate and grand, suffices.

Show the world the princess that you are with a huge chignon, elegantly inflated to its ultimate volume and, as a final touch, decorated with a rhinestone studded barrette.

Hairstyles: Jack Holt Coiffeur Créateur - France
Photography: Studio Didier Michalet & Karen Firdmann

See also: Short hairstyles | Medium hairstyles | Long hairstyles | Men's hairstyles