Sherif Zaki Salon & The Oasis Spa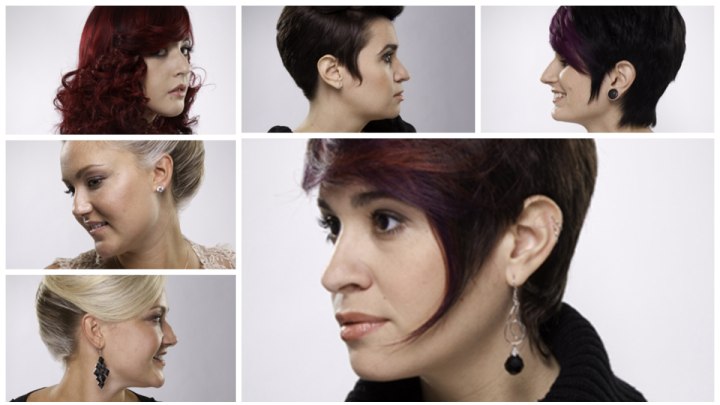 Scroll down for more photos ↓

Sherif Zaki and his team dedicate themselves to bringing the highest quality and creativity to the heads of their customers. This luscious collection showcases their talent and is meant to inspire every woman to bring a bit more chic and elegance into her life.

Smooth short haircuts with twists and turns, long curls and amazing, sophisticated updos are sure to turn heads and bring more sparkle into the world. We all need to take the time to pamper ourselves and to show on the outside how we feel on the inside!



The hair colors are deep, rich and luxurious with intense red, aubergine, walnut and moonlight silver tones. These hairstyles are made for celebrations. Not just an event, but to celebrate beauty and life every day.


Red Velvet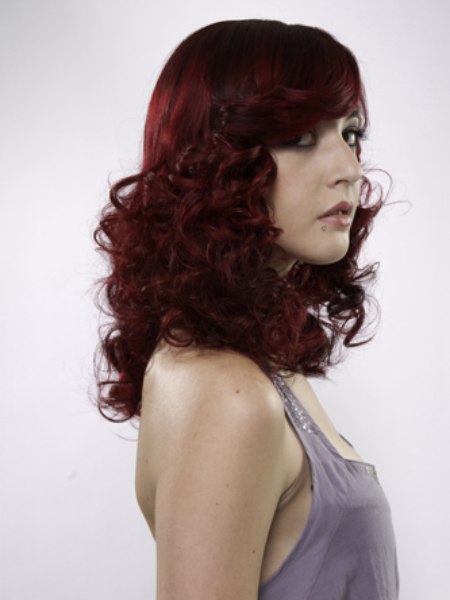 Thick curls caress her shoulders and frame her face in pure glamorous awesomeness. The deep, full red reminds of the colors of an exquisite red wine or red velvet cake and gets even more excitement with some swirling strands of a dark amethyst purple.

The contrast of both tones pushes the limit of color and makes a memorable impression. Another contrast is in the structure with a sleek top section, including the chic curved side fringe and a sudden transition to the flaming curls.


Aria in Hair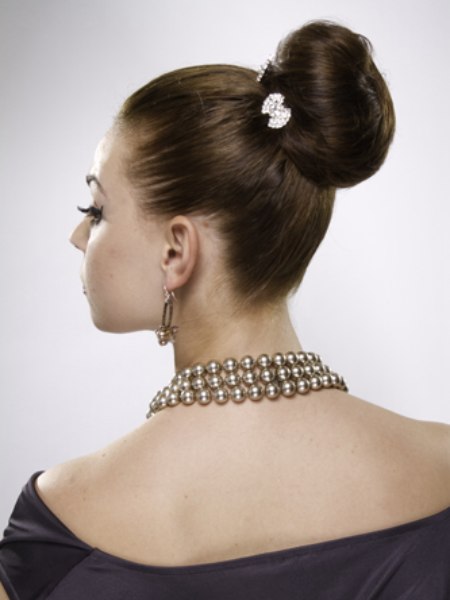 Look like a star at your next gala, party or at the opera. Nothing can beat the timeless beauty of an elegant updo and a string of pearls. The big chignon balances high on the back of her head and comes with an instant lifting and slimming effect.

A few small hairpins add even more glitz and glam and you can get very creative with the type of accessories that you choose between rhinestones or even fresh flowers.


Sideways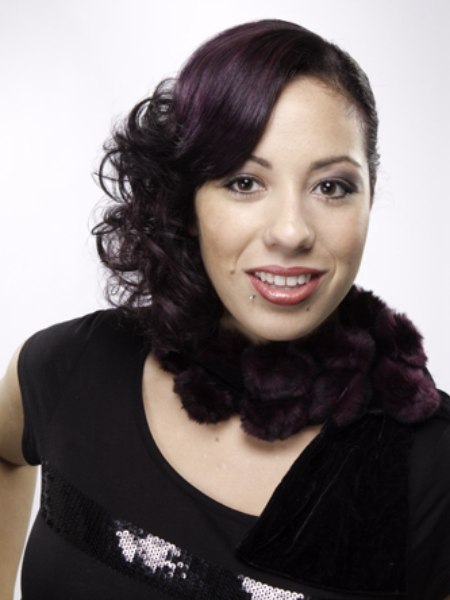 Break up the rut with a fluffy, curly and most of all asymmetrical hairstyle. A mix of shiny sleekness and frothy curls gives an extra punch of happiness to a classy and stylish look. The aubergine-colored hair was pulled towards the back on one side without leaving any slack.

The fit is snug and even more impressive with a lot of shine. The other side just explodes with hundreds of well-defined curls. Much definition and elegance is also in the long fringe that flips up to one side in a lively curve.


Sexy Purple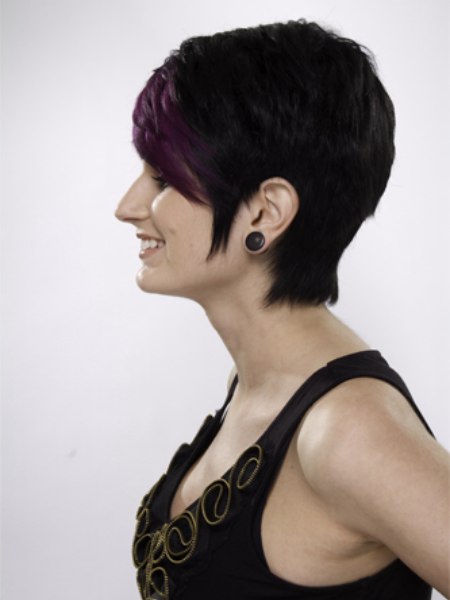 Bring new attitude to your bangs with a new color. To add some sexy flair to your hairstyle, a bit of intense purple can do wonders. Here the base color is a deep black, cut in short layers with a graduated and long neck section.



Sideburns accentuate the shape of her face and make it even more expressive. In comes a long curved and also layered fringe in a deep, rich aubergine tone and ready is an exciting short haircut that is feminine and elegant, while having a lot of spice and character.


Sleek Curves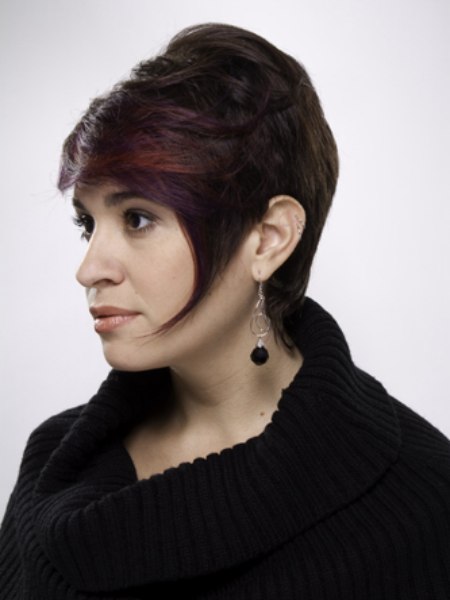 Short hairstyles come in so many shapes and expressions that it is easy to find the perfect one. This wonderful creation stuns with its fluid lines that flow in harmony and balance while being so dynamic. The hair swirls around the head in one direction and the silhouette is so elegant due to the lift on the crown increasing towards the back.

The neck plunges in fine graduation and covers the entire nape. The key elements are the long sideburns that are curved into the face and bring just the right amount of drama to the look. A perfect length, by the way, to showcase the trendy new collars.


Sculpted Shorty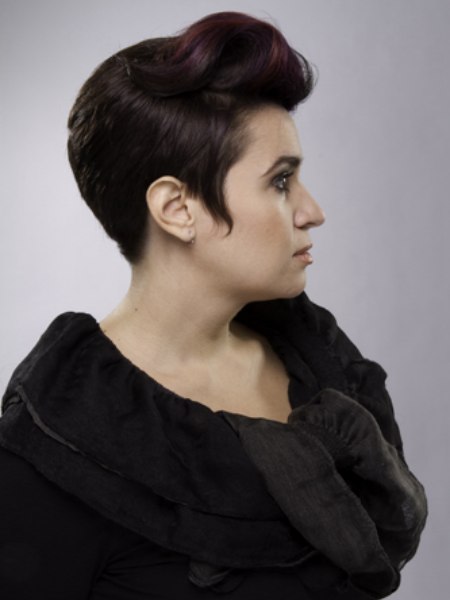 Some of the coolest haircuts are a mix of old and new elements. This short, very sculpted look has a lovely touch of vintage but also very distinct modern lines and styling. To find the right balance is a great art and Sherif Zaki hit gold with this asymmetrical look.

Again it is the long and this time slightly curved side burns that catch our attention. A graduated neck flows in perfect roundness and the fluffy quiff above her forehead is shifted to the side. Masculine and feminine elements create sparks.


Rolling Waves Updo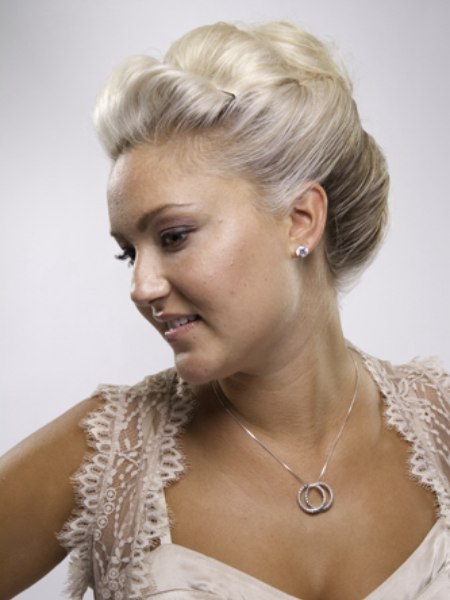 Three major surges of hair crown this elegant updo that is fit for a wedding. Long hair was teased, pulled back and shaped to this rollercoaster of glamour. The side strands were pulled up tightly and in the back all comes together in a darling tug and roll bun with playful curly action.

As ethereal as the entire style so is the hair color. A moonlight blonde with heavy platinum and sterling silver will take everyone's breath away.


French Twist Upgraded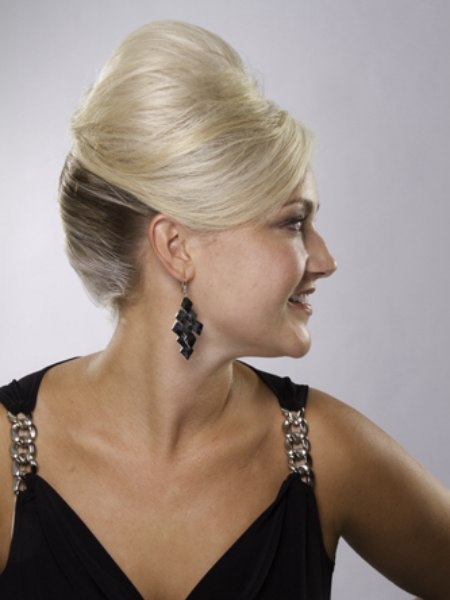 The classic French twist is a famous classic of unsurpassed elegance in simplicity. For a grand night out Sherif Zaki recommends an upgraded French twist that has more height, more curves and a precious color. The hair flows seamlessly around her head.

A snug strain accentuates her face in place of a fringe, and each side of this style reveals a new pattern of movement and color. Bright silver, platinum highlights and darker tones are used to their best potential and bring more dimension and much structure to this fascinating and very feminine, elegant up-style.

Salon: Sherif Zaki Salon & The Oasis Spa, Greenville,DE
Hairstylist: Sherif Zaki
Photographer: Scott Bryant / Passion

See also: Short hairstyles | Long hairstyles | Up styles