Rouge Magnifique
Steve Salon de Coiffure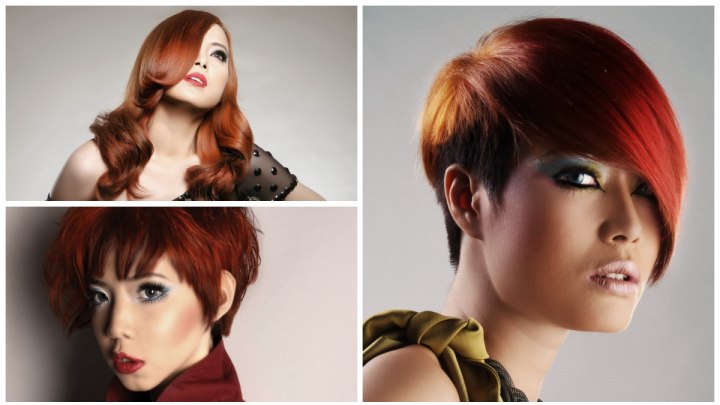 Red is a very powerful color for many cultures, especially in Asia. Chinese brides marry in a red dress; in Japan red is the color of the hero or the heroine and also of the sun. Red is the color of love, passion, good luck and warmth. It is one of the most intense and positive colors we have.

Steve Salon de Coiffure brings us the Asian influenced temptation of red in their small but powerful collection "Rouge Magnifique", which features a range of deep and intense reds from copper and a deep alizarin red to bright chili pepper tones.



The short haircuts are modern and daring as are many of the new looks that can be seen in the streets of Tokyo. The long style focuses on the seductive side of red.


Style of the Rising Sun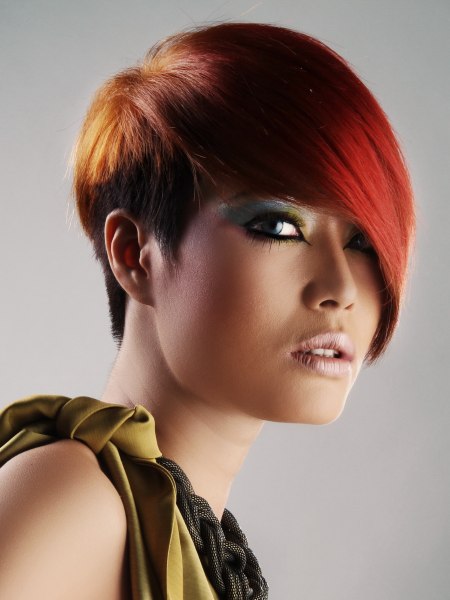 This magnificent red look reminds of the lotus flower in its shape and its color is fire turned into hair. The Asian influence is tangible in the lines and the powerful hue of the emerging sun.

A very short neck transitions from a night black to the gold of the early rays and then seamlessly moves to an extreme fringe in a beautiful bright red. The diagonal line moves across her face in one elegant and organic sweep before it ends just below her left cheekbone.


New Cosmopolitan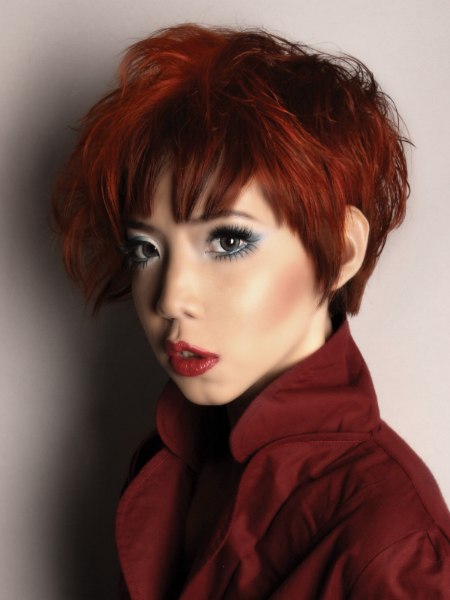 Young people in Japan and other parts of Asia love red for their hair color. Men and women wear it in all shades possible and often in short, slightly choppy looks. This short haircut is the new idea of cosmopolitan style and even comes in the same color as the famous cocktail.

Asymmetry is a great touch, especially for modern short hairstyles like this one. The finesse reveals itself the longer you look at it and discover the intricate textures, the various lengths and outlines that go from defined to choppy. Styling adds a good lift on top and gently mussed volume. The red goes from a paprika to a dark, rusty color. Modern and very spicy!


Long Red Asian Hair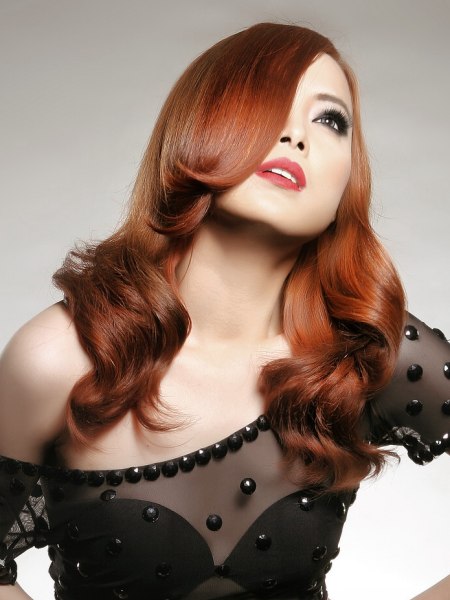 The samurai of seduction wears her hair as red as the rising sun of Asia. A look that already made icons of Rita Hayworth or Jessica Rabbit still finds new fans every year. What could ever beat the sensual elegance and extreme temptation that emanates from a long, wavy and silky smooth mane?

Layers allow the intense movement of this cut with the side fringe as the focus. It covers almost half of her face and gives her just the right amount of mystery.

Hair: Steve Salon de Coiffure - Medan