Guys & Dolls Intercoiffure
Autumn 11 Collection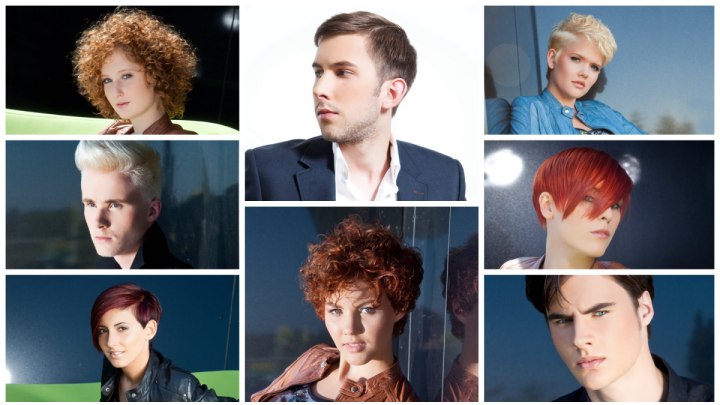 Scroll down for more photos ↓

The colors of fall have found their way into the hairstyles of Guys & Dolls' latest collection. Warm amber, smooth and spicy reds, rich browns and glowing blondes spell Indian Summer and get us in the mood for a new look.

Men are not exempt and can also enjoy a range of new hair colors that are trendy and very much in season. These colors are just a bit more muted and skip the flashy red tones.



The new lengths are short, and almost all of them keep the ears exposed. Curls are small and plenty, full of vivacious energy and the sleek cuts have a distinct character and are very wearable, even though they play with unconventional shapes and textures.


Sporty and Easy-maintenance Curls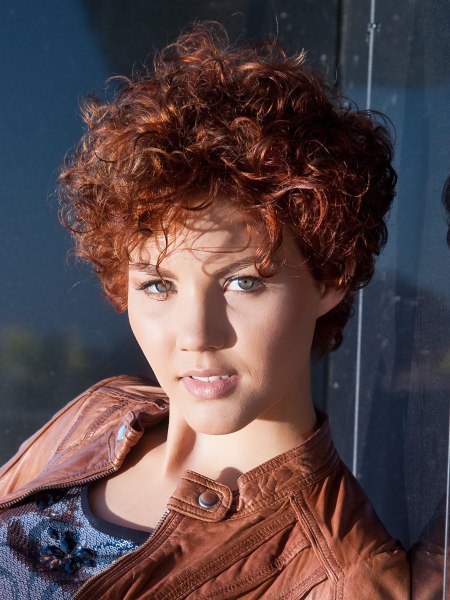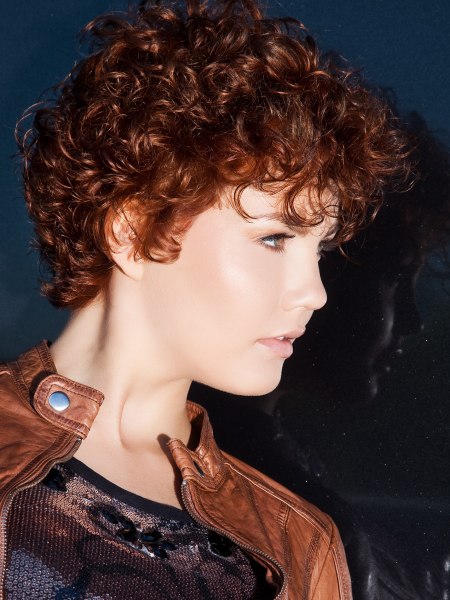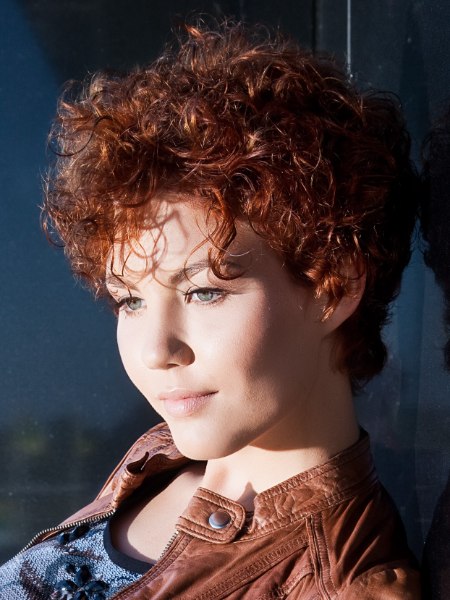 It does not get any spunkier than this! Short curls, as pretty as they come. All of that coiled gorgeousness is shaped to a sporty look with all of the volume frolicking above the ears. The haircut is layered with longer hair on the crown transitioning smoothly into short sides and neck.

The fringe is just as playful as the rest of the look and can be styled fully or with just a few feisty strands. This style is a perfect combination of feminine charm, stylish haircut and color and also an easy-maintenance regimen. You can style it with your fingers, or a special curl pick comb.


Small Neck Length Curls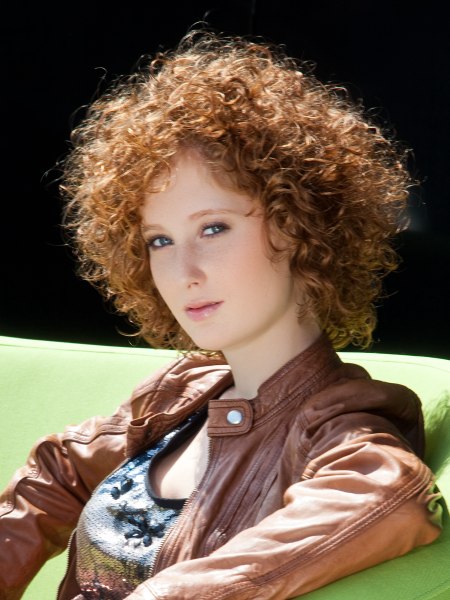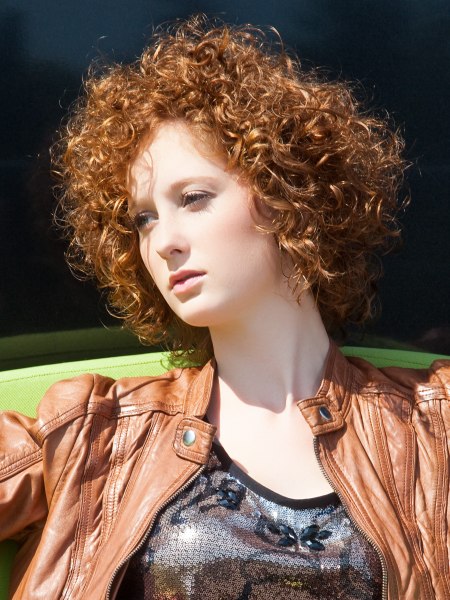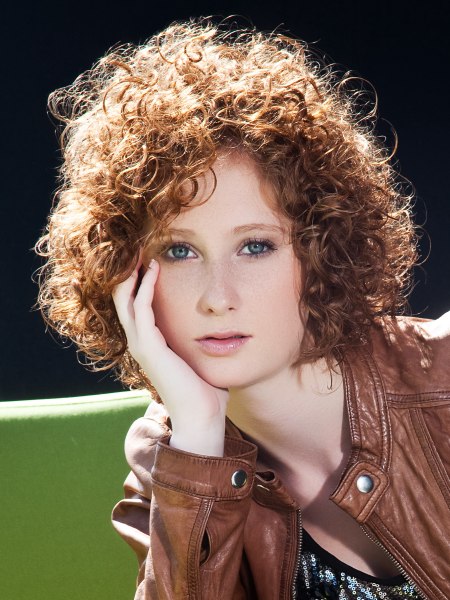 Casual layers are filled with innumerable small curls that just spread happy and quirky vibes wherever she goes. These layers are cut to the same neck length all around, which makes the contour of this trendy and adorable hairstyle so round and perfect.

Smoothness and action are perfectly balanced and a slight asymmetry is styled by creating a diagonal fringe. The curly hair is long enough to cover her ears and they frame her face in a delightful cinnamon colored glow and angelic texture.


Pretty Short Blonde Hairdo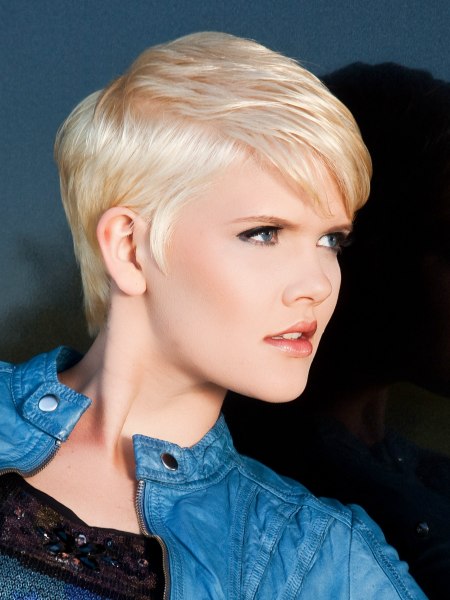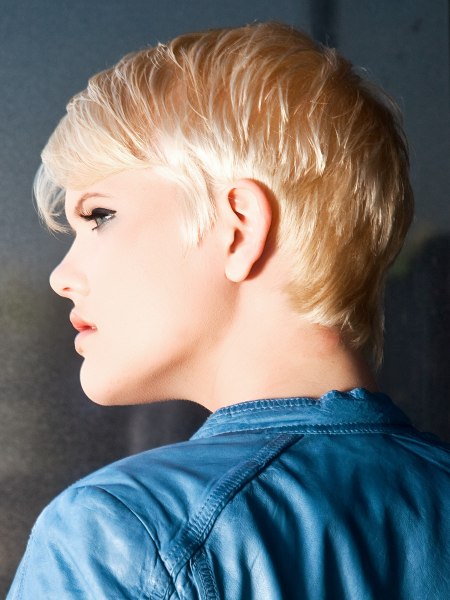 You may not see the aurora borealis, but the iridescent blonde of this sassy short haircut seems like a force of nature just as well. The hair color may look innocent, tender and even fragile, but don't let the baby blonde fool you.

The pixie cut is made to sizzle and with all of its texture and energetic lines styled from the back towards the front, while the sides remain simple and straight down, this pretty hairdo is a veritable power look. The neck is finely graduated and very small sideburns accentuate her cheekbones perfectly. The finesse is very much in the detail here, but the overall image is pure eye candy.


Romantic Short Haircut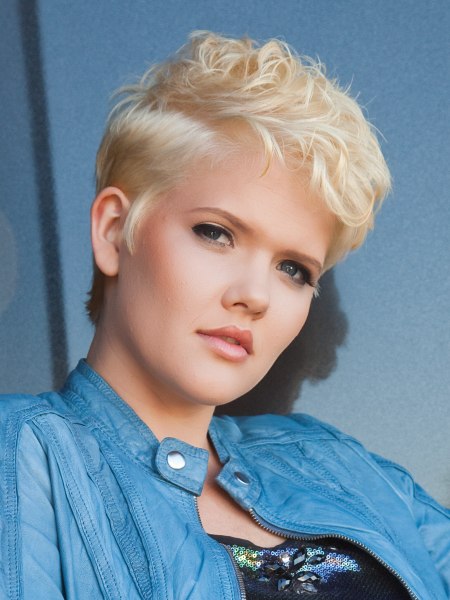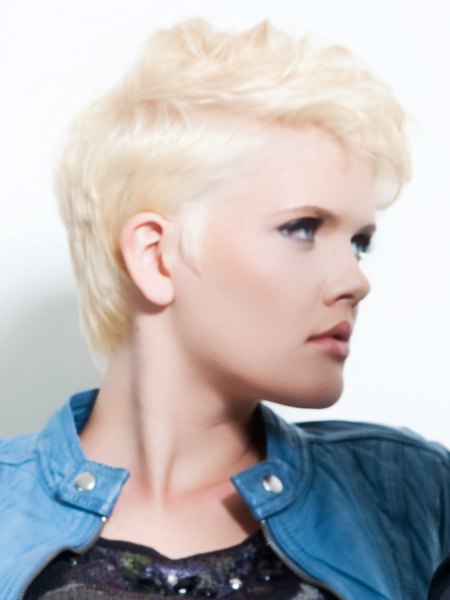 Here you can see how easy it is to transform the entire character of a short haircut just with a different technique in styling. While the side and neck sections of the pixie cut remain unchanged, the top now features a lot of movement, curls, waves, playful strands and wispy ends.



This new touch gives the look a much softer and romantic feel, yet it does not take anything away from its coolness and energy. A few drops of product and a good tousle with the fingers is all that is needed to go from one look to another.


Finely Layered Red Hair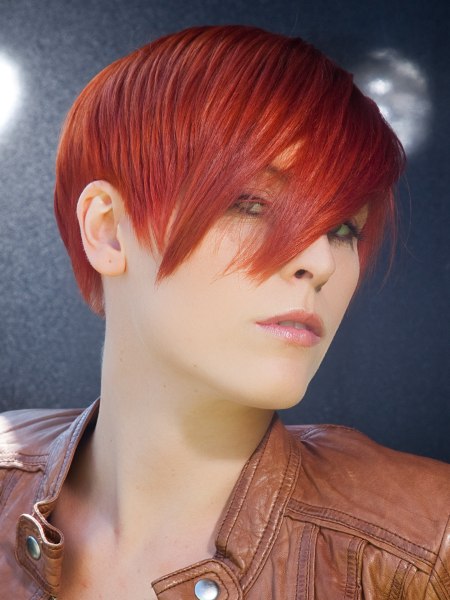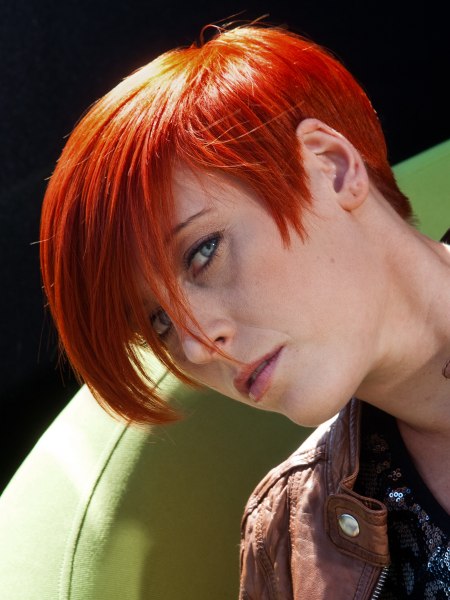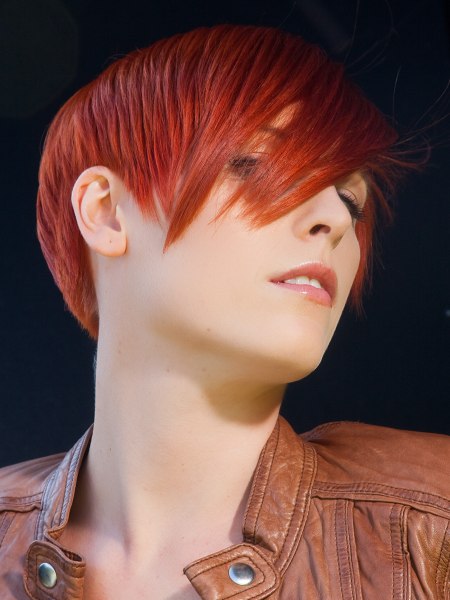 The color of fall foliage or a bright sunset of the later part of the year makes her complexion look like fine porcelain. Red is literally one of the hottest hair colors of the season and when it is cut into a short look with a huge amount of finesse and also edginess, it becomes iconic.

The short hair was so finely layered that it adjusts to the shape of the head as if it was made out of fine tailored silk, showing no transitions, lines or edges in its flow. The contour is sharp and accurate around the ears and in the nape. The front makes an impact with the long, choppy fringe that is styled to allow her a little peek a boo through the diagonal veil.


Fashionable Short Hair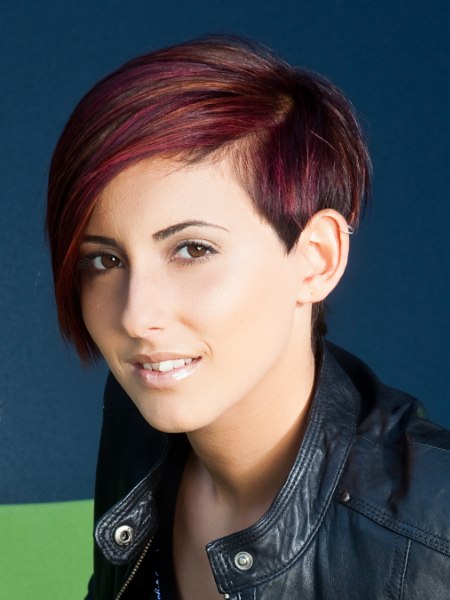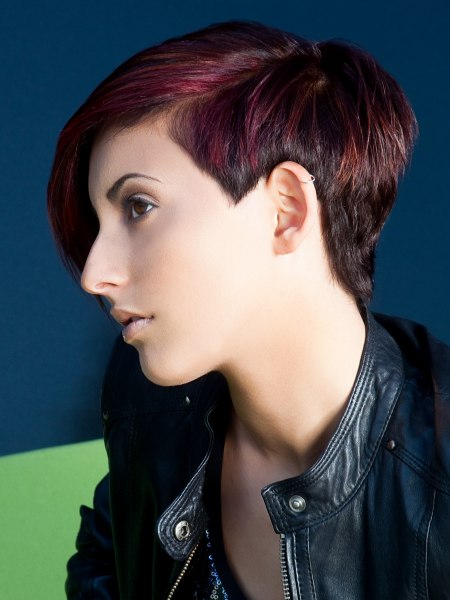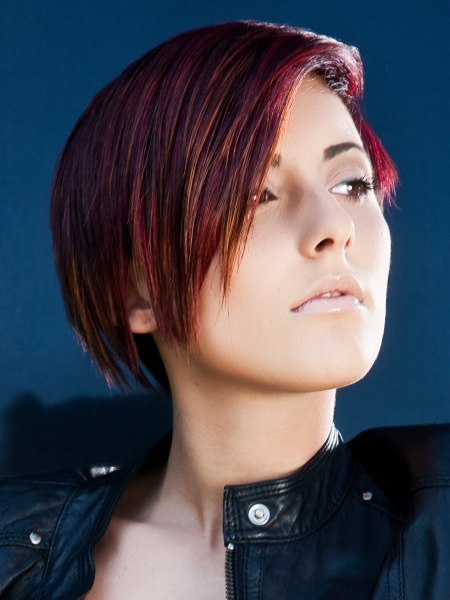 Shaped like the petal of a crocus flower the long fringe of this pixie cut curves its way along her face in a smooth, diagonal line. Asymmetry is still a big fashion favorite and especially short haircuts are ideal canvases for creating the most amazing structures with one dominant and one smaller side.

The part is deep on the left side, above the fine contour of a sharp point, a meticulous curve around the ear and a short neck with velvety graduation. The hair color is the frosting on the cake and bedazzles with its purple hues, cocoa depths and coppery highlights.


Buzz Cut Short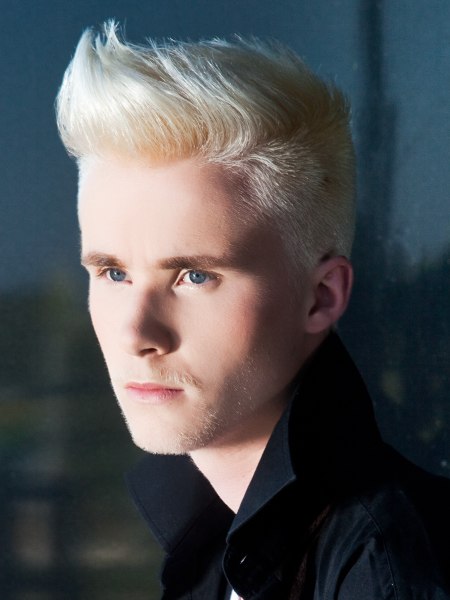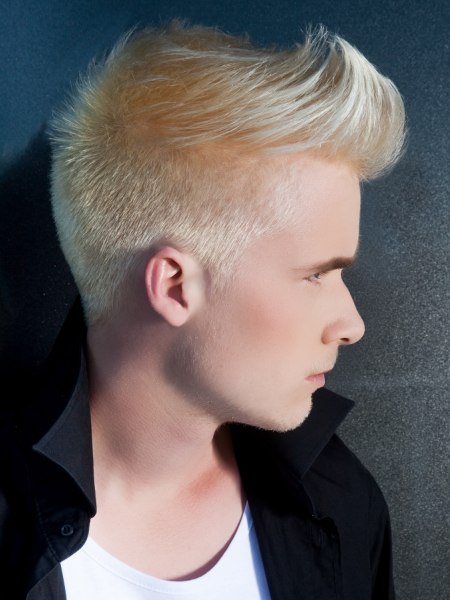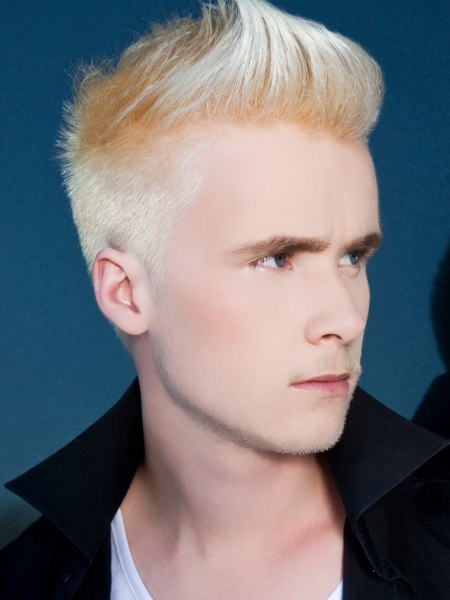 A dollop of fluffy handsomeness builds up to an airy, whipped cream textured quiff above his forehead. A pointed nod to the rebellious fashion of the 1950s and still one of the trendiest things a man can do with his fringe.

Dapper and fashion-forward, almost ethereal bathed in the color of a baby soft vanilla, baby blonde that is one of the hot fall/winter trends. Sides and back are buzz cut short and the textured length on top makes for quite a contrast. Of course this men's haircut also offers a range of styling variations to make it through the cold months in style and without any boredom.


Military Buzz Short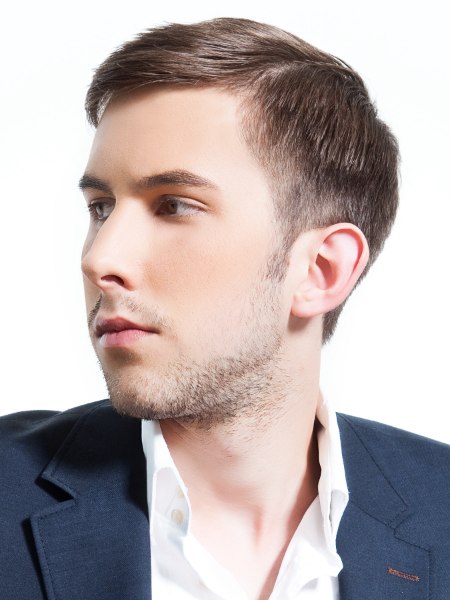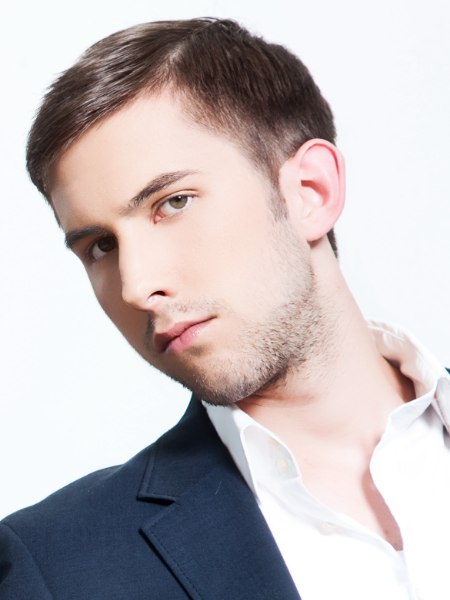 From military buzz short to about one inch in length, this men's haircut needs regular trimming, but the cool and masculine appearance should be worth it. Longer top hair can be styled following the shape of the head, but it can also be directed in other directions and glamoured up for the right occasions.

This version is professional-looking, but also has a lot of trendy texture, that it will keep him looking swell even after hours at the club.


Trendy Look for Men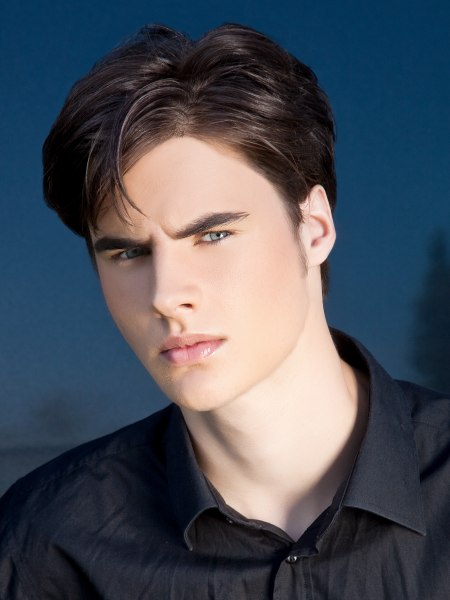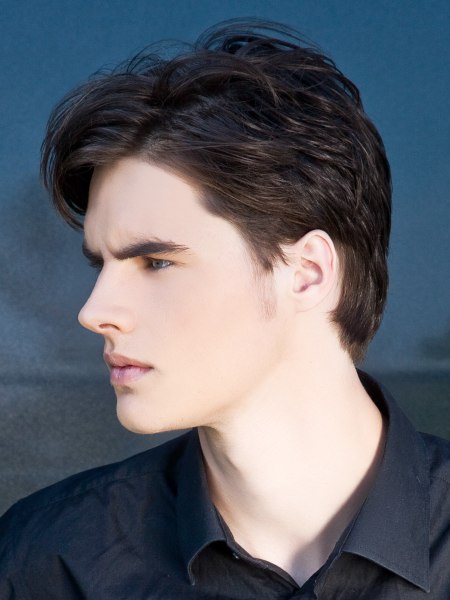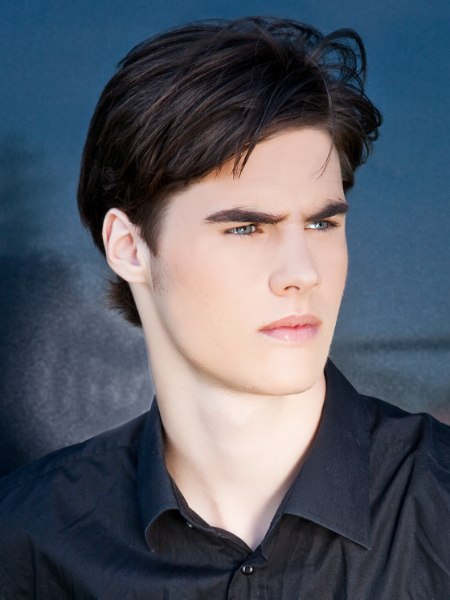 The new looks for men might hold back a bit when it comes to hair color but not so when it comes to shape of cut and finesse in styling. This rich cocoa brown creation has a generous length around the crown and shorter, ear revealing sides, a bunch of layers and a tight, short neckline.

In comes the styling and it transforms a classic haircut to a trendy look that is full of understatement and at the second glance exposing a lot of artsy and ever so subtle details. The long fringe hair is styled almost sticking along the forehead at the edge of his hairline. A few other strands fall playfully into his face, breaking up the straightness of it.

Hair: Sasscha Hirtsgaard - Guys & Dolls Intercoiffure
Photography: Bert Goeman
Make-up: Martine Lück
Products: Paul Mitchell
Clothing: Hale Bob and Rocking Blue

See also: Short hairstyles | Men's hairstyles