Barbara Wuillot
Hairstyles Collection 12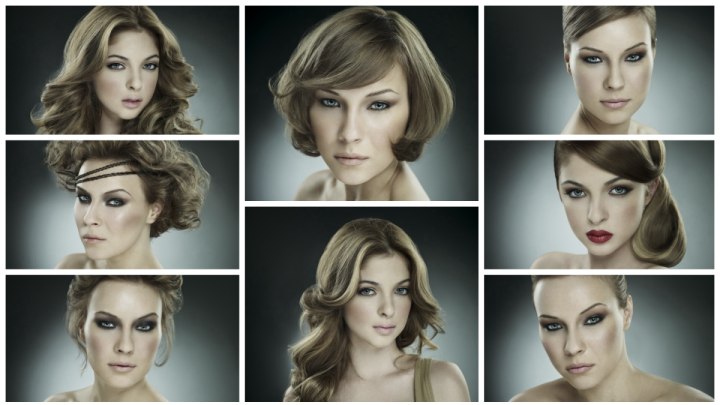 Scroll down for more photos ↓

With her collection Barbara Wuillot explores the effect of different hairstyles on two women. One of them begins with a short bob and the other with long hair. Enter the wonder of hair extensions, and a true metamorphosis takes both of them to new expressions and very different styles.

The focus is on feminine lines, soft volume and styles that take a woman everywhere she wants to - from elegant everyday styles to extravagant looks that are ready for the runway. The facets of a woman are reflected in her different hairstyles.


Shaped Bob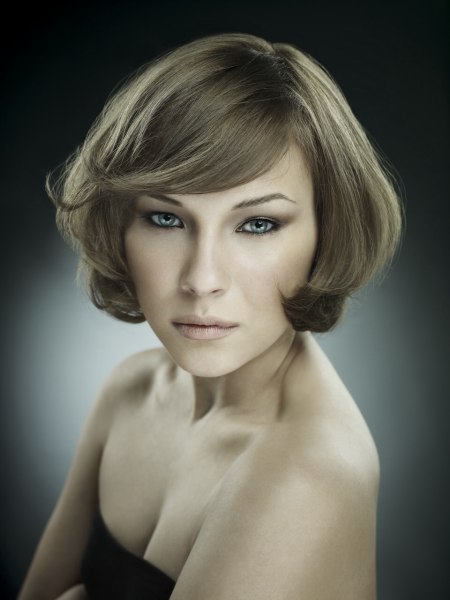 This look uses the woman's own hair and best shows the base cut that is later built up upon and modified. The almost chin length bob has a lovely side fringe, curved with swing and determination.

The front corners also spring up and shape two lovely curves into her face, that are very feminine and have that subtle retro flair that we all love so much. This is a great look for sophisticated women with an affinity to timeless and classy fashion.


Metamorphosis with Curls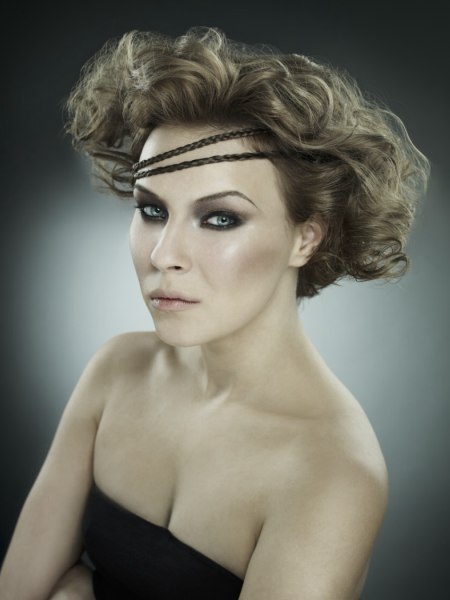 On her journey through a selection of beautiful hairstyles, this one brings out her mysterious and passionate side. Beautiful curls lift up the lines of the short bob and are styled for even an extra dose of lift so that all the hair is out of the face. The curls themselves are light and airy with good definition, but there is also a lot of fluffed up deconstructed action.

The big effect that turns this stylish look into a glam-phantasy is the double headband made out of hair in the same color. It runs diagonally across her forehead and comes with a big dose of boho and 1960s extravagance.


Curled Upstyle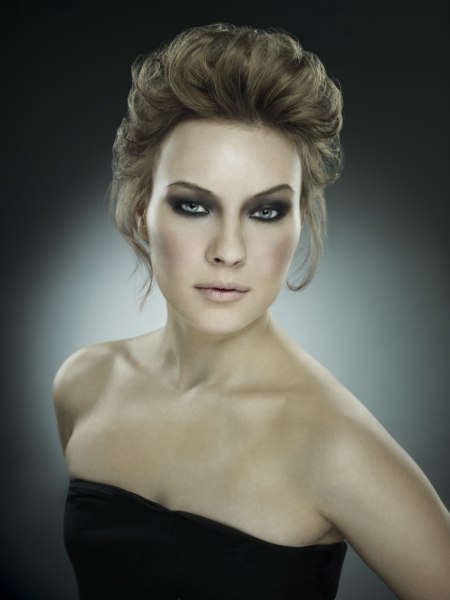 If the previous curls are too much on the wild side for your taste, then take a closer look at this attempt to tame the bouncy mass. Even though her original hair is rather short, an updo is an option. The curled hair is now styled toward the back with just a couple of accent locks remaining on each side of her face.

Hairspray and fine hairpins in the color of her hair do the trick and attach the rest in the back for an elegant evening look with much volume. Playful and romantic.


Elegant Updo with Extensions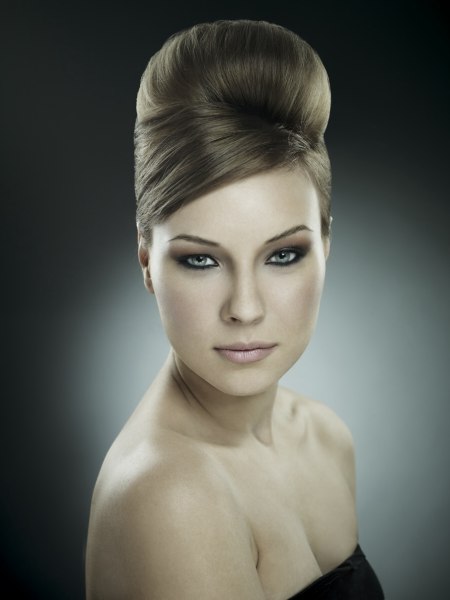 Hair extensions are not only used to add length in the vertical sense, but they also come in handy for up styles to give the hair more body and length to work with. This creation is elegant enough to be a wedding style and has a very sophisticated, cosmopolitan and classy feel.

No random hair disrupts the sleek movement of the hair which sits very close to the scalp all around, except for the large bulbous chignon right on top. A faux ponytail that can be clipped in is a good choice to use for this.


Updo with Large Quiff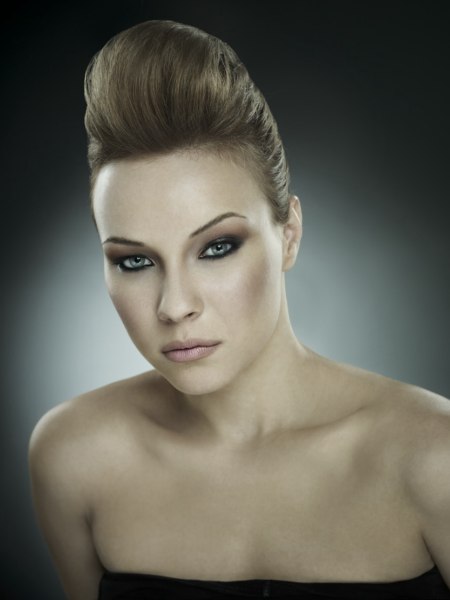 Scarlett Johansson and Kristen Stewart were among the first to bring the quiff back into focus. This retro inspired style is a more modern alternative to the upstyle from the previous picture. It still has a lot of drama, but more edge and spunk. It will definitely turn heads, but is wearable even at not too formal functions.



After the quiff was built up by gently teasing the hair, the upper layer was evenly smoothed over it and along the sides for a uniform structure. A cool, young and trendy hairstyle for women who are not afraid to show their true face.


Extensions Galore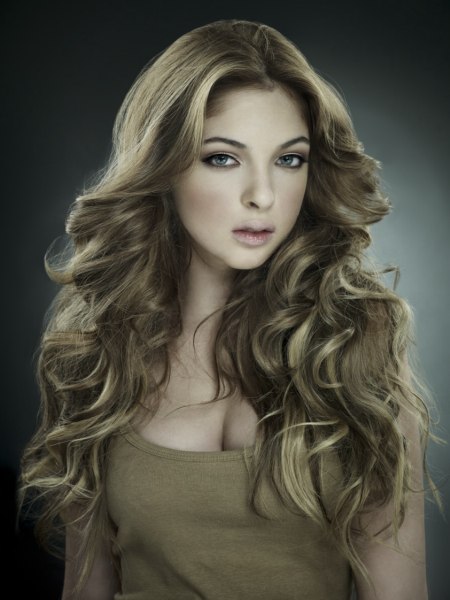 No one has to know your secret. Hair extensions can make already beautiful hair drop dead gorgeous. Length and volume are pumped up to an almost decadent opulence and together with the disheveled waves this hairstyle leaves them all breathless.

The well brushed top section falls in soft curves that flow into large round barrel shapes which then again feather out into the textured tips. The ash blonde color of her natural hair received some highlights through the extensions. This style has a perfect mix of sophistication and untamed sensuality.


Soft Side Braid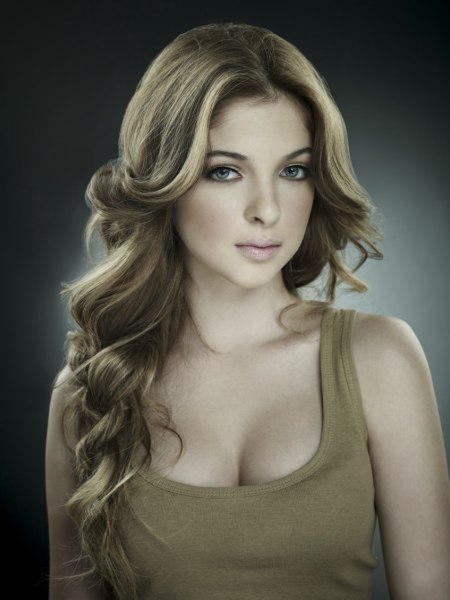 A wonderful alternative to wearing long hair open is a soft and loose braid that hangs over the shoulder on one side. To make this elegant instead of country the focus is on creating lots of soft curves around the head.

The well brushed hair was draped loosely, with thick strands twisted into twines and then gathered together to shape the very open and loose long Rapunzel braid. Extensions provide the thickness and more length to the hair to make this modern fairy tale look possible.


Winged Fringe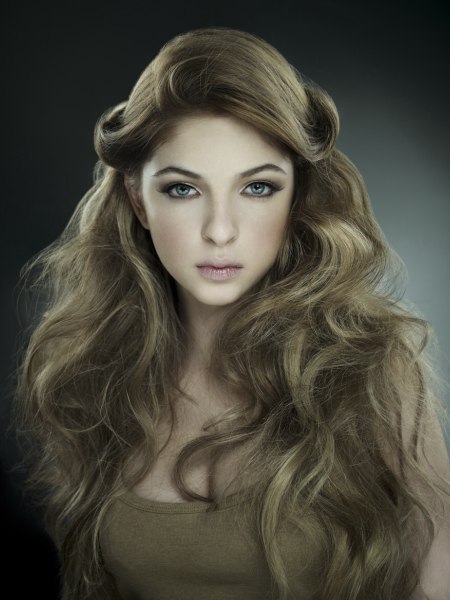 A lovely alternative to updos and wearing the hair down is to just take the frontal strands and drape them to the back. This is the classic "pretty girl" look but in the vision of Barbara Wuillot it turns into a dramatic expression of femininity with a heavy dose of class. Incredible volume is fluffed up in the lengths.

Teasing the hair gently accentuates the waves and also breaks down too much definition. The result is a tousled, sexy mass of long hair that seems to just have fallen from hair heaven. Again the contrast is a smooth and neat top section, very well controlled as opposed to the seemingly untamed length.


Long Princess Hair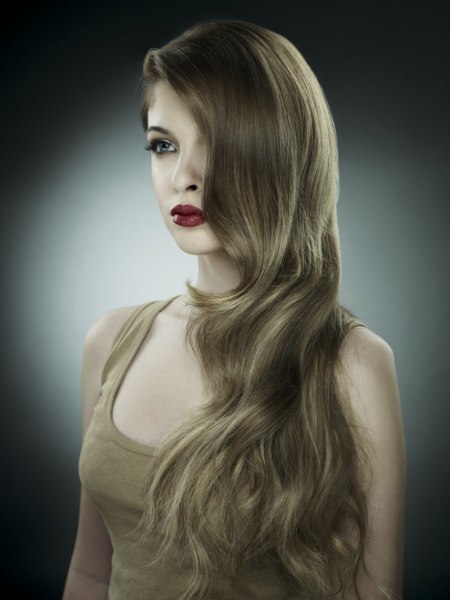 You don't have to be born of a royal bloodline to look like you were raised in a castle. Her long hair, enhanced with hair extensions was brushed to silky smoothness. A product was used to keep the hair smooth and avoid flying hair or static. This satiny river was then directed towards one side, the wider side of the off center partition, and it gently flows down over her shoulder all the way to her waist.

The large waves are irregular enough to look effortless and natural, while some finesse was put into the hair that is closest to her face and is finely styled with a beautiful curl under her chin. A small touch like that can change the character of that many feet of hair. Imagine what it can do to hair that is shorter!


Sleek Updo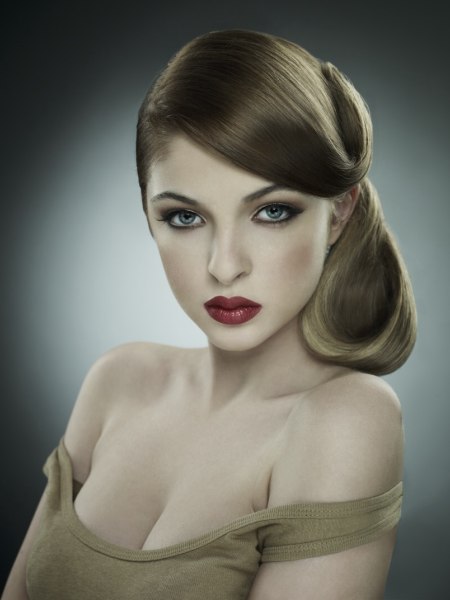 For your grand events forego the big volume and head for simple and sleek elegance. Less is more when it comes to this refined updo that has the lines of fine art. The hair was treated to extreme smoothness and sleekness, then pulled over to one side.

Two loops were formed, one from the frontal section which curves to above her ear and the other one is gently nestled between her neck and shoulder.

Hairstyles: Barbara Wuillot
Make-up: Dana Argesan
Photography: Marius Baragan

See also: Short hairstyles | Long hairstyles | Up styles