Top Model Coiffure
Hairstyles Spring Summer 12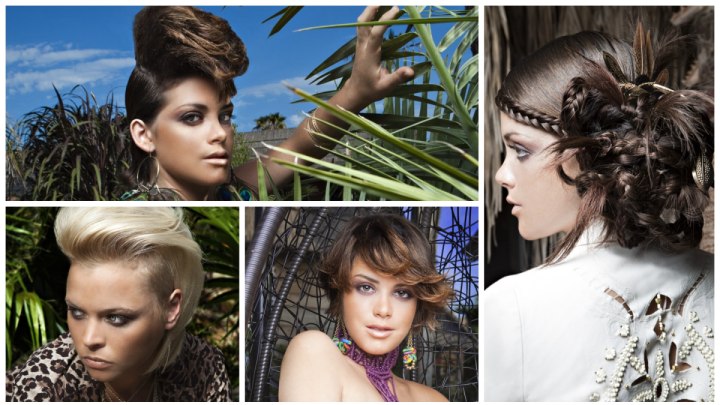 Scroll down for more photos ↓

You don't have to be a model to wear a catwalk-ready hairstyle. Here are some fabulous ideas for trendy summer looks that have a well-dosed touch of extravagance. But they are also wearable. You'll find a lot of combination of retro and sci-fi elements on the summer streets and this collection by Top Model Coiffure is no exception.

Quiffs, floating updos, short and cosmic looks with wispy tips and elaborate braids that would make Princes Leia's famous do pale in comparison are all joining the party. Colors are natural and earthy, but also ethereal and with metallic finishes. Glamour and fine design are back to brighten up our days, and Top Model also celebrates feathers as hair accessories.


Elegant Updo with High Volume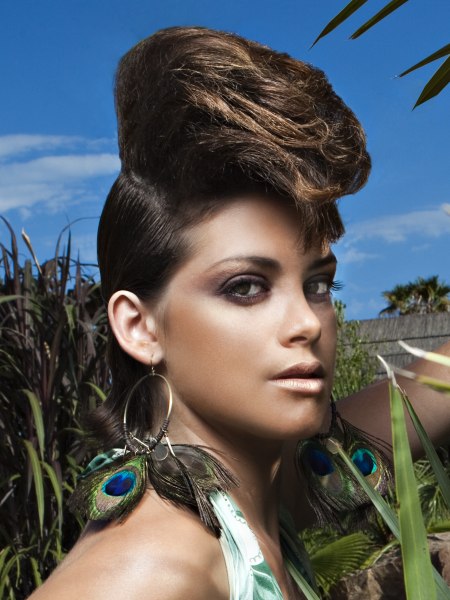 Don't be afraid to show your true feathers and allow yourself to be as extravagant as you can be. This festive upstyle for medium long hair consists of two very separate parts. From the temples downward the hair was treated with a smoothing agent or pomade and sits snugly against the head, while the top hair is styled upward and arranged like an airy soufflé with a subtle forward drift.

Part 50s quiff, part Star Trek this look has a lot of feminine, classy style paired with futuristic opulence and high-end design. The long earrings made of peacock feathers keep things earthy.


Bob with High Top Volume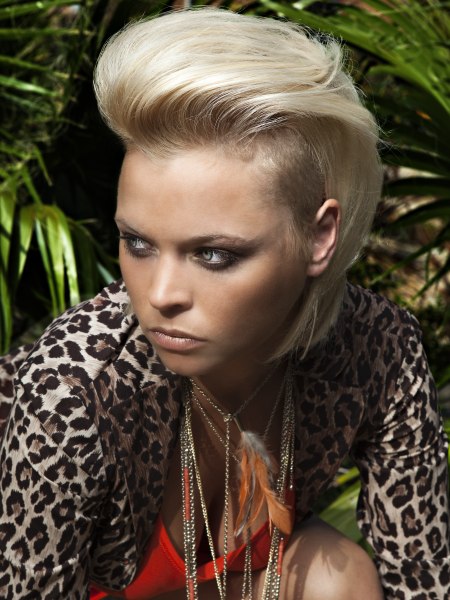 A lot of lift in the roots takes this bob cut to new stylish heights. All of the volume is concentrated on the crown of her head where it first goes up and is then styled towards the back in a very dynamic and sweeping line.

A futuristic element comes in with the snug-fitting and very short section between temples and ears and also along the side that contrasts the long top hair flowing over it in its organic motion. These short sections allow for a range of interesting styling options and will always be an eyecatcher. Platinum blonde as the color of choice looks amazing with slightly tanned skin.


Short and Practical Summer Hairstyle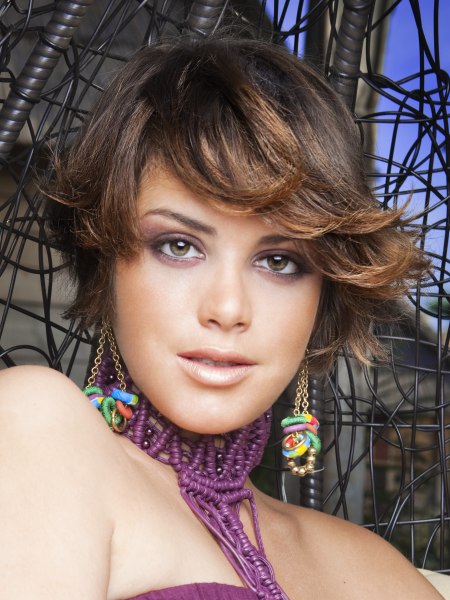 Wispy is the magic word for this fun and short hairstyle. Perfect for carefree summer days this classy and sporty haircut looks good on the beach and later for a hot night on the town. Not only is this length extremely practical in the warm season it also allows many different styling options so that the word boredom will not be a part of your dictionary ever again.

The top hair is long, reaching a bit below the eye level and the sides are layered and gradually shorter which provides nice volume and lift. Subtle highlights look as natural as if created by the sunshine and a wispy styling with lots of generous curves in the tips is just what you need to lift your mood and senses.


Feathers and Braids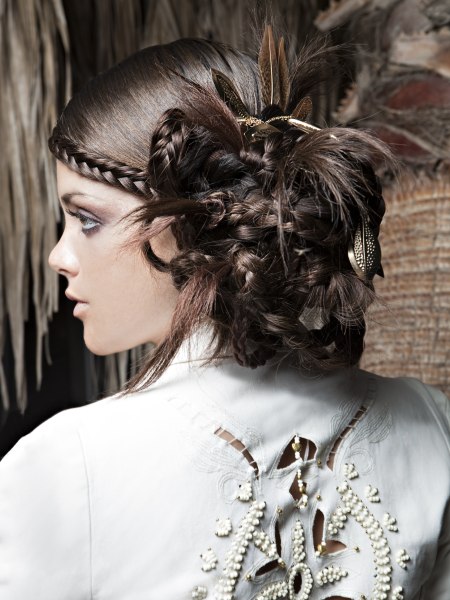 What a lovely way to celebrate life on a warm summer's night. Romantic and wild at the same time with the flair of a renaissance princess. This updo combines amazing textures from smooth to braided hair with natural feathers. Even though it takes a moment to put it together, it is worth the extra effort.

Choose feathers in a color similar to your hair for a perplexing effect. If your hair is not long enough to create those thin, long braids, then do not despair and just use artificial braids that you can find at a good salon or at a beauty supply store.

Hairstyles: Top Model Coiffure
Photography: Isshogai

See also: Short hairstyles | Up styles