"Carnet de Bord" by Jack Holt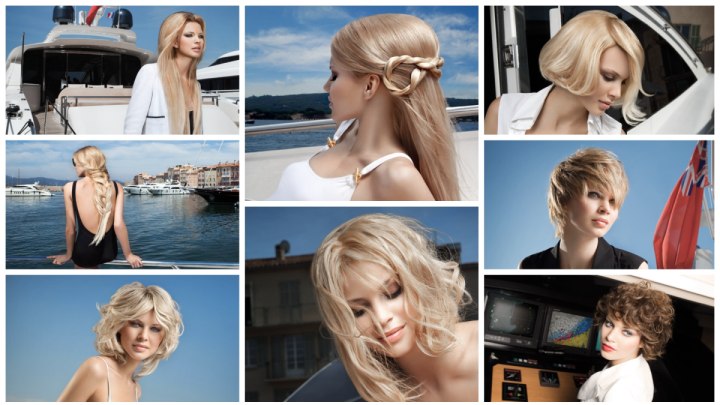 Scroll down for more photos ↓

Fasten your seatbelt and get ready for a fashionable ride. Join the fashion jet set with one of the sexy looks for spring and summer created by the highly creative team of Jack Holt. Powdery tones of blonde in their more natural and enchanting incarnations are the dominant colors in the sun drenched world of summer hairstyles.

Long hairstyles, sleek or braided are joined by medium length classics and sexy short haircuts with much movement and exciting textures. Pure elegance and femininity are the basic ingredients in each one of these alluring and precious looks.



The rest is finesse, daring design and the high quality of cuts, color and styling. Set sail or board the plane to find your next adventure, but do so with fabulous hair!


Beach Blonde Barbie Hair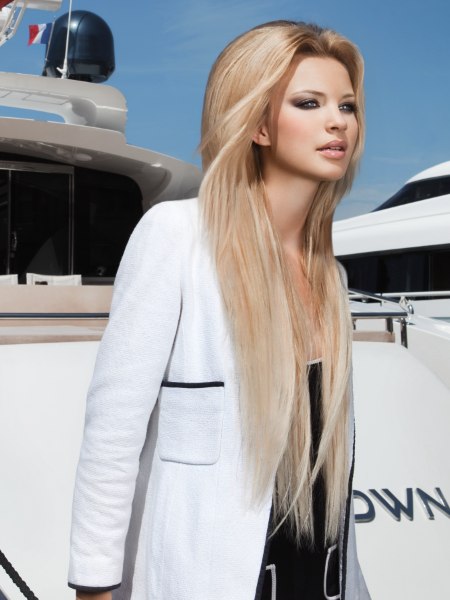 There is no season without at least one California beach babe look. There are many versions of the long, blonde mane and this year it is a very elegant hairstyle with sophisticated simplicity in lines, a high light of the roots on the crown and supersleek sides that are tapered along the edge and softly textured in the ends.

Notice how the silhouette narrows from top to bottom. If your own hair is lacking in length, ask your stylist for hair extensions and enjoy the magic. The color is a natural looking beige blond that lightens slightly towards the lower parts.


Long Braid for Summer Hair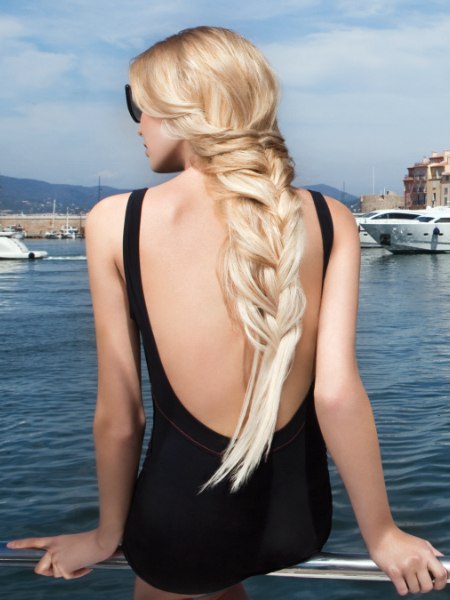 Go freestyle with your braiding technique as long as it is loose as in this long and blonde example. This is a perfect thing to do with the elegant long hairstyle from the previous picture when you are spending a day on board a fancy yacht or in your beach chair.

The texture in the tips of the long extensions is especially visible now. This look will keep the hair out of your face, protect it from the damaging rays of too much sun while you look stylish and plainly ravishing.


Simple Long Hairstyle with a Twist


Perfect your nautical look with a rope design in your hair. The twisted braid is arranged to a seaman's knot that sits neatly atop long and sleek hair. It is not just decoration since it also pulls the hair gently back on the side so that her face remains free and open to catch the last rays of a setting sun.

A simple, but yet very refined look in a vanilla blonde color that has a sophisticated shine reminiscent of a precious mother of pearl. You can twist your own hair, but extensions come in especially handy for styles like this.


Bun with Nautilus Design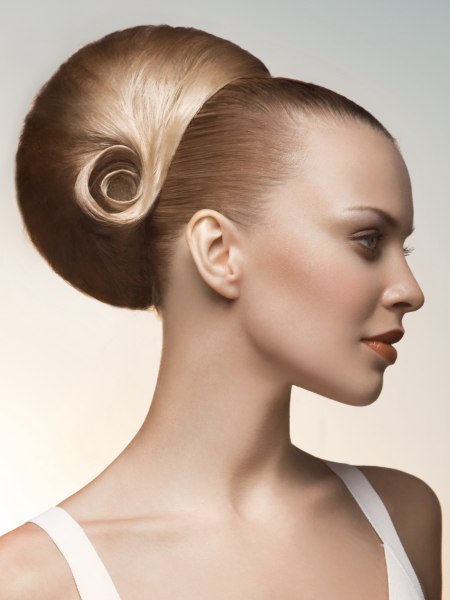 Even if you won't strut down a red carpet, this extremely elegant upstyle is a real treat for yourself and whoever might be admiring you. A high and large bun, as sleek as can be, is rolled along the side to form a beautiful seashell design with the perfect proportions of a nautilus shell.



A touch of retro is part of the glamour, but due to its glossy sleekness and the breathtaking transition of color it seems to have come to us from another galaxy.


Tousled Asymmetric Bob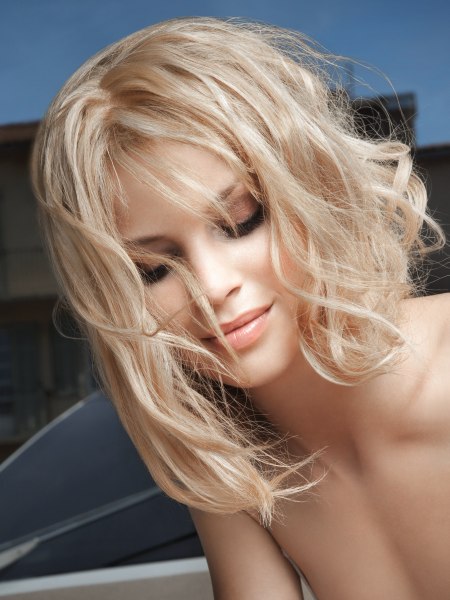 The magic bob cut cannot be missing in a trendy collection of summer's hair fashion. This especially luscious medium long version has a slight A-line with a bit of a shorter length in the back that gradually lengthens towards the textured front.

Styling is natural and perfect for an active day outdoors. Water, wind and weather cannot change the sexy allure of this dynamic and touchable hairstyle. Beach blonde with natural looking highlights create depth and even more dimension.


Bob with Natural Appeal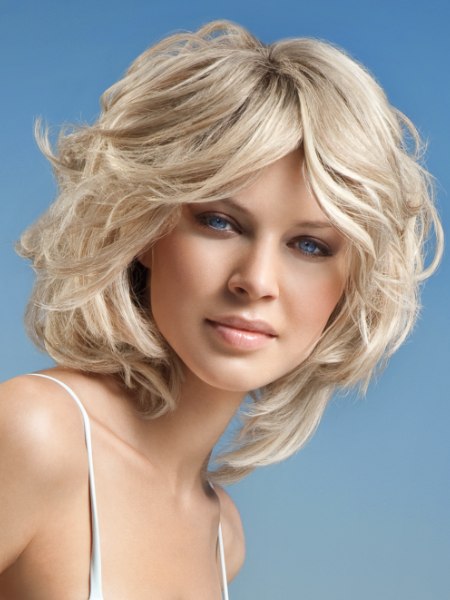 A chic bob with a natural appeal is just the right hairstyle to promenade down the boardwalk and check out all the new sailors in town. Keep it simple with a plain center part, but boost the volume and the motion. Curved edges, deconstructed large curls puff it all up and give it the body and lightness that you desire.

The main cut is a layered bob with a deep fringe and a face framing tapered edge along the sides. This cut is very wispy and feathery adding a touch of sensuality and adventure to your summer fashion.


Bob with an Overlapping Partition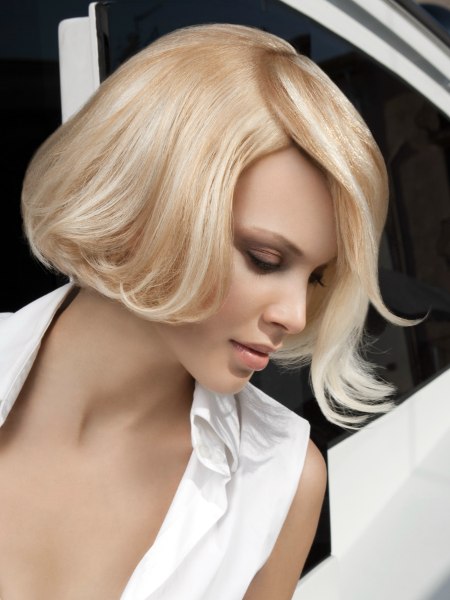 For an elegant dinner or rendezvous show your very elegant and sophisticated side by adding a touch of finesse to your short bob. The base cut is quite ravishing all by itself, especially with the intricate coloring of several blonde tones set against each other in thinner and wider sections. But with an overlapping partition and a fringe that is anchored way in the back of the crown before it sweeps diagonally across the face in its feathery and wispy glory, a masterpiece is created.

The different sections of color can play out their appeal especially well with the curved movement in the tips as seen here.


Choppy Short Haircut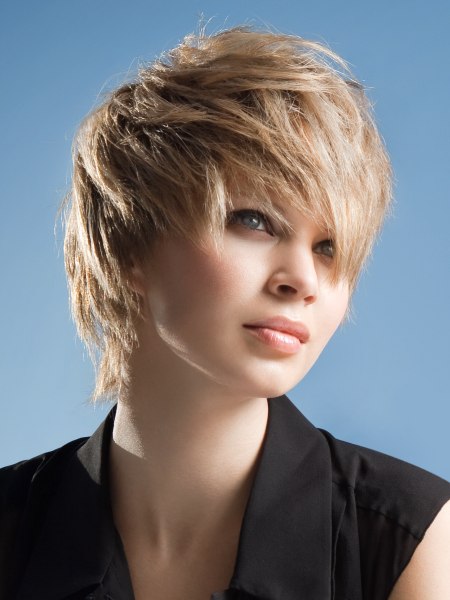 Short layers and a choppy texture are the basis of this fresh and asymmetrical style that is a perfect expression of carefree living. The forward direction of the styling pulls all hair in and around the face for a beautiful and expressive frame.

This sweet hairstyle is full of energy and radiates with vivacious joy of living and you might want to keep it for more than one season. The hair color is a warm honey blonde with some lighter tips.


Short Haircut with Soft Curls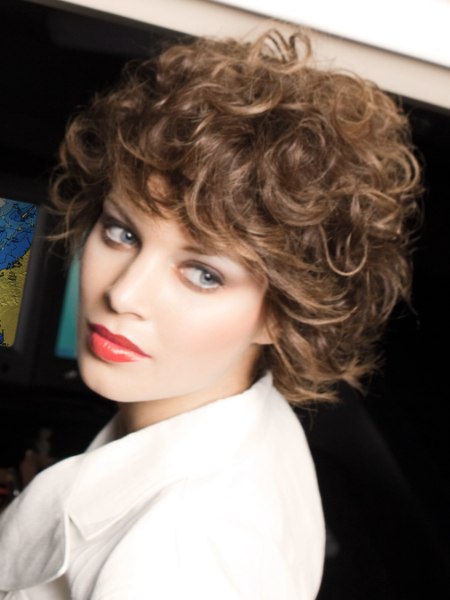 It does not get any more feminine than this short haircut. Some may call it retro, we call it timeless. It captures the essence of great hair with its volume, the soft and generous curls, opulent volume and just that certain allure that no one can escape.

It is short enough to be easy to maintain, but long enough to tingle with sensuality and passion. The essence of feminine elegance is ageless and always in style. A warm blonde with a caramel and cafe au lait tint keeps things natural.

Hairstyles: Jack Holt Coiffeur Créateur
Photography: Isshogai

See also: Short hairstyles | Medium hairstyles | Long hairstyles