Intercoiffure Mondial
Freedom Hairstyles Collection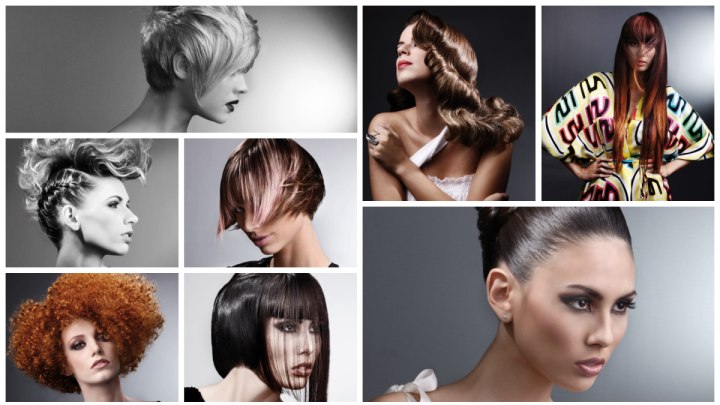 Scroll down for more photos ↓

According to an old song, freedom is just another word for nothing left to loose. Not so in the world of Intercoiffure Mondial. Their amazing creativity and insane sense of beauty coupled with a daring approach to cut and styling, leaves us much to gain.

This new collection liberates us from conventional approaches to hair and allows us to question what was universally accepted. Individual expression is before any norm and to achieve this, design elements were combined like never before.


Mohawk with Braids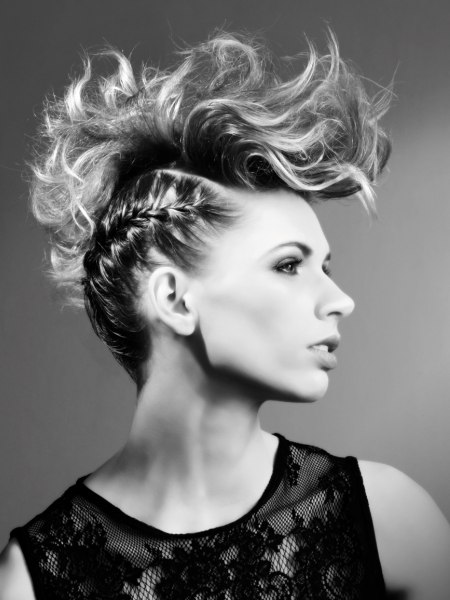 What would you rather be? A country girl or an urban warrioress? There is no need to make such a hard decision since you can have it all and express your inner freedom in this daring look. Opposites never looked this attractive.

To create this faux mohawk, the hair was parted on each side, separating a couple of inches wide section on the crown. The sides were French braided from front to the back and the wavy top was relieved from gravity with the help of some good styling products and much positive thinking. The result is unusual, extravagant and screaming of modern rock glamour.


Layered Short Haircut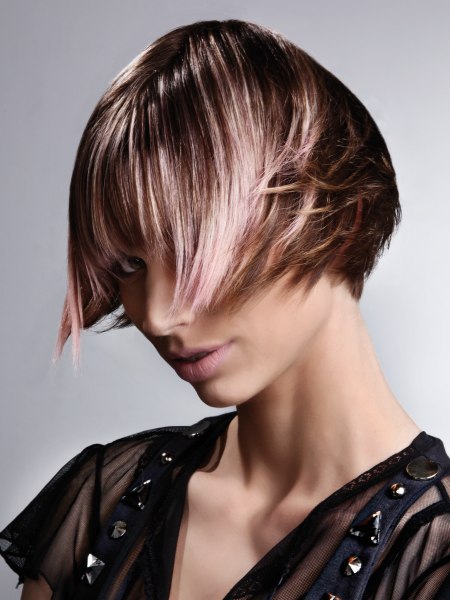 This bob has nothing demure about it. A few layers, texture and thinning at the tips turn it into a sassy, spicy short cut full of energy. The just off center part is drawn with overlapping strands to avoid a potentially straight line and all the hair was styled to the front, exposing the graduated neck section.

Eye catcher par excellence is the accumulation of light blonde highlights in the front. The fringe is just around eyebrow length.


Afro in Copper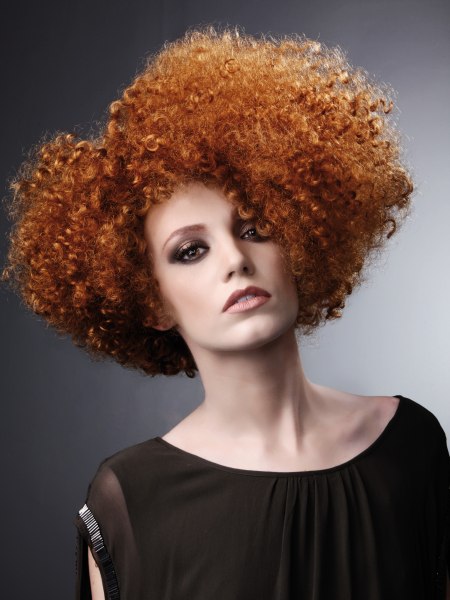 Go for the ultimate opulence with an innumerable number of tiny curls. Parted on the side, the weight of the bounce is shifted just a bit to create an attractive asymmetry in the rounded shape that reaches about chin length in its curly stage.

Natural curls are the best base for looks like this. To add to the excitement, some sections were lightly deconstructed or brushed for a cotton candy effect, while other curls and ringlets wiggle in full definition. The hair color is a rich and seductive copper of high radiance.


Expressive Short Haircut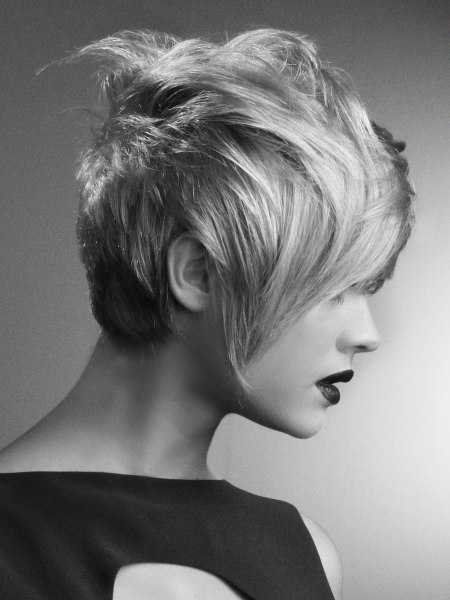 This one is definitely something to look forward to. Literally, since all of the emphasis is on the front part of the head. A graduated neck transitions into more length towards the front, all enhanced by a very forward styling, full of velocity and motion.



The contrast of lengths and textures is supported by the refined placement of highlights, which increase around the face as well.


Veiled Bob finds Asymmetry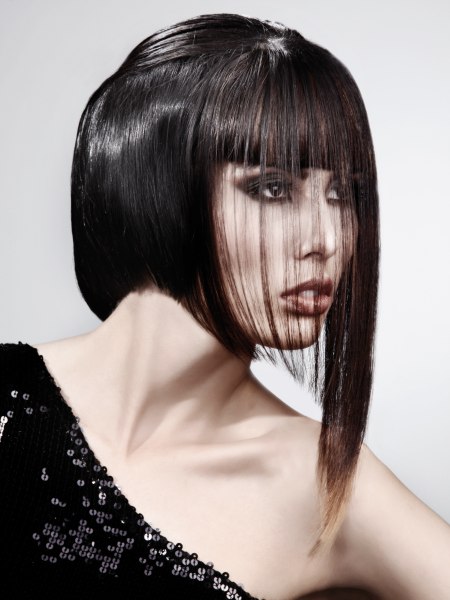 Shiny, black and of exquisite shape - this bob belongs in a modern art museum, but it is more fun to wear. You need to have some confidence for this meticulously cut and extremely styled version of the classic favorite.

Super neat lines hug the shape of her neck and move down to a deep plunge under her chin. A blunt and straight fringe is thus covered, but not hidden, by a thin veil of hair. Smokey black gives this extravagant look even more impact. Hair design at its best for women who dare.


Retro Hollywood Glamour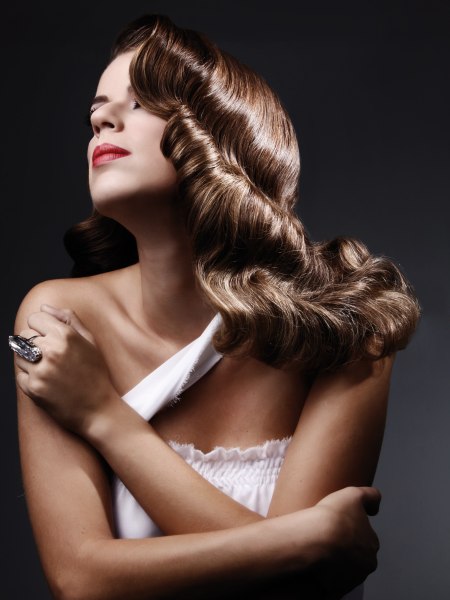 Smooth but dangerous. Long waves remind of movie goddesses of another era. Retro and again very trendy, these luscious locks still have not lost their magnetism. The waves are gentle and form tree distinct terraces of shiny brown hair.

The partition is on the side and allowing an elegant and very sophisticated shape to emerge, which frames the face in smooth curves. Light blonde and golden highlights add the sparkle to the base color and by the way. Where is the champagne?


Turban Shaped Updo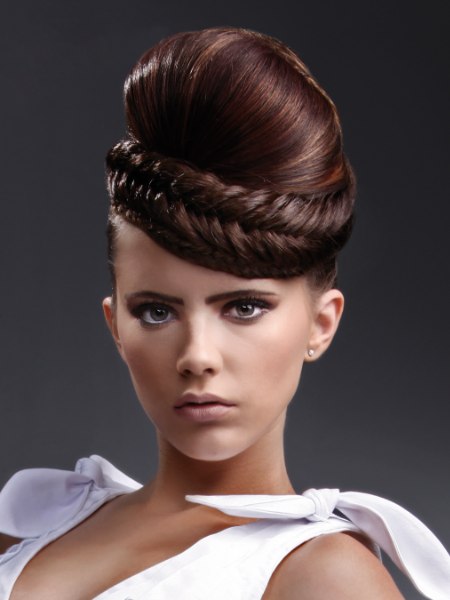 With this look Intercoiffure Mondial takes braiding techniques to new heights. A thick band curves its way around the head, and it consists of one thick herringbone braid, edged by a smaller regular braid. It seems to hold together the high rising bulge of sleek hair, shaped like a giant chignon.

Round and shiny, the turban-like structure dominates this extravagant evening look. The color is a warm merlot brown with highlights in gold and caramel. If you try to avoid attention, this look may not be for you. Otherwise, indulge in the compliments that you will get!


Braided Updo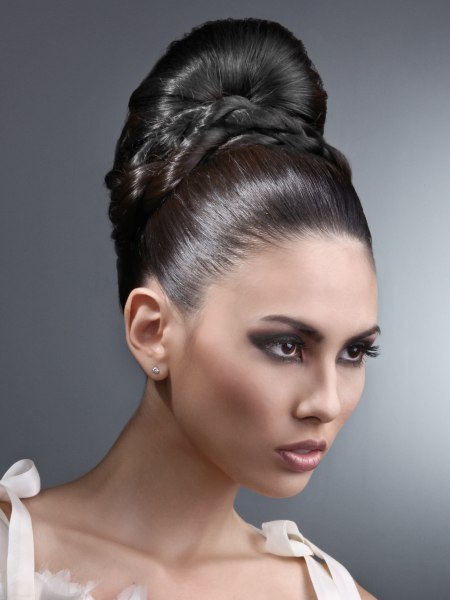 Another look that takes hair to an artistic level. A wide braid is used as a headband to separate the slick and sleek section that is strictly pulled to the back where it is twisted, braided and turned into one of the most spectacular up styles of the season.

Elements of classic Greece meet ethnic design and modern fashion. Be ready to bedazzle and pick your best dress to go with this look. The color is elegant, but it holds back in its exotic dark brown to let the elaborate design shine.


Striking Long Layers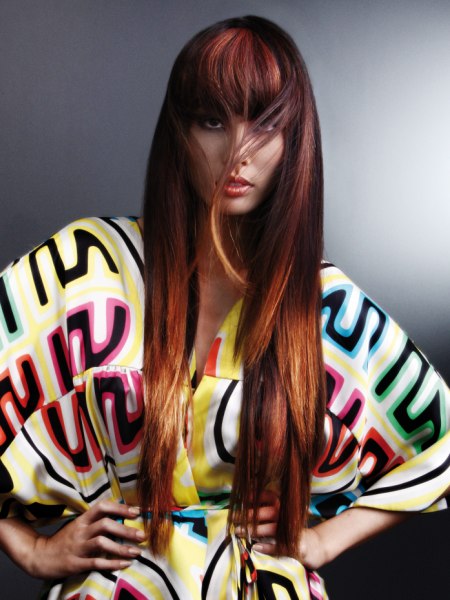 Waist length gorgeousness in a wild and bright copper tone speaks of an interesting and daring spirit that dwells within. The basic shape of the long layers has been pushed to the max with the help of some hair extensions and the refined and liberated use of color. Only the tips were lit up with a bright orange tone, adding a smoldering effect to the already hot color.

A thick fringe is delightfully retro and the playfully curved long strands in front of her face add a free flowing psychedelic element.

Hairstyles Photos: © Intercoiffure Mondial
Photography: Jean Pierre Kruze

See also: Short hairstyles | Long hairstyles | Up styles