"Milano Style Line" by Itely Hairfashion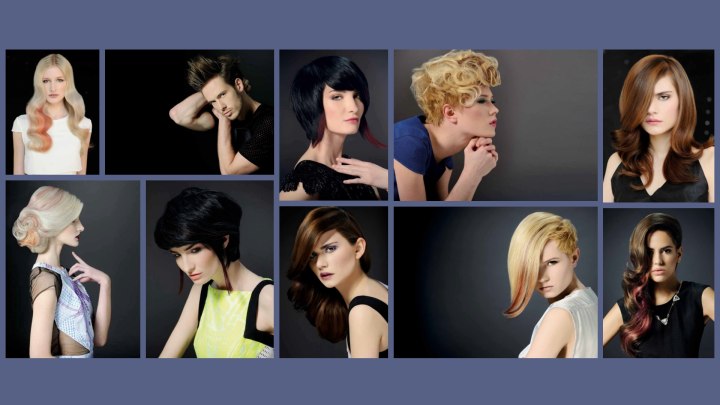 Bold and brave is the theme for the Milano Style Line by Itely Hairfashion. There are some subtle looks, styles, and cuts in the mix, but the real emphasis is on being daring and bold; taking a risk and never looking back.

What has been created is hair art. Styled one way, you can be all business and ready for the office; styled another way, you are ready for a night out on the town. Versatility, flexibility, fun, and excitement; that is what this hairstyles collection strives for and they definitely more than succeed as you will surely see.



The different color tones emphasize the geometry of the haircuts and bring light to the face, playing with different hues such as marsala, vintage pastels, and satin shades. The overlapping of colors is interesting, creating unusual light filters in various nuances. Golden pink, apricot, marsala, a touch of unexpected gray: color creates shadows and textures.


Get Noticed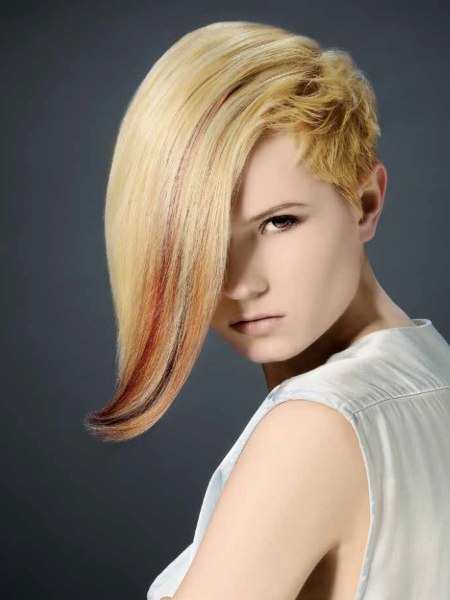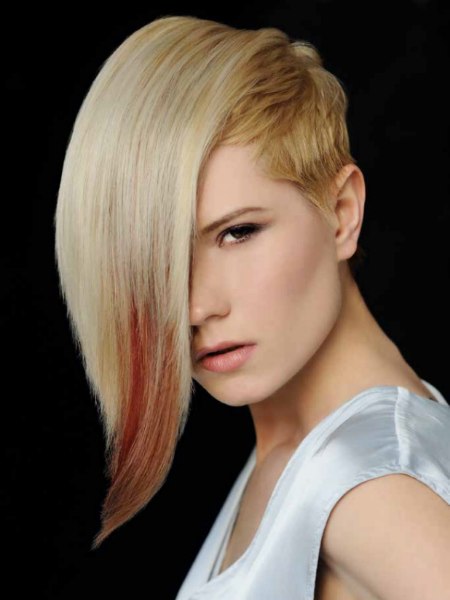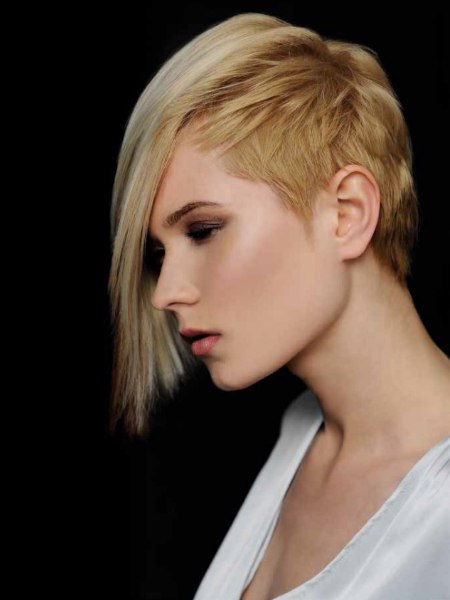 With an extreme length on one side (a half bob, if you will), a dramatic part, and extreme chopping all around the other side to the back, this short hairstyle is stunning and sophisticated at the same time. Pomade or gel can help with the shorter pieces, while a flat iron will help to keep the longer parts super sleek.

Though the main color is honey blonde, "satin shading" makes the hue pop as different colors have been applied to the individual sections (light golden and bronze). The mix of shades helps to balance out the cut and keep it both funky and sophisticated.


Be Free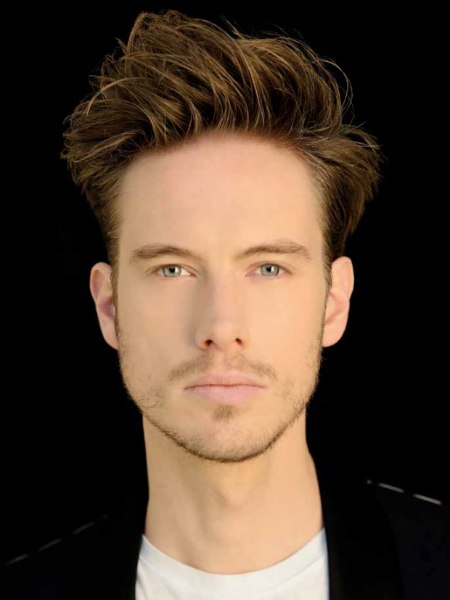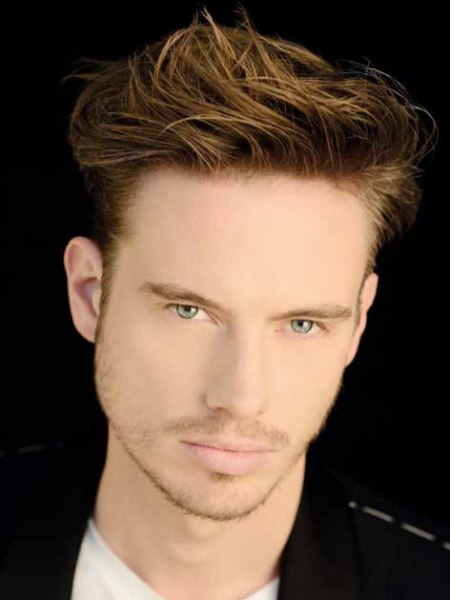 This men's cut has lighter shades carefully placed throughout the top. The top hair remains longer while the sides and back are short but not too tapered so as to blend with the rest of the hair. The top has been left longer to allow it to be styled back, but not too severely.

It is a professional look that exudes style. Pomade or styling gel was used to achieve the "wet look". Leaving the face free, nothing is left to the imagination, and it makes you look like a confident man inside and out.


Street Style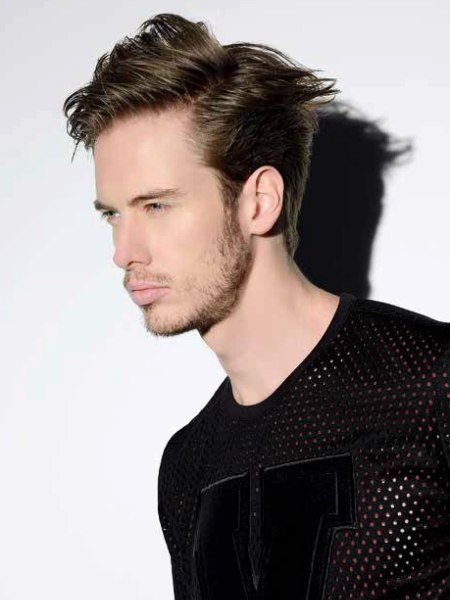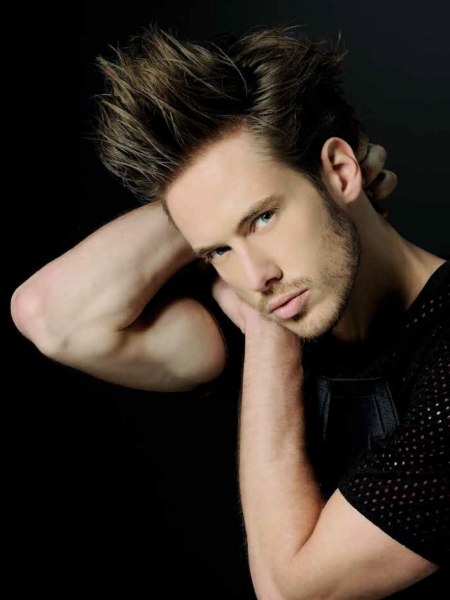 Men's hairstyle with a long taper down the back and messily spiked up through the very long front. Slightly parted to one side, but still mussed up. Other longer pieces around the crown are also spiked up, using your fingers as your main tool, along with hairspray or wax/pomade.

This will ensure that your gutsy and untamed look stays intact throughout all of your adventures, or at least give you an adventurous spirit. It is a fun way to make growing out your hair appear stylish, funky, and extremely daring.


Yes, I Dare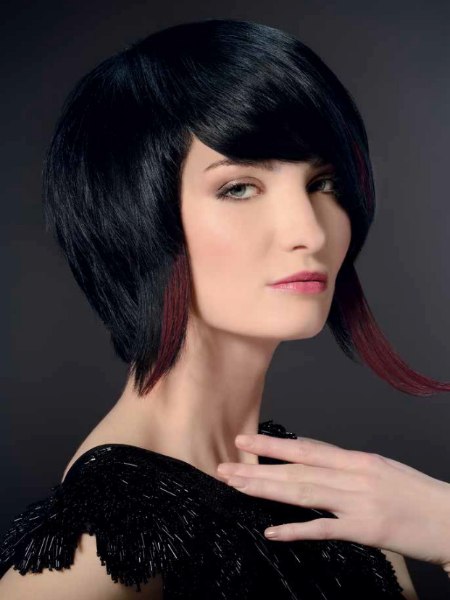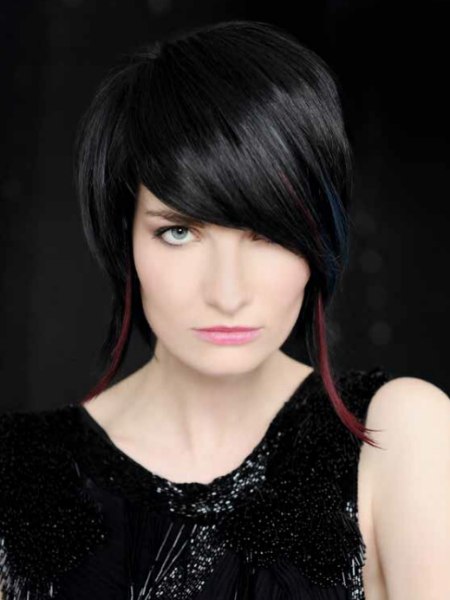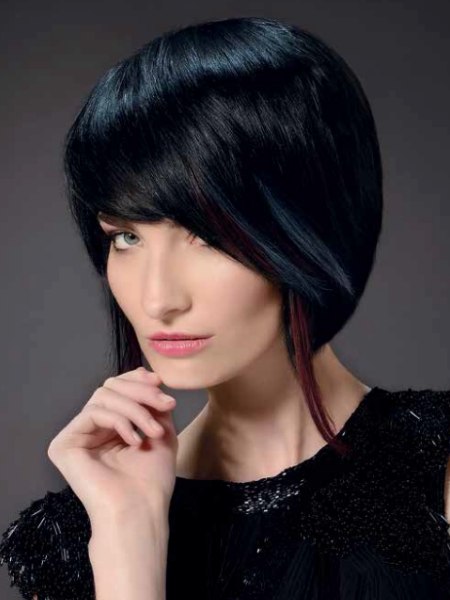 Daring ladies, you have met your match with this pitch-black, short, layered, shag-inspired hairstyle with thick, side-swept bangs.

A mixture of gray tones (chrome, steel, and/or silver) combined with air force blue helps to add more depth to the cut and color, while the addition of red on the longer sides (sideburn area) completes the contrast.



Use a flat iron on the longer pieces and style upwards while securing all over with a serum or pomade/wax. Flat irons can also add super sheen to this "Yes, I Dare" look. So, do you dare?


Joy of Living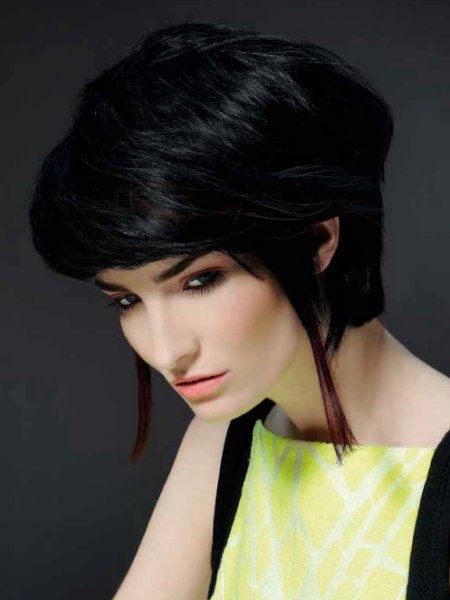 A long taper in the back that gradually layers up to blend with the thick top and bangs, along with long side pieces. Perfect for anyone with thick hair who is looking for a nice, bold cut that can be styled using a hairdryer and a flat brush to keep volume under control.

If you have thinner hair and desire more volume, a round brush followed by a flat iron is fine to make the "Joy of Living" style even sleeker and more sophisticated. Brush most of the hair to one side and finish with pomade or wax to ensure that your style stays in place. All of this will enhance the shine and brilliance, and who doesn't want that?


Eclectic Mood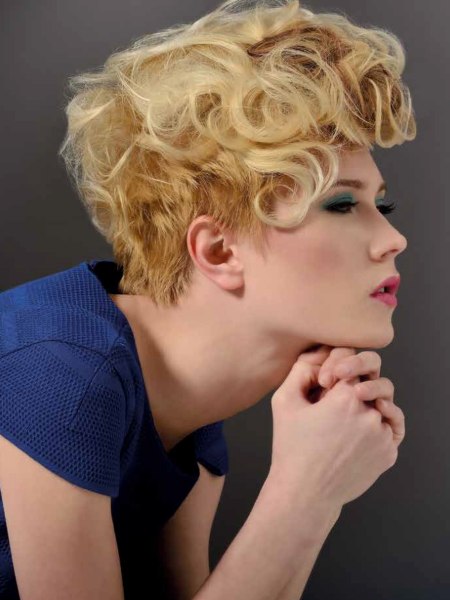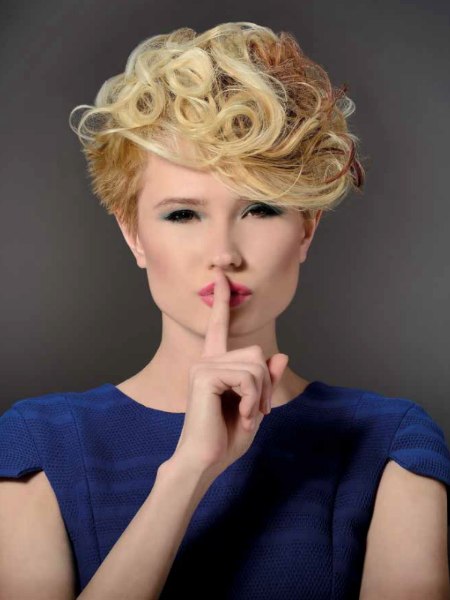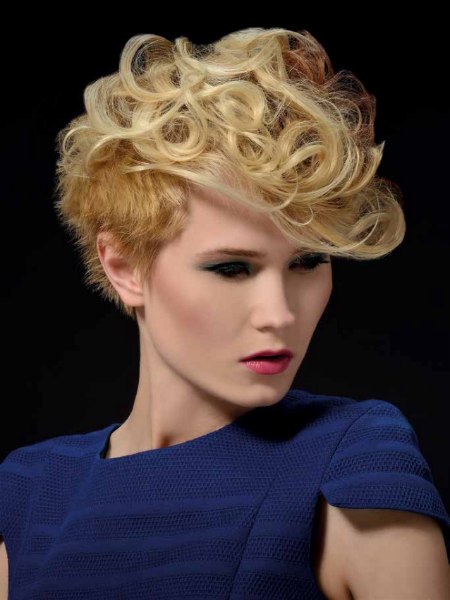 With one side and the back cut short and choppy, a lot of length is left on the top, so there is much that can be done. Curls are bold, fun, and work extremely well with the bold blonde hair color infused with darker shades, more prominent in certain sections

Brush all the long hair forward and curl the very top with a curling iron to create dramatic spirals, then sweep the bangs area over to one side and lightly curl it with a flat iron. Scrunch the hair and curls with your fingers and hairspray to make it look even wilder. The sides can be tamed with gel or pomade, or funkified with the same products. The top curls give central volume, while the light front makes the style more delicate and free.


Mysterious Elegance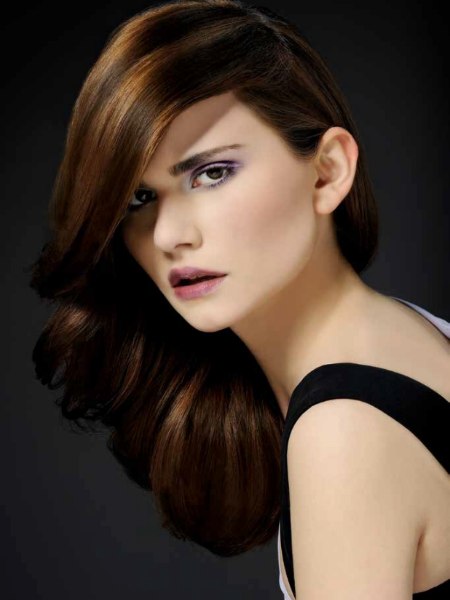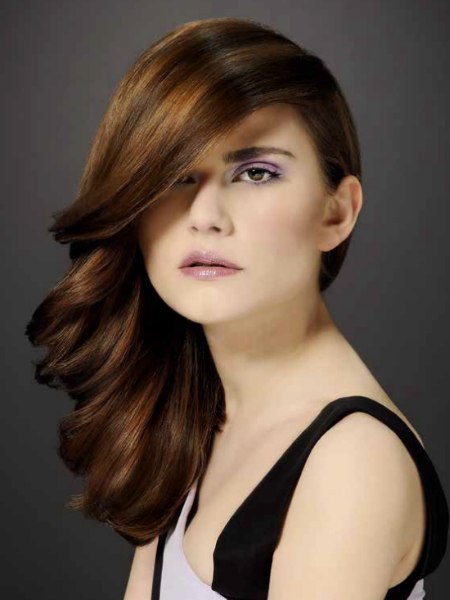 An extreme side part, defined layers, and perfectly placed caramel/honey highlights compliment this long, chestnut style that adds an element of mystery as one eye is somewhat covered. Hair is pulled to one side with the layers and angles lightly curled using a flat iron and secured with anti-frizz serum, creating the ultimate sleek shine.

The hair color is done with various shades of Colorly 2020 and is extremely sophisticated yet still bold without going too crazy or feeling too much unlike yourself.


Sweet Harmony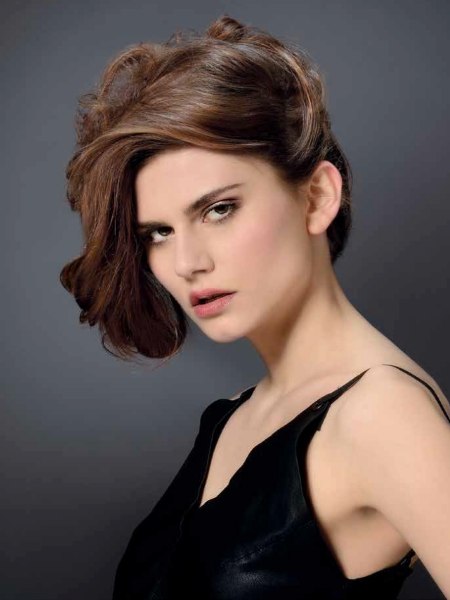 The hair has been completely blown out and styled to one side. The side with less hair has been slightly twisted and clipped to the back, while the other side has been gathered and loosely rolled under, then clipped with a bobby pin under the ear. The remaining loose pieces are clipped all around. The alternation of light and dark colors adds volume to the style, creating a 3D effect.

This is a fun way to wear your hair up. It looks effortless and slightly undone. It is a very relaxed style with a touch of sophistication, perfect for anyone wanting to step out of the typical bun box.


Rays of Light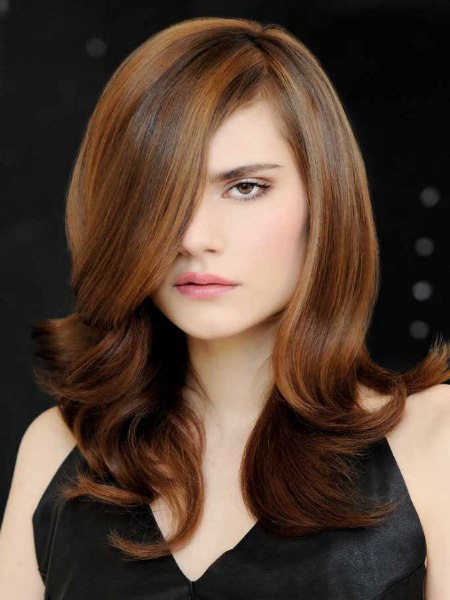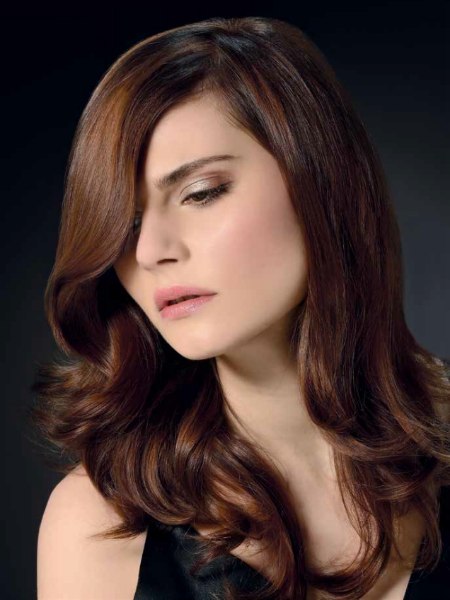 Deep angles and layers accentuate the face in a very positive way, and a long forelock covers one eye, adding to the allure of the dynamic hairstyle. Lighter highlights have been placed all over to create depth and contrast, as if the sun had done all of the work.



Blow dry with a round brush, flipping the ends up as you go along, and then finish with a flat iron to complete the flipped style and create even more shine and sultry waves. You can secure your look with a light dusting of hairspray and you are ready to take on the day, night, or both.


Color Wins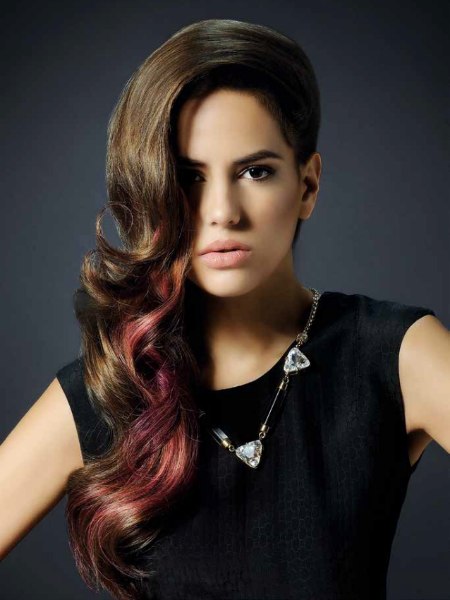 If you want to play with extreme hair color in a funky yet sophisticated style, this is the best way to do it. The base is a darker brown, and the hair is parted dramatically to one side. Up until the top layer, the color stays rich in its chestnut hue and then deep layers have perfectly placed marsala, pale pink, fuchsia, and burgundy highlights, with loose curls only accentuating the vibrant colors.

A stylist will bring your hair to one side for perfect color placement as well as angle and layer sculpting, depending on how your hair is to begin with. The hair will be dried with a round brush for root volume and perfect flipping, while a curling or flat iron will be used to achieve the waves, and finished with hairspray. This is definitely a color win.


Wonderful Heights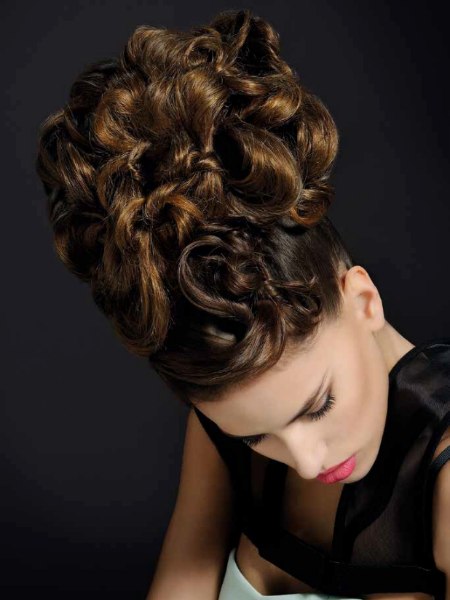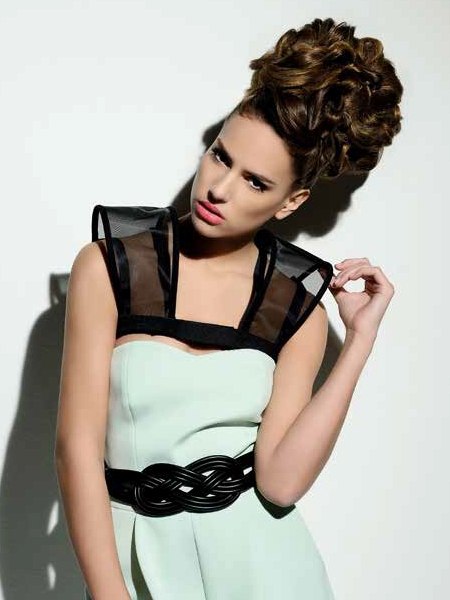 To achieve this skyscraper updo, leave a small segment of the front loose while pulling the rest into a high ponytail. Proceed to curl the hair that has been swept up and secure with bobby pins, layering the curls on top of one another.

Take the front pieces and divide them into two segments. Then, braid or twist them and secure them around the ponytail with a pin. Finish off with hairspray to keep the look in place for as long as you choose to wear it.


Icy Creature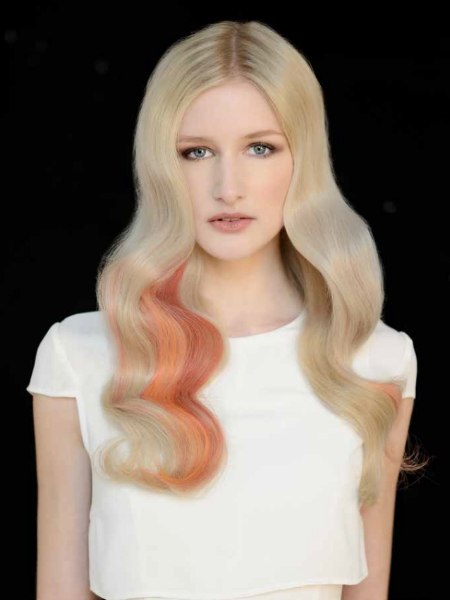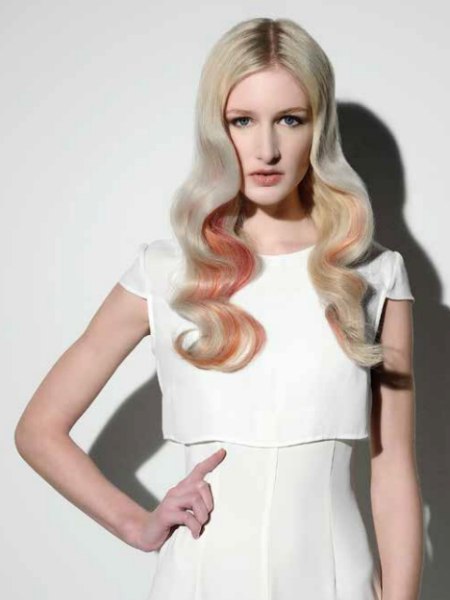 This long hairstyle is not your typical platinum blonde look; it has so many fun additions to it, with unexpected color accents that are both unusual and intense. It is earthy and funky, if you will.

Start with a platinum blonde base, a deep middle part, and then add shades such as apricot, rose, bronze, gold, and/or peach to the underside of one side, while choosing just one color for a few peek-a-boo strands on the other.

Loose waves can be achieved by either using a thick flat iron or braiding the hair overnight and letting it air dry. Tame it with hairspray or anti-frizz serum.


Gritty Look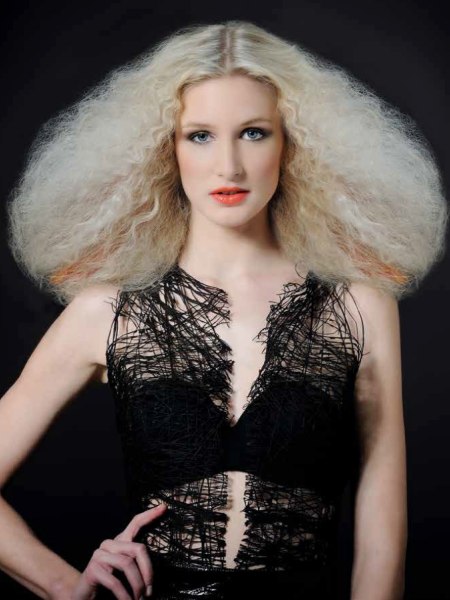 A platinum blonde base with peek-a-boo apricot, rose, gold, and bronze streaks helps to start this super fun take on the disco era.

Make several tight braids all around the hair, using a touch of hairspray for hold, and let it air dry preferably overnight. After the hair is dry, take out the braids and brush out the natural crimps that the braids have helped to create. Use a large wooden brush to increase the chances of volume and continue to add hairspray so that you achieve maximum hold and fullness.

If you can find a crimper at a beauty supply store or salon, that will work wonders, but you must tease and/or brush the crimps and waves out for fullness and fun. The mixed-in hair colors help add to the look, giving it some colorful charm.


C'est Chic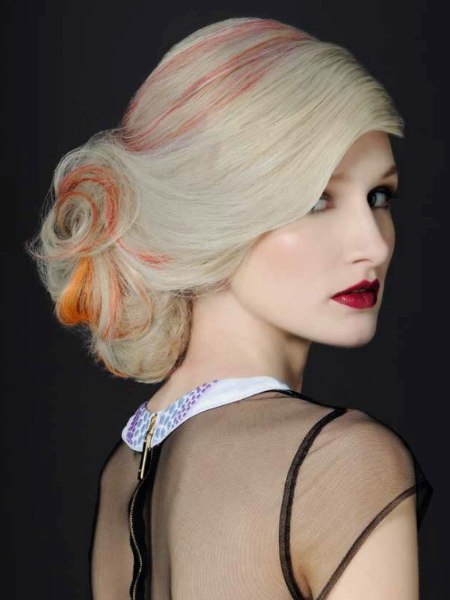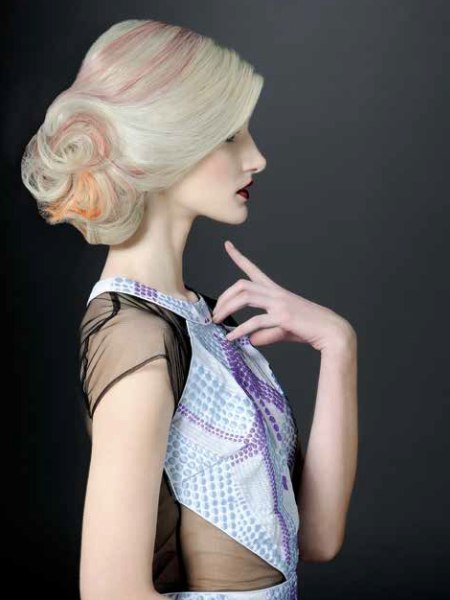 Wisteria and apricot tones blend amazingly well with an icy platinum base that has been gathered to one side.

An unkempt knot is created using bobby pins to keep it loose yet secure enough for movement. One side is slightly covering an eye to add to the mystery, and the look is finished off with hairspray. It is extremely bohemian-chic while staying trendy and casual yet simply elegant.

Hairstyles: Itely Hairfashion
Art Director: Federica Trerè
Colorists: Itely Hairfashion Technical Team
Photography: Mauro Mancioppi