LOVE by Haute Coiffure Française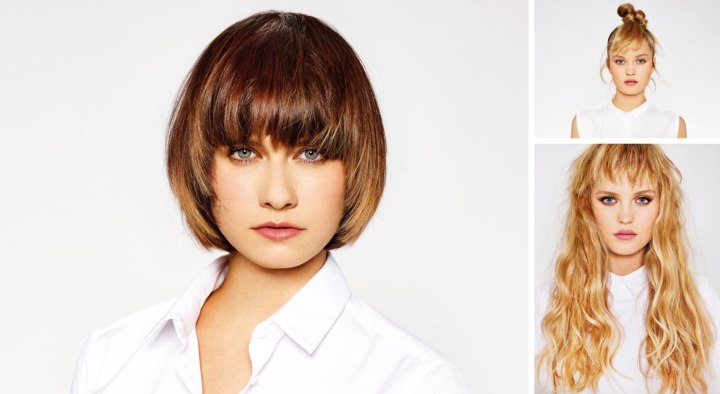 This collection shows you that you can transform the seemingly ordinary into the extraordinary with surprisingly little effort. Adding some color, extensions, or playing around with your bangs can make or break your style. Sneak a peek at these examples of altering everyday hairstyles into edgy, contemporary styles that will make an impression, no matter where you are.

We all have times where we want to do something a little different with our hair, but just don't feel like committing to a whole new hairstyle or look… These images are like a doorway to renovating your normal style, yet you won't be looking like a complete stranger to yourself when you're done.



Whether you enjoy playing around with new styles, or just feel like upgrading your typical top-knot that you wear to school, the gym and the beach, scroll down and envision yourself with these trendy styles that need surprisingly little finesse, skill or time.


Tapered Short Hairstyle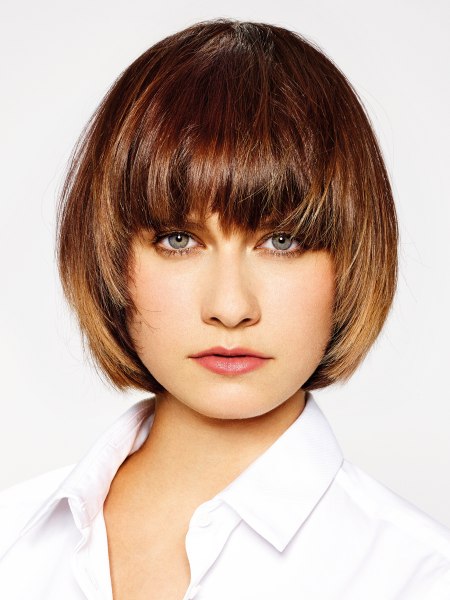 Here we have a short tapered hairstyle that exudes old-school glamour, while still keeping in step with contemporary fashion. The feathery wisps that frame the model's face make this an exceptionally feminine style.

The model's base color has been toned to a light golden brown, interwoven with very fine and subtle golden blonde highlights. The tips have been colored to a light golden blonde, especially around the face.

Blending the subtle highlights in the roots and mid-lengths, while incorporating a more solid light color at the tips of the hair is a typical characteristic of the ombré coloring technique that is so much in style right now.

This look is one of the most easily maintainable and versatile styles that you'll ever come across. The lighter tips mean that you can go very long between coloring services, while this specific haircut grows out particularly easy and gracefully. Thus, if you're going from short to long hair; this cut and color is your best option.


Very Long Hair with Short Bangs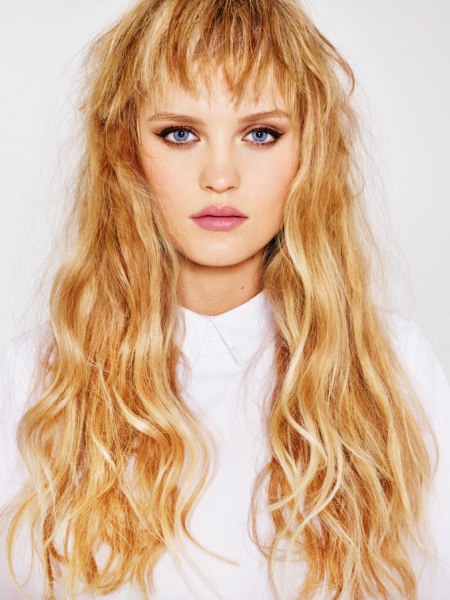 This style and vibe reminds one of VS model Candice Swanepoel after a particularly eventful night out in town… This; ladies and gentleman, embodies the true and awesome power of professional hair extensions.

The model's medium blonde hair has been highlighted with honey-blonde highlights, with dark blonde lowlights thrown in to spice up the color. Long light-honey extensions have been inserted from the occipital bone right down to the nape of the neck, to increase the length and thickness of the hair.

The result is downright spectacular. Expect to be turning heads, and earning second or third looks when you wear your hair like this when going out clubbing or partying.

The model's make-up is striking without being "dark" or unnatural while her high-collared shirt ensures that all the attention is focused on the model's hair and face. Thanks to the use of extensions, this is a realistic look for anyone with medium-length hair, attitude and a good stylist!


Hair Tied Up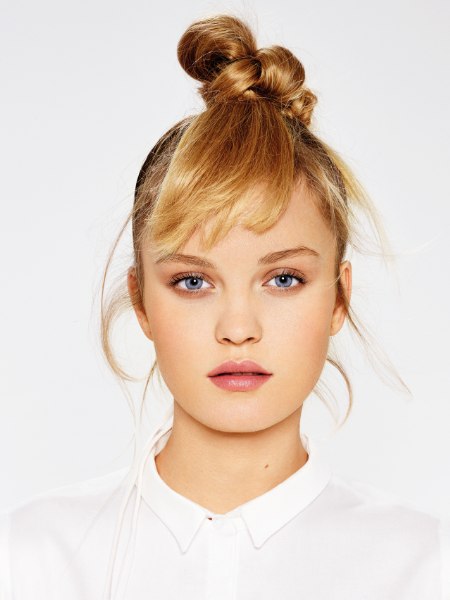 Talk about a transformation! This is the same model as the previous picture, yet she looks prettily demure as opposed to the apparent party ready persona seen in the preceding image.

The model's naturally thin, blonde hair has been combed back from her face with a fine tooth comb, and tied high up on her head. Thin tendrils have been left to frame the face in different lengths to exude a more relaxing vibe.

The length of the hair has been twisted around, pinned and twisted in the opposite direction and pinned into place again a few times to create the knotted effect that is so much in fashion right now.

Note how the wispy bangs have been styled to still hang down her forehead, which changes the whole appearance of the boring old top-knot that we all wear to the gym or park runs.

With the clever integration of the naturally striking make-up and the right pair of heels, you'll instantly convert the ordinary into the extraordinary.

Hairstyles: Haute Coiffure Française
Make-up: Ismael Blanco
Styling: Nado Al Tabbal
Photography: Gyslain Yarhi