"Fashion Face" by Intercoiffure France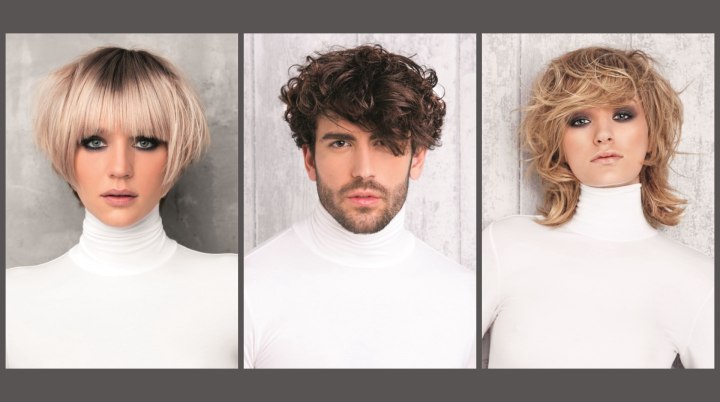 This small hairstyles collection is all about immense amounts of layers, texture, movement and dimension. These styles are designed to make the most of the varying lengths of hair that create wispy frames, springy tendrils and shiny tresses while incorporating highlights, blondes and browns.

If you're a fan of looks that stand out, yet are relatively easy to maintain and style, then you're bound to be impressed by this short but sweet collection of wildly varying hairstyles that are held together by the principle of intense layers.



The color spectrum spans from frosty very light blonde to medium golden brunette, while you'll see lengths varying from very short curls to medium, flaring layers. A lot of ground is covered by this compilation of hairstyles, so take your time to look closely at each one, and discover the little surprises and revelations of each image for yourself.


Medium Length and Layered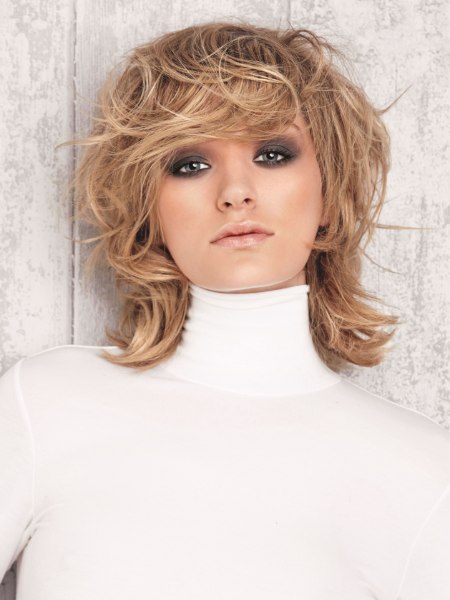 Here we have unconnected layers that are seriously thinned out and razored along the tips, resulting in this beautifully textured medium length haircut. The main characteristic of this hairstyle is incorporating as many differing lengths of hair as possible, while taking care to create a wispy overall finish, but especially in the regions framing the face. The top and especially the crown area are quite short, while the sides and back are much longer.

The model's honey-blonde base color has been highlighted with light champagne-blonde highlights to intensify the dimension and movement of the style even more. Note how well this works with her bronzed complexion and dark, smokey eye make-up. The more dramatic make-up also increases the focus on her beautiful hazel-green eyes, which look even more enigmatic in combination with the long wispy bangs.


Short Bob with Bangs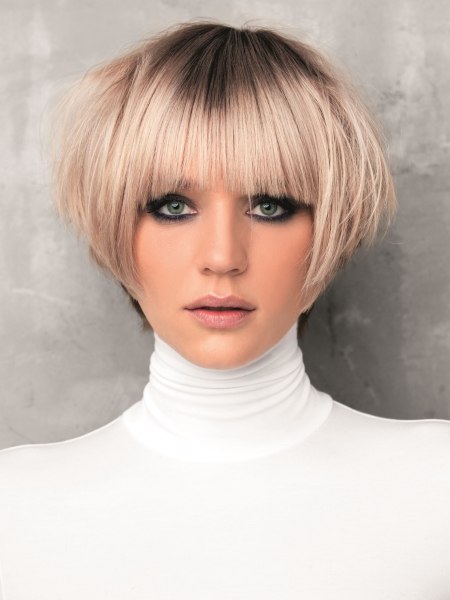 This is a typical short layered A-line bob style that often gets used for hairdressing expos, stylist competitions and photo shoots for hair color houses such as L'Oréal and Schwarzkopf. The hairstyle, beautifully paired with a white turtleneck, is designed to frame the face in soft wisps to intensify the feminine characteristic of the look.

The model's naturally light hair has been colored to a frosty, very light ash blonde, which showcases the layers, wisps and dimensions of the haircut flawlessly.

Note how lowlights have been incorporated along the "regrowth" area of her hair, resulting in a gradual blending of dark- to light blonde. This is a technique used in many modern color systems, (such as the balayage and ombré), in order to lengthen the periods between trips to the hairdresser to have your hair's color retouched.


Fashion Hairstyle for Him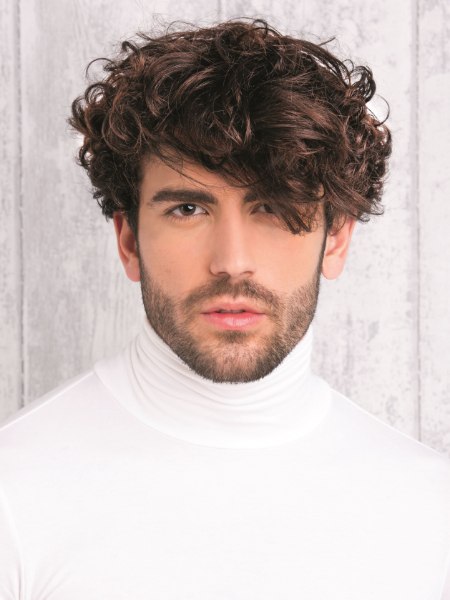 This beautiful men's hairstyle reminds one instantly of guys like Adam Brody, Adrian Grenier and Josh Groban. Curly hairstyles among men are seriously sexy, although completely under-utilized. Men tend to cut their curls short so that they don't have to deal with unruly hair, but with the right hairstyle and styling products, your curls might very well be one of your best attributes.

Here we have a men's style that's shorter and neat along the sides and back, while the top and bangs are left much longer and fuller. The curls at the top have been blow-dried on a low setting, and subsequently styled in a slight side-path to diagonally cover the model's forehead. His hair is a medium golden brown, which works well with the different angles of light reflected by the curls.

Hairstyles: Intercoiffure France Team
Hairstylists: Ivan Arniaud, Matthieu Taormina, Pascal Thénard
Artistic Editor: François Mazeau
Photography: Richard Zouari