Pure Elegance by DESSANGE


This hairstyles collection draws its inspiration from all the beautiful colors of autumn. Warm copper-browns, chocolate brunette, champagne- and honey blonde; take your pick because this collection has it.

Changing up your hairstyle and hair color is always a good idea, especially at the beginning of a new season. And what better place is there to draw inspiration from than Mother Nature herself?



Whether you're a die-hard blonde, a forever brunette or a true color chameleon, you'll inevitably be impressed with the different cuts, colors and hairstyles that scatter these pages.


Flawless Blonde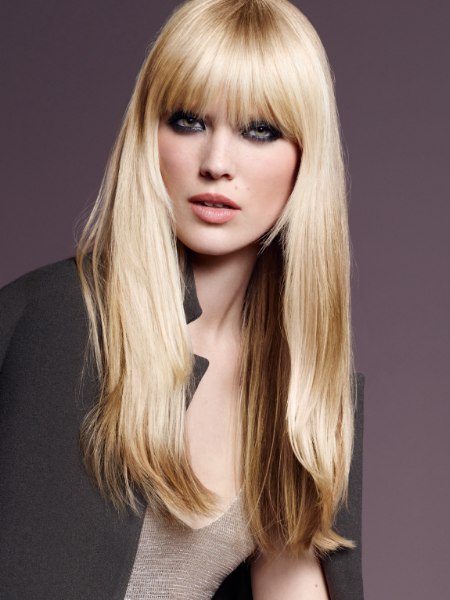 The top section of this model's hair has been highlighted with very fine and tightly packed highlights to give it a very light, summer blonde color. The bottom section of her hair has been colored with a light brown tint, which increases the color-play and hue dimensions of the overall style.

Her hair is cut into very long layers, with the layers being especially concentrated around her face. The long and thick bangs create a wispy and almost enigmatic element to the style, which complements the model's strong features and characteristics beautifully.


Glamorous Tumbling Locks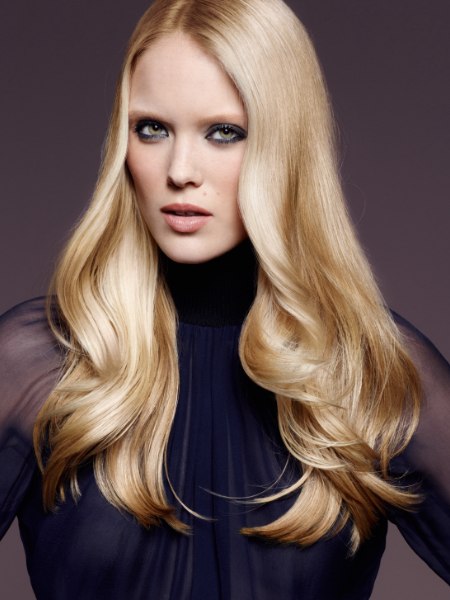 This is one of those perfect old-school styles that look as effortlessly cool as it would in a fashion photo-shoot as it would in a hippie-era movie.

The model's very long, layered hair has been thinned out especially along the tips, and around the bottom section of the front so that it frames her face in a kind of style made famous by Jennifer Aniston's character in "Friends".

The model's naturally light hair has been lightened with a full head of tightly packed highlights to acquire this beautiful, natural-looking blonde color.


Revisited Chignon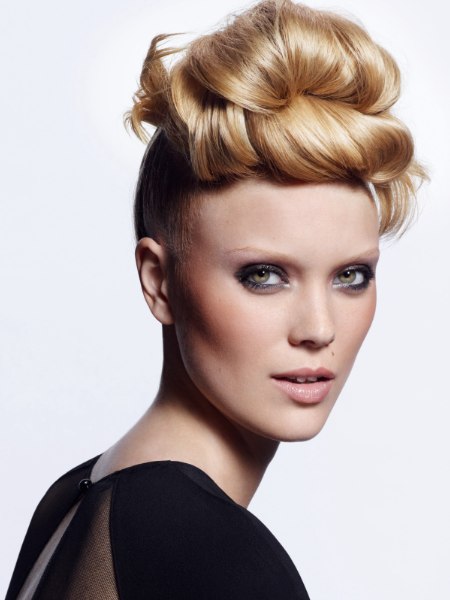 Here we have a stunning "styled-unstyled" hairstyle that has been making a huge come-back on the catwalk realm, as well as fashion and hair bloggers.

The model's very light blonde hair has been slicked with wet-look gel along the roots and mid-lengths of the hair, and combed upwards towards the top of her head. Here it has been divided into two ponytails, with the "back" ponytail being rolled into a forward direction, and the "front" or fringe-ponytail rolled into a backward direction.

The "styled-unstyled" look makes a perfect statement-style, for whenever you want to capture everyone's attention for all the right reasons.


Top Volume Updo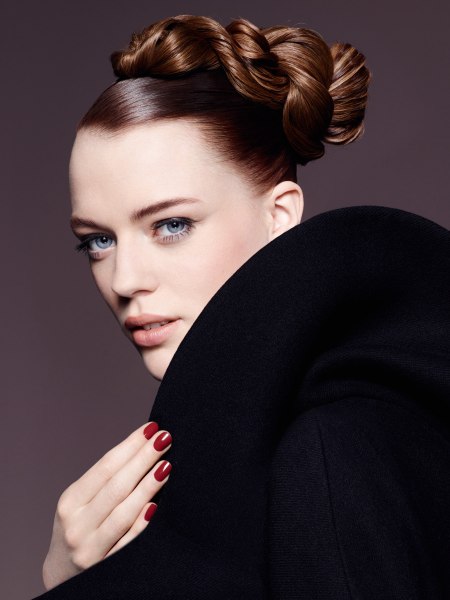 This is a very interesting hairstyle that borders more on a creative look than your every day type of look.

The model's long, fine hair has been slicked back with wet-look gel and a fine-tooth comb, and pulled into a semi-low ponytail at the back. Subsequently it has been divided into two sections which have been twirled around each other to create that super cool, twisted look. The twisted mass has been pinned onto the model's head in such a way that it almost looks like a "cone" mounted on her head.



This is an excellent style for hairdressing students during their creative-style shoots, or for quirky occasions.


Glamorous Waves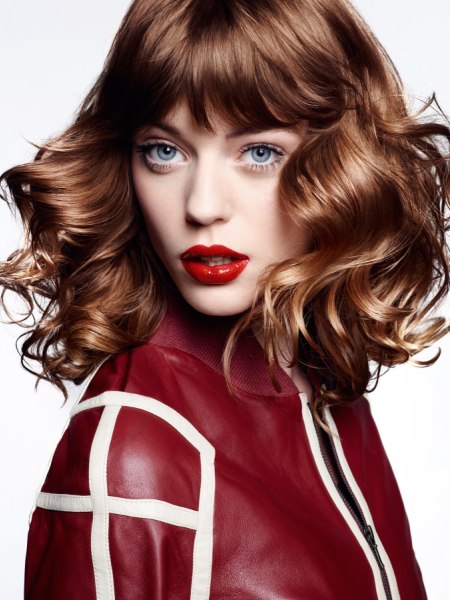 This cut and color actually reminds one of the one and only Meghan Trainor's hair, although Meghan's hair is quite a bit longer. People are raving about this young woman's unique sense of style and strong personality, which is of course perfectly embodied by her red locks.

The model's hair has been cut into a shoulder length, layered style with a thick and full, wispy fringe. The hair is a lighter, copper-red along the tips, while it is a richer, medium copper brown along the roots. Her hair has been curled into big, full curls with a curling tong for a fun and almost wild look.


Feminine Bob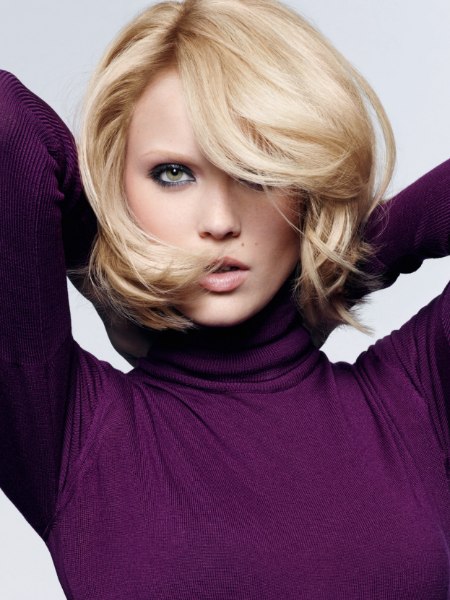 Here we have a hairstyle that has been hot for the past few years, irrespective of season or country. The model's hair has been cut into a chin length bob that has been layered along the tips and around her face to create a very wispy, feathery cut full of movement and dimension.

You'll note that her very light blonde hair has been treated with a honey-champagne colored toner, to amplify the warmer, softer tones of autumn. The model's oval face and strong jaw line work very well with this cut, while the blonde complements her fair skin and light eyes perfectly.


Fifties Inspiration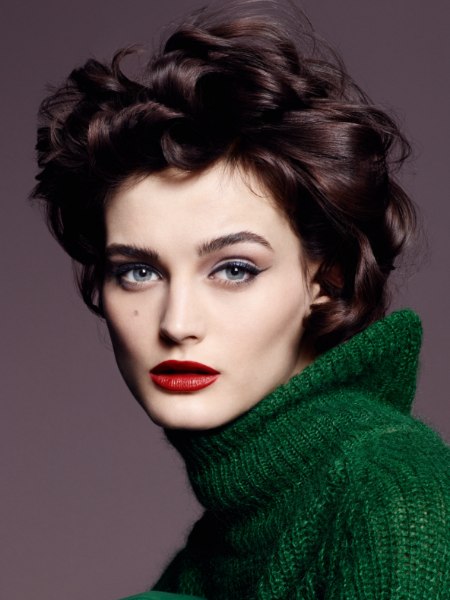 The model's hair is cut into a medium-short, very layered style. Her hair is relatively fine, yet quite dense, which makes this a perfect style for her. The stylists rolled her hair with curlers and gently brushed the curls out to give it a very modern and sophisticated look.

Her hair has been colored with a dark chocolate tint, which offsets the model's pale skin and light blue eyes. The very subtle copper highlights remind one of the warm hues and tints of a beautiful autumn. Note how well this hairstyle suits her angular face shape, high cheekbones and strong jawline.


Airy Bob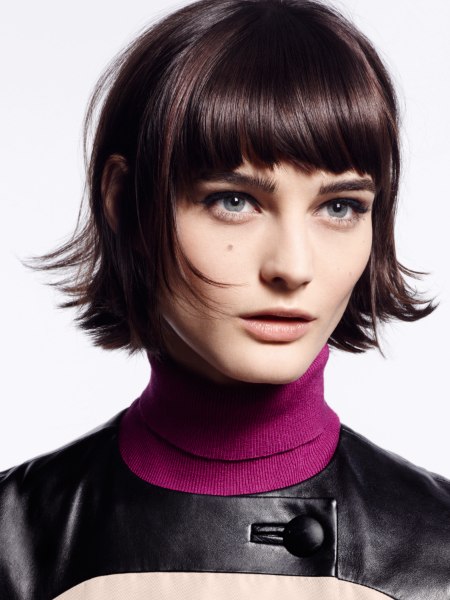 This is the same model and haircut as the previous picture, but the stylists have changed up the styling for this shoot. Here we have the short layered bob, styled into something akin to a modern 'Brady Bunch" style, but in a good way.

The layers have been blow-dried outwards, or in a concave form to create that real 60's and 70's look. The long wispy fringe complements this style perfectly, while the dark brown color transforms the whole look into something enigmatic and mysterious. This hairstyle works extremely well with oval or heart shaped faces, coupled with thin or fine hair.


A Breath of Air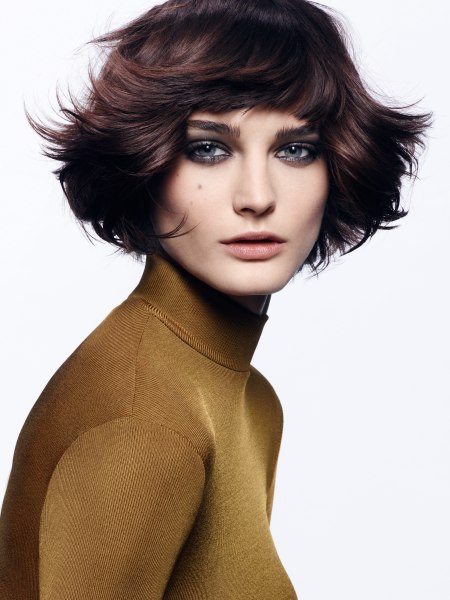 Here we have another old-school look that's been revived with a blast of fresh air. The model's layered short hairstyle has been created with the main idea of having super amounts of texture and movement.

The tips have been vigorously thinned out with thinning shears, while the stylist also used a razor to create those wispy feathers especially along the face.

The hair is colored with a dark chocolate brown hue, while lighter copper-brown highlights were scattered around to lighten up the overall effect, as well as adding to the color-dimension and color-movement of the style.

Hairstyles: DESSANGE
Photography: Nicolas Valois